Paleo Chicken Cacciatore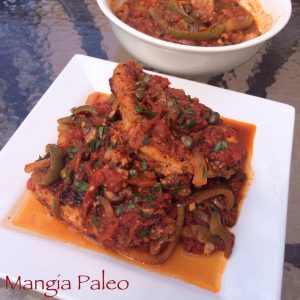 An Italian classic made paleo! Even the word "cacciatore" is very primal. It means "hunter" in Italian. Chicken cacciatore basically tells you it's paleo right in the title. How could you go wrong? This meal is delicious enough to eat on its own, but you may also serve it with spaghetti squash or zucchini noodles. It tastes like you spent all day in the kitchen.
Tiramisu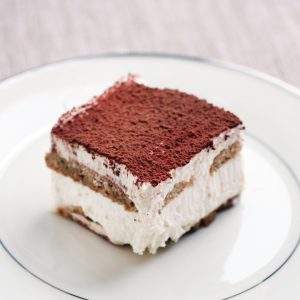 This decadent Primal treat is both delicious and fun to make. Please note that this recipe relies on three other recipes (Lady Fingers, Coffee and Amaretto Syrup, and Cream Cheese Filling) - which are all listed below as ingredients. However, with a bit of patience, this dish is a breeze and will surely impress any dinner guest.
Creamy Hot Cocoa (dairy free)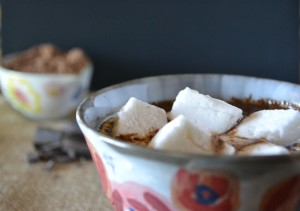 Creamy hot chocolate that is rich, decadent, chocolatey, yummy, and oh yeah dairy free! The full fat coconut milk provides the oh so creamy dairy free replacement and pairs perfectly with chocolate! It goes great with some homemade marshmallows, a nice warm blanket, and a good movie! Enjoy!
Autoimmune-Friendly Pumpkin Spice Cake w/ Gingersnap Crust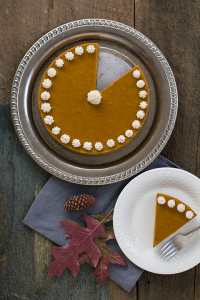 I am so thrilled to share with you the best holiday recipe I have come up with this year – Pumpkin Spice Cake with Gingersnap Crust! While I don't endorse eating treats very often on the autoimmune protocol, I think that everyone needs a compliant dessert recipe they can share with their family and friends during the holidays. Since I have stopped eating sugar, I find that I am very sensitive to it, so in the development of this recipe my family and friends got to eat a lot of cake – and they all loved it! One of the things I have learned since writing my book and providing so many recipes here on my blog is how many people are sensitive to coconut! Last year, I posted my Coconut-Raspberry "Cheesecake" – and although it was a big hit in the blogosphere, I got a ton of emails from people requesting that I come up with a coconut-free recipe. Well, here it is, guys – and let me tell you, it is a good one! A couple of tips before you get started: Arrowroot powder is much cheaper if you can find it in 20oz bags instead of the little jars they sell in the spice department. You can purchase online here, or ask for it at your local grocery. Next, you can make the cake with fresh roasted pumpkin or the canned variety, just make sure that the cans are BPA-free and have no other ingredients (like thickeners or spices). To cook the pumpkin, slice in half, remove the seeds, and cook for 60-90 minutes at 400 degrees. I find that a 2 1/2 pound pie pumpkin yields about 3 cups of puree. Lastly, the secret ingredient here, instead of coconut is lard. I recommend rendering your own, from a pastured source of leaf lard – here is a tutorial if you have never done it before. I have made this cake using both coconut oil and lard, and it tastes good both ways – but my family and I both prefer the lard version. Enjoy, and please let me know if this allergy-friendly cake is a hit with your family this holiday season!
Chipotle Butternut Squash Soup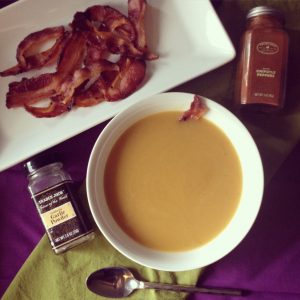 Butternut squash already has a very nice sweet flavor and the recipes I was making tasted more like dessert than the main course. I decided to try and pair the sweetness of butternut squash and apple with some spicy chipotle powder. This soup has a wonderful balance of spicy and sweet and pairs well with some chopped bacon or pulled pork.
Espresso Sea Salt Brownies with Mocha Coconut Butter Frosting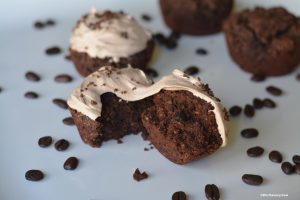 The Espresso infused Sea Salt in these brownies really helps to highlight the other beautiful flavors like the chocolate and coconut butter. Each bite provides a great slightly sweet, salty, chocolate and espresso flavor. These will soon be one of your favorite brownie recipes. They go great with a cup of Bulletproof Coffee for breakfast or nice afternoon treat.
Banana-Mango Smoothie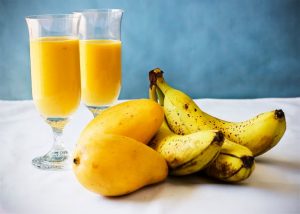 Are you a banana and mango smoothie lover? Looking for some new smoothie recipes that use bananas? If so, I would like to share my preferred banana flavored smoothie recipes with you.
Hazelnut Apple Tarts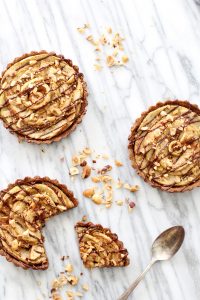 I am super pumped about this tart recipe. As much as I love savory recipes there is something about making a beautiful dessert. It is good for the soul and super fun to photograph. Luckily, this tart recipe is just about as wholesome as you can get. It won't leave you feeling like you need a nap after you eat it. I have a special place in my heart for hazelnuts. I think that they just have an amazing flavor and combined with apples it is a match made in heaven. I also have an obsession for the combination of apple and dark chocolate. I started eating apples with almond butter and dark chocolate a couple years ago as a treat and I fell in love with the flavor. I decided to combine all of my favorite flavors in one festive fall tart. These tarts are a perfect dessert for upcoming holiday parties and dinners.
Creamy Roasted Hazelnut Butter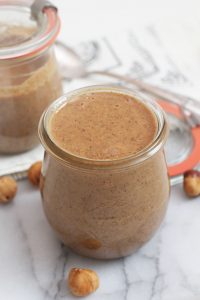 This recipe is really a precursor to some other recipes I have coming to the blog soon. Over the past year hazelnuts have become one of my favorite things to add to desserts and baked goods. They lend a very distinct and unique flavor to things and they also help a lot with texture. Most hazelnut butter recipes are used for making a Nutella. I absolutely LOVE homemade Nutella but sometimes it is really nice to enjoy just the hazelnut flavor as it is. You can use this butter in smoothies, on pancakes, waffles and a myriad of other things.
Roasted Mini Peppers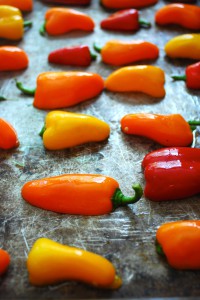 Sometimes the simplest recipes are the best recipes. Roasted Mini Peppers, drizzled with olive oil, kosher salt, and freshly ground pepper, make a healthy, naturally sweet and colorful side dish.