Paleo Chicken Cacciatore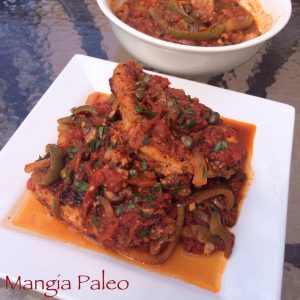 An Italian classic made paleo! Even the word "cacciatore" is very primal. It means "hunter" in Italian. Chicken cacciatore basically tells you it's paleo right in the title. How could you go wrong? This meal is delicious enough to eat on its own, but you may also serve it with spaghetti squash or zucchini noodles. It tastes like you spent all day in the kitchen.
Creamy Hot Cocoa (dairy free)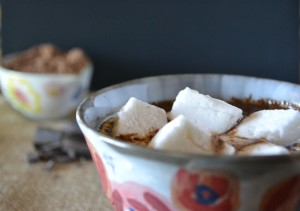 Creamy hot chocolate that is rich, decadent, chocolatey, yummy, and oh yeah dairy free! The full fat coconut milk provides the oh so creamy dairy free replacement and pairs perfectly with chocolate! It goes great with some homemade marshmallows, a nice warm blanket, and a good movie! Enjoy!
Tiramisu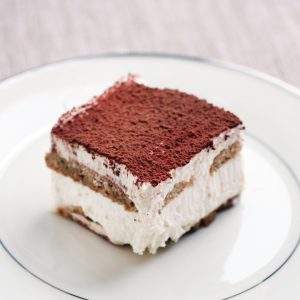 This decadent Primal treat is both delicious and fun to make. Please note that this recipe relies on three other recipes (Lady Fingers, Coffee and Amaretto Syrup, and Cream Cheese Filling) - which are all listed below as ingredients. However, with a bit of patience, this dish is a breeze and will surely impress any dinner guest.
Espresso Sea Salt Brownies with Mocha Coconut Butter Frosting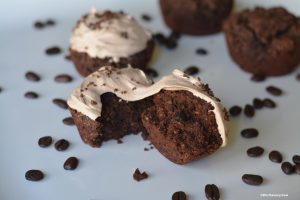 The Espresso infused Sea Salt in these brownies really helps to highlight the other beautiful flavors like the chocolate and coconut butter. Each bite provides a great slightly sweet, salty, chocolate and espresso flavor. These will soon be one of your favorite brownie recipes. They go great with a cup of Bulletproof Coffee for breakfast or nice afternoon treat.
Roasted Mini Peppers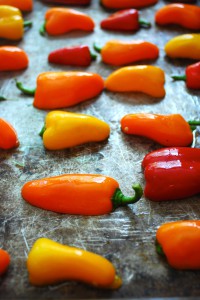 Sometimes the simplest recipes are the best recipes. Roasted Mini Peppers, drizzled with olive oil, kosher salt, and freshly ground pepper, make a healthy, naturally sweet and colorful side dish.
Banana-Mango Smoothie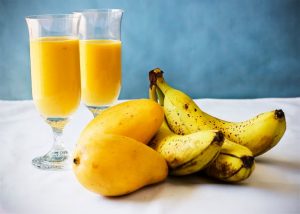 Are you a banana and mango smoothie lover? Looking for some new smoothie recipes that use bananas? If so, I would like to share my preferred banana flavored smoothie recipes with you.
Creamy Roasted Hazelnut Butter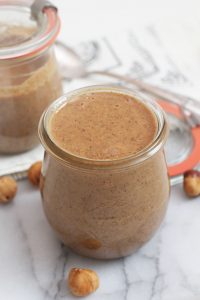 This recipe is really a precursor to some other recipes I have coming to the blog soon. Over the past year hazelnuts have become one of my favorite things to add to desserts and baked goods. They lend a very distinct and unique flavor to things and they also help a lot with texture. Most hazelnut butter recipes are used for making a Nutella. I absolutely LOVE homemade Nutella but sometimes it is really nice to enjoy just the hazelnut flavor as it is. You can use this butter in smoothies, on pancakes, waffles and a myriad of other things.
Scrambled Eggs with Lox and Capers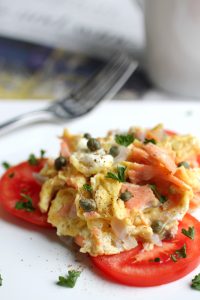 Growing up, my family would often serve lox with bagels and cream cheese at family brunches. This was always a special occasion when family came into town. In my mind, I can still taste the flavors of a toasted bagel topped with cream cheese, lox, red onion, tomato, and capers. For our version of this dish, we replaced the bagel and cream cheese with eggs for an equally delicious and much healthier version.
—Hayley
Raspberry Chipotle Chicken Wings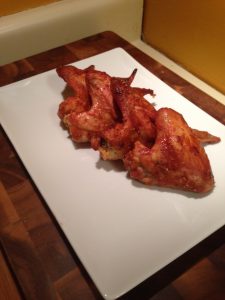 Raspberry Chipotle chicken wings with a hint of coffee and honey as well. These wings hit all of the flavor notes on your Primal Palate! :)
Lamb & Mango Salad with Lemon-Tahini Dressing
A refreshing summer salad that can be thrown together in 15 minutes! Additional ingredients that would be nice include cilantro, mint, black olives, and feta cheese (if primal).