Paleo Espresso Macaroon Muffins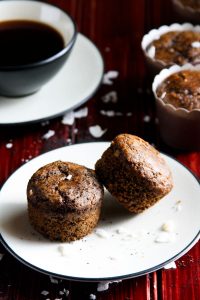 A Healthy Dessert For Coffee Lovers! Paleo Espresso Macaroon Muffins. These muffins are light in texture with a decadent taste. Easy to make with simple ingredients like ground almonds, coconut flour, coconut sugar, ground espresso, and egg whites. Taste like macaroon but in muffins form!
Rhubarb Coffee Cake Muffins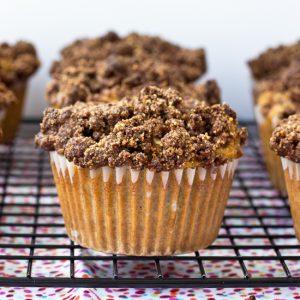 Soft, fluffy and topped with streusel, these rhubarb coffee cake muffins are the perfect summer breakfast!
cook:
30 minutes to 35 minutes
Serves: 18
Chocolate Raspberry Mini Muffins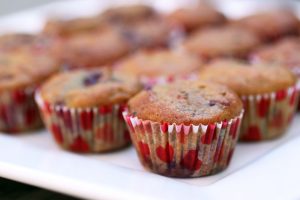 Chocolate and raspberry mini muffins are tasty and adorable! We enjoyed making these mini muffins together over Valentine's Day. Mini chocolate chips and raspberries fill every bite, nestled in a bed of spongy vanilla cake batter. Your special valentine will be sure to say "be mine" after a bite of these cuties!
Coconut Flour Pumpkin Muffins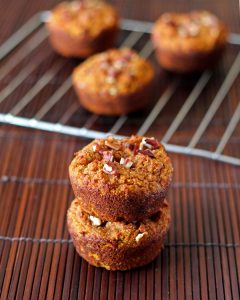 These muffins are perfect for a healthy fall pumpkin breakfast. Coconut flour and maple syrup complement the pumpkin flavor in these muffins.
Dark Chocolate Pecan Mini Muffins
These little Paleo Dark Chocolate Pecan Mini Muffins are just so cute, and they have a wonderful muffin texture. I suggest serving them with coffee or tea!
Paleo Ginger Spiced Pear Muffins
Super easy to make paleo muffins! Naturally sweetened with pears, honey, cinnamon, and ginger. And of course, grain free using almond and coconut flour.
Chocolate Chip Pumpkin Muffins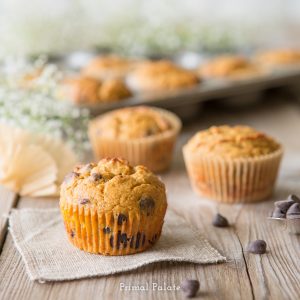 These delicious pumpkin muffins are the perfect fall treat! With the added chocolate chips, they would be an adorable treat for Halloween because of their light orange with speckled black coloring.
Chunky Monkey Muffins
Made with almond flour and sweetened with bananas - these gluten-free treats are pretty and delicious!
Birthday Cake Muffins (or cupcakes)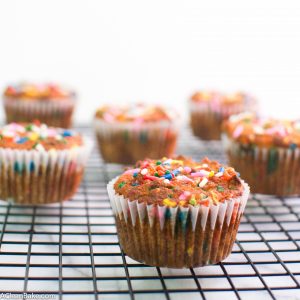 The best part of waking up is... sprinkles in your muffin? Yep, you read that right. Nothing gets you out of bed like birthday cake for breakfast, even if it's not your birthday! These almond-flour based muffins taste like birthday cake, but are healthy enough for breakfast.
Chocolate Pumpkin Muffins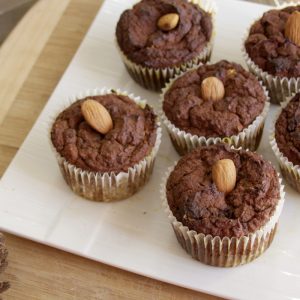 Gooey chocolate muffins to start your day or end your workout!