Moroccan Carrot and Sweet Potato Fries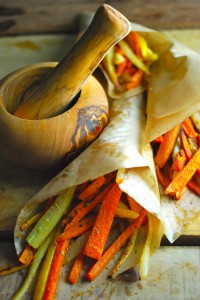 Crispy Moroccan Carrot and Sweet Potato Fries please kids and their paleo parents alike. Garnish with fresh mint and a squeeze of lemon.
Indian Style Sweet Potato Fries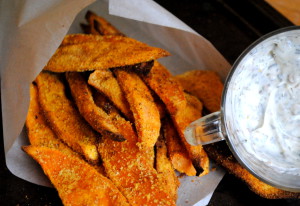 A fun new twist on the greatest food out there...sweet potato fries.
Paleo Sweet Potato Chili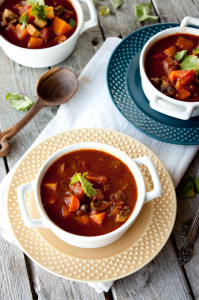 This paleo sweet potato chili is the perfect make-ahead meal for a week's worth of dinners or lunches. Combine the ingredients and enjoy them all week!
Sweet Potato Home Fries
Our everyday breakfast always includes home fries, seasoned with our signature Meat & Potatoes seasoning (which goes well with so many dishes!) This dish is a staple in our house!
Cajun Sweet Potato Fries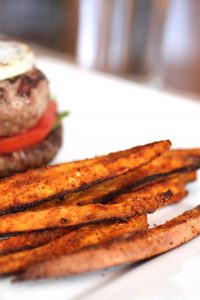 Fried Sweet Potato Chips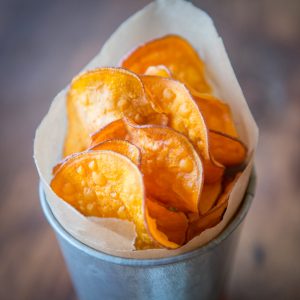 The devil is in the details with these perfectly fried sweet potato chips. Getting accurately cut, thin slices of sweet potato. The perfect frying temperature. And the perfect length of time to fry... they all factor into what will surely become one of your favorite Paleo snack recipes!
Sweet Potato Skillet Bread with Cinnamon Pecans and Honey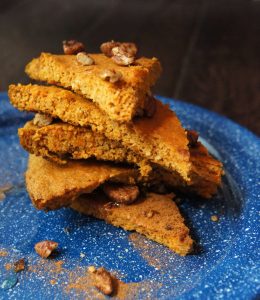 Some foods are cozy and comfortable whether you grew up with them or not. Avgolemono soup, cashews, and winter squash make my short list of "new" comfort foods. A few things immediately come to mind when I think of what comfort food used to mean to me: microwaved zucchini with garlic salt, creamy chicken over rice, dad's fried rice, and marshmallows. Not much overlap, is there? Zucchini is still one of my favorite vegetables, but I can't remember the last time I microwaved it, or had creamy chicken over rice. Some days you just want your food to make you feel cozy from the inside out. This bread does exactly that. It sends cinnamon aromas through the kitchen, swirled with scents of nutty toasted pecan and sweet bread. You start to feel cozy even before it's out of the oven. Still warm, butter and honey melt over slices of this bread with ease. That's the real secret: melty butter and sticky honey. It doesn't matter if this is the first time you've had a bread made of sweet potatoes. There's something about this home-style bread that wraps you up in a blanket and takes you home. This rustic skillet bread will be on your list of "new comforts" soon. Very soon. How could a single slice that marries cinnamon-roll smells and pecan-pie flavors not make your list? Paleo bread made from sweet potatoes and almond flour! Topping with cinnamon pecans. My one regret: cooked in a 10-inch cast iron skillet, this bread comes out thin, like a flat bread. This is great for optimizing the pecan-topping to bread ratio, but I found myself wishing the bread was a tad thicker. I foresee some kitchen experiments in my future.
Chorizo and Spinach Stuffed Sweet Potato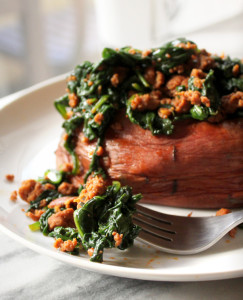 Make the sweet potato ahead of time for an easy weeknight meal.
Sweet Potato Spicy Chicken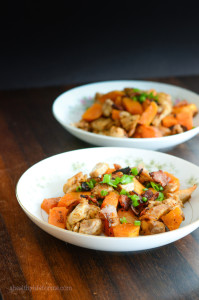 Sweet Potato Spicy Chicken is a recipe to impress. A dinner recipe that is easy, and packed full of rich flavor that is sure to make the whole family happy. Gluten Free, Dairy Free, Soy Free and Paleo.
Sweet Potato Latkes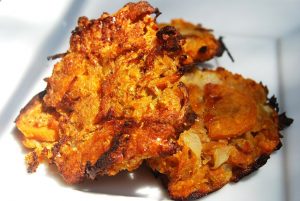 A Vegan, Paleo,Gluten Free, No Fry Sweet Potato Latke. So healthy, yet so delicious. Perfect for the Fall.