Espelette Chili Sirloin Steak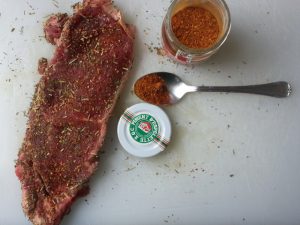 Sometimes there's nothing better than a well-seasoned steak. Espelette chili is a small and flavorful chili pepper from the South of France. Recipe with step by step guidelines to cook the perfect steak!
Harvest Mule (Make it Paleo 2 preview recipe)
Having a Moscow Mule says 'summertime' to me. This particular drink was popular during the 1950s and has experienced a resurgence in recent years. Like many others, I love the refreshing combination of ginger beer and lime juice. If you want to experiment with our Ginger Beer recipe (pg 288 in our new book, Make It Paleo 2 - available for preorder now on Amazon), this is a great way to fully test it out when the book arrives. My favorite vodka brand to use is Three Hunters Vodka, a Paleo-friendly version of the spirit distilled from grapes and blueberries.
Paleo Zuppa Toscana Recipe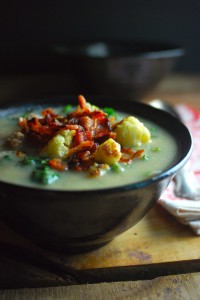 In this Paleo version of the Olive Garden classic, velvety smooth cauliflower puree replaces the traditional potatoes and cream.
Asian Steak Salad
When it comes to steak, I usually just want a good grilled rib eye with just a pinch of salt on it. Not so with this tasty steak salad. The marinade for the steak imparts incredible flavor, so to me, the salad is simply a bonus on top of an amazing steak dish.
Skirt Steak with Chive Butter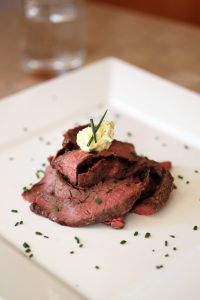 A simply grilled steak is even more mouth watering with homemade chive pasture butter melting over top of it. This recipe brings a taste of gourmet to your plate with the use of only 4 ingredients!
Steak and Eggs with Sautéed Cabbage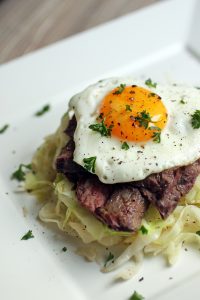 While leftovers are a rare occurrence in our house, we do love utilizing them for breakfast the next morning when we have them. Here is a great way to make use of leftover steak, or a great excuse to throw an extra steak on the grill next time you're cooking out!
Paleo Chicken Cacciatore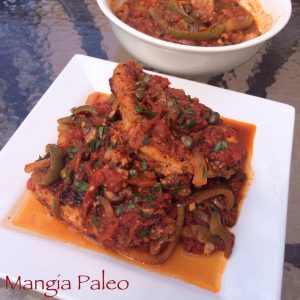 An Italian classic made paleo! Even the word "cacciatore" is very primal. It means "hunter" in Italian. Chicken cacciatore basically tells you it's paleo right in the title. How could you go wrong? This meal is delicious enough to eat on its own, but you may also serve it with spaghetti squash or zucchini noodles. It tastes like you spent all day in the kitchen.
Gluten Free Steak Salad Flatbread
Making a meal gluten free can be simple and delicious! All you need are the right ingredients. Our favorite "fit and healthy" recipe trick is to use gluten free pizza crust to create a delicious steak and salad flatbread. It's simple, effortless, and ready in 15 minutes.
Autoimmune Paleo BBQ Sauce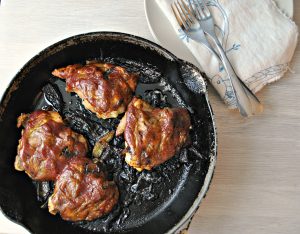 A completely compliant Autoimmune Paleo (nightshade free) BBQ Sauce! So amazing that even those who do not eat AIP will love it. With a few key secret ingredients to give depth and a smoky flavor, this sauce is a hits all the flavor notes traditional BBQ does.
Paleo Taco Dip
Fun, festive and FREE of dairy, legumes and corn - this is the perfect Paleo Taco Dip to bring to a party or enjoy while watching your favorite game! Can be made as individual servings or one big casserole dish.