Nightshade-free Pizza (from Make It Paleo 2)
This fabulous nightshade-free pizza from Make It Paleo 2 is super tasty, and perfect for a relaxed and indulgent evening at home. The crust is also nut-free, and can be made dairy-free by omitting any cheese topping... so it's flexible enough for people with certain dietary restrictions too. Everyone should be lucky enough to enjoy pizza, right? Find this recipe, and many others like it in our new cookbook, Make It Paleo 2, available in stores and online!
Paleo Breakfast Pizza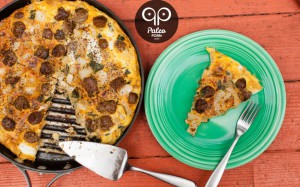 Lift heavy things and eat this Paleo Breakfast Pizza recipe with Lamb Chorizo sausage. It makes a great post-workout meal or just call it breakfast. :)
Paleo Pumpkin Bread Breakfast Pizza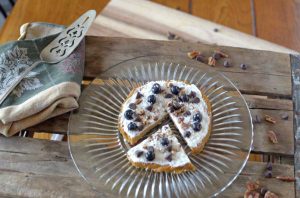 Paleo Pumpkin Bread Breakfast Pizza is served in a single portion, so no sharing!
Prosciutto and Arugula Pizza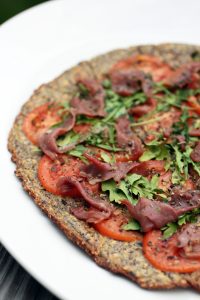 During my years at Penn State, I had the opportunity to spend a semester living in Rome to study urban design. What ensued were four months of sipping cappuccino, teaching myself how to paint and draw, and a lot of incredible pizza. Italian pizza is light, with a thin crust and topped with fresh ingredients. This pizza is our grain-free version of the pizza I so often enjoyed in Italy.
—Bill
Paleo Tortillas (from Make It Paleo 2)
These tortillas take a little patience and finesse, but they are a great grain-free version of the flour tortillas you may be used to. They hold up great, and don't break when you wrap them around your favorite foods. Try them with our Fish Tacos or Lamb Gyros!
Cast Iron Skillet Grain and Gluten Free Pizza
Pizza is a food first traced to Ancient Greece, when they took bread and covered it with oil and cheese (this is also the base for Pita bread). Italy is credited for adding tomatoes to pizza following their introduction from the New World in the 15th and 16th centuries. Interestingly, the combination of tomatoes and cheese wasn't popular for hundreds of years, until the famous Pizza Margherita (tomatoes, cheese, and basil) incident – wherein the combination was served to Queen Margherita in 1889 to represent the Italian flag. Pizzerias existed in the United States at the turn of the century, but it was only popular with Italian immigrants. Soldiers returning from the European campaign of World War II raved about pizza, and it became the sensation it is now almost overnight.
Paleo Chicken Cacciatore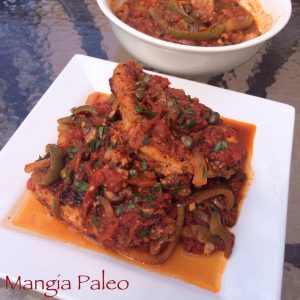 An Italian classic made paleo! Even the word "cacciatore" is very primal. It means "hunter" in Italian. Chicken cacciatore basically tells you it's paleo right in the title. How could you go wrong? This meal is delicious enough to eat on its own, but you may also serve it with spaghetti squash or zucchini noodles. It tastes like you spent all day in the kitchen.
Pizza Margherita
Even the pickiest child will go back for seconds with this grain-free version of a classic Margherita pizza. The seasoned crust has just the right amount of crunch and crumble, and the warm cheese and basil topping will have your mouth watering as it comes piping hot out of the oven.
Indian cauliflower crust pizza with cucumber-chilli yogurt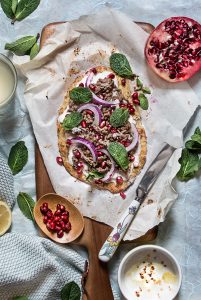 Exotic Indian cauliflower crust pizza with cucumber-chilli yogurt, minty lamb, red onion and pomegranate seeds. The perfect Paleo and gluten free pizza for your Friday night dinner!
Pepperoni and Sausage Supreme Pizza Bake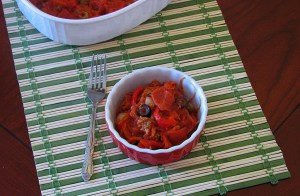 Because my children and I have not followed a paleo path all of our lives, I find that occasionally incorporating the familiar flavors of old favorites into our paleo meals helps keep everyone happy. This dish, dubbed "pizzagna" by my youngest son, is a family favorite. I like to make it a bit quicker and easier by using cooked spaghetti squash from my freezer stash. I didn't factor the spaghetti squash cooking time into the overall prep or cook time, so give yourself another hour if you don't have some already cooked on hand. There are a lot of great paleo-friendly jarred sauces out there--just be sure to read labels and watch for added sugars and undesirable oils such as canola or soybean.