Paleo Tortillas (from Make It Paleo 2)
These tortillas take a little patience and finesse, but they are a great grain-free version of the flour tortillas you may be used to. They hold up great, and don't break when you wrap them around your favorite foods. Try them with our Fish Tacos or Lamb Gyros!
Paleo Chicken Cacciatore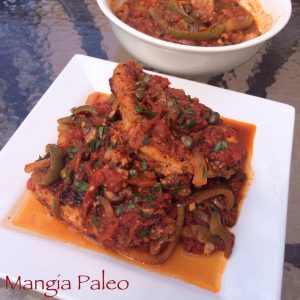 An Italian classic made paleo! Even the word "cacciatore" is very primal. It means "hunter" in Italian. Chicken cacciatore basically tells you it's paleo right in the title. How could you go wrong? This meal is delicious enough to eat on its own, but you may also serve it with spaghetti squash or zucchini noodles. It tastes like you spent all day in the kitchen.
ready in:
1 hour to 2 hours
Serves: 4
Fish Tacos with Smoky Slaw (recipe from Make It Paleo 2)
This recipe is one of our favorites from our new cookbook, Make It Paleo 2. We love it for it's balance and fresh flavors... this dish is super refreshing during the summer when the slaw ingredients are in season. If you don't want to go all-in, this would be great in lettuce cups instead of the tortillas, giving it an additional pop of crunch and lightness. If you love this recipe, get your hands on a copy of Make It Paleo 2 (http://bit.ly/MakeItPaleo2)
Paleo Taco Dip
Fun, festive and FREE of dairy, legumes and corn - this is the perfect Paleo Taco Dip to bring to a party or enjoy while watching your favorite game! Can be made as individual servings or one big casserole dish.
Sweet Paleo BBQ Sauce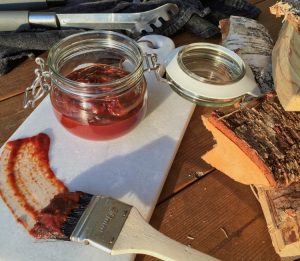 This recipe makes a delicious sweet Paleo BBQ sauce. It's easy to make and can be prepared in advance, and has all the potential to make your BBQ party a success.
Paleo Swedish Meatballs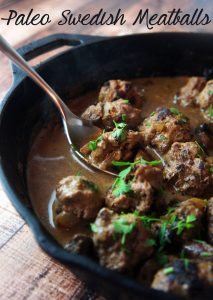 After a couple of thunder and hail storms, it has finally cooled off here. We escaped to Rocky Mountain National Park on Saturday, and I found myself wishing for a sweater and a mug of hot coffee. We were lucky enough to get up close and personal with an Elk! There are pictures at the bottom of this post but for now, these cooler temperatures mean that I am finally in the mood to talk about warm food again! As promised, this post is about Paleo Swedish Meatballs. When you Google the origins of Swedish Meatballs, you don't find much in the way of answers. What you do find is a lot of people talking about IKEA, and how they've discovered the furniture store's famous recipe. In truth, I've never stepped foot into an IKEA, and so when I hear this I furrow my brow and wonder how a furniture store ended up so famous for beef and gravy. Anyone with me? Since I haven't been to IKEA, I guess I can't really judge. My own memories of Swedish Meatballs don't make much more sense anyways (they include a lot of Costco and have nothing to do with Sweden). This is why I found myself searching for answers. Why are they Swedish? While I consider myself a perfectly competent search-engine-maneuverer, I can't say I came back with many answers. It does seem that in some parts of Sweden, some meatballs are served in gravy. Unlike French Fries, maybe Swedish Meatballs do have an origin-appropriate name. I never really got to the bottom of the issue, because at that point I just gave in and decided it was time to eat. Maybe that's what French Fries and Swedish Meatballs have in common: they're just too dang delicious for anyone to really care what they're named. Serve them over a pile of mash potatoes or on toothpicks as an appetizer. Swedish or not, there's something about gravy that just hits the spot.
ready in:
1 hour and 20 minutes
Serves: 2
Paleo Rabbit Cacciatore and Meatballs Over Mashed Sweet Potatoes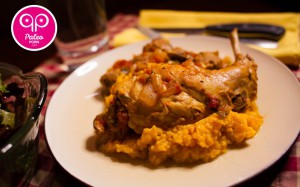 Serve Paleo Rabbit Cacciatore with Meatballs over Mashed Sweet Potatoes for a delicious Paleo dinner.
Offal-ly Good Paleo Tacos de Lengua
Tender and flavorful beef tongue tacos served on paleo tortillas
Paleo Tuna Cakes
Even if you don't like fish, you'll love these easy, healthy and paleo tuna cakes! They contain: no breadcrumbs, no gluten, 100% paleo, they have veggies and they are so easy to make! The best part is that even my now picky toddler will still gobble these up happily, and will get loads of vitamins from them!
Paleo Banana Bread with Pears and Honeyed Chocolate Sauce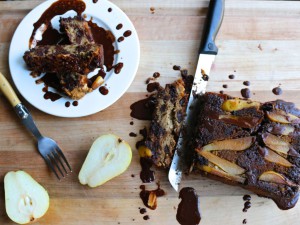 This Paleo Banana Bread with Pears and Honeyed Chocolate Sauce is so darn good, you'll never know it's healthy, moist, rich and oh so yummy on a fall day.