Paleo Pumpkin Pancakes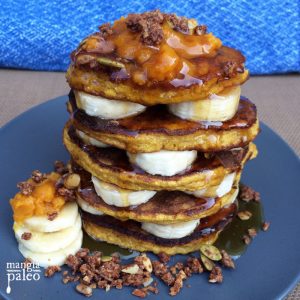 What's the best breakfast to wake up to on a Sunday morning? Pancakes, of course! My recipe for paleo pumpkin pancakes is the original fluffy one with coconut flour.
Paleo Tortillas (from Make It Paleo 2)
These tortillas take a little patience and finesse, but they are a great grain-free version of the flour tortillas you may be used to. They hold up great, and don't break when you wrap them around your favorite foods. Try them with our Fish Tacos or Lamb Gyros!
Paleo Chicken Cacciatore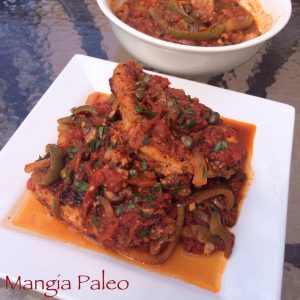 An Italian classic made paleo! Even the word "cacciatore" is very primal. It means "hunter" in Italian. Chicken cacciatore basically tells you it's paleo right in the title. How could you go wrong? This meal is delicious enough to eat on its own, but you may also serve it with spaghetti squash or zucchini noodles. It tastes like you spent all day in the kitchen.
Blueberry and Vanilla Pancakes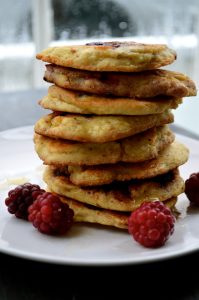 For me pancakes are the ultimate comfort food. They are light, fluffy and incredibly moreish. I have been perfecting my recipe for a while and I am so excited to share it with you all. I don't add any additional sweetner to my pancakes as I find the combination of the blueberries and vanilla make them sweet enough. I do however add a tsp or 2 of raw honey at the end, once I have stacked the pancakes high and allow the honey to melt through… To me, there is simply nothing more delicious for breakfast
Pumpkin Pancakes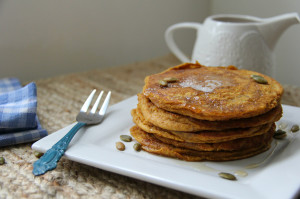 Pumpkin, cinnamon, and nutmeg combine for an absolutely delightful fall weekend treat! (Recipe makes approximately 12 pancakes.)
Best Ever Banana Bread Pancakes
Thick and fluffy banana bread pancakes that are 100% fruit sweetened, nut-free and dairy-free.
Turkish Zucchini Pancakes (Mucver)
This vegetable-packed Turkish favorite has been given a healthier, paleo makeover.
Lemon Curd from Make It Paleo 2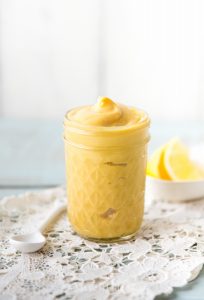 Lemon curd is one of my favorite sweet treats. That's why it found its way between the layers of our wedding cake, and it was perfect for a hot August wedding. Lemon curd adds a fresh, sweet, and tangy flavor to baked goods. It's fantastic piped into cupcakes or simply drizzled over fresh berries.
The Ultimate Paleo burger buns
Looking for Paleo burger buns? Then look no further. Here are The Ultimate Paleo burger buns, made, mainly, from almond flour and a star ingredient: diced Spanish chorizo.
Harvest Mule (Make it Paleo 2 preview recipe)
Having a Moscow Mule says 'summertime' to me. This particular drink was popular during the 1950s and has experienced a resurgence in recent years. Like many others, I love the refreshing combination of ginger beer and lime juice. If you want to experiment with our Ginger Beer recipe (pg 288 in our new book, Make It Paleo 2 - available for preorder now on Amazon), this is a great way to fully test it out when the book arrives. My favorite vodka brand to use is Three Hunters Vodka, a Paleo-friendly version of the spirit distilled from grapes and blueberries.