ready in:
1 hour and 15 minutes
Serves: 6
Cream of Shiitake Soup, Crispy Green Beans & Shallots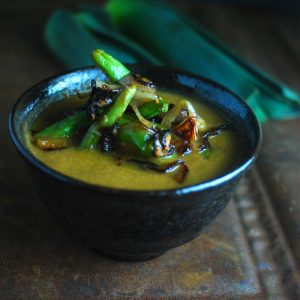 Cream of Shiitake Soup, Crispy Green Beans & Shallots. Intense mushroom flavor without dairy . Try this low calorie, vitamin rich soup after the holidays, when your limbs feel heavy from overindulgence or fatigue.
Seared Duck Breast with Balsamic Green Beans
Easy recipe for perfectly seared duck breast served atop fresh green beans with balsamic jus. Luxuriously fatty flavor, with only 225 calories a serving.
Roasted Potatoes with Green Beans and Tangy Sun Dried Tomato Dressing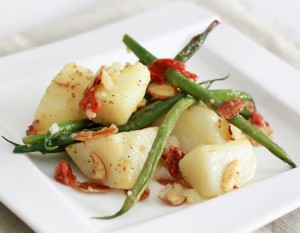 cook:
30 minutes to 35 minutes
ready in:
about 50 minutes
Serves: 4
Lemon Roasted Green Beans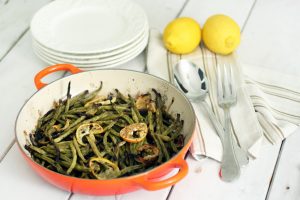 Lemon Garlic Green Beans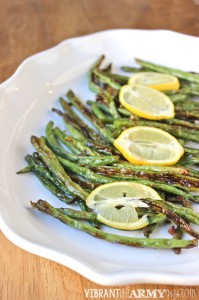 A quick and easy roasted veggie side dish, bursting with flavor. Perfect for a special occasion or a simple weeknight dinner.
Garden Green Beans with Truffle Salt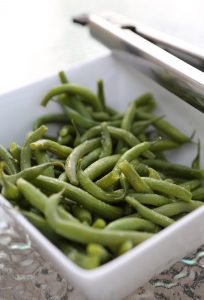 Paleo Tortillas (from Make It Paleo 2)
These tortillas take a little patience and finesse, but they are a great grain-free version of the flour tortillas you may be used to. They hold up great, and don't break when you wrap them around your favorite foods. Try them with our Fish Tacos or Lamb Gyros!
Thai Green Curry with Chicken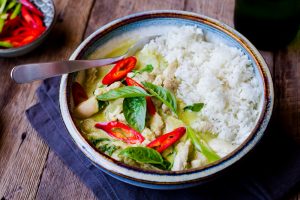 The Thai word for Green Curry (แกงเขียวหวาน) actually translates to "Sweet Green Curry", but that doesn't imply that this dish is sweet. Instead, "sweet green" means "light green" in Thai. While the idea of making curry from scratch may be initially daunting, nothing could be further from the truth. My curry paste has quite a few ingredients, but all you do is basically throw them all together and purée; the paste will keep for a month in the fridge and there's enough paste to make three curries. Making the actual curry is even easier – it's a 20-minute meal, if not less.
Paleo Chicken Cacciatore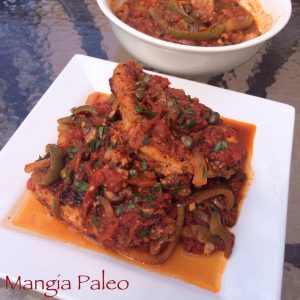 An Italian classic made paleo! Even the word "cacciatore" is very primal. It means "hunter" in Italian. Chicken cacciatore basically tells you it's paleo right in the title. How could you go wrong? This meal is delicious enough to eat on its own, but you may also serve it with spaghetti squash or zucchini noodles. It tastes like you spent all day in the kitchen.
Paleo Hash Browns
These paleo hash browns are the key piece you are missing to make a classic breakfast on the paleo diet. There is nothing that defines the all american breakfast like a couple of eggs over easy, a side of bacon or sausage and some hash browns. These are made with green plantains and they fry up crisp and delicious just like regular potato hash browns.