Paleo Tortillas (from Make It Paleo 2)
These tortillas take a little patience and finesse, but they are a great grain-free version of the flour tortillas you may be used to. They hold up great, and don't break when you wrap them around your favorite foods. Try them with our Fish Tacos or Lamb Gyros!
Paleo Chicken Cacciatore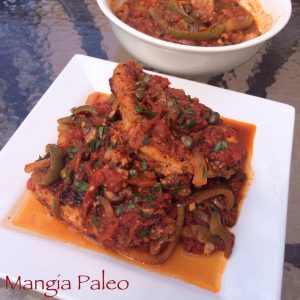 An Italian classic made paleo! Even the word "cacciatore" is very primal. It means "hunter" in Italian. Chicken cacciatore basically tells you it's paleo right in the title. How could you go wrong? This meal is delicious enough to eat on its own, but you may also serve it with spaghetti squash or zucchini noodles. It tastes like you spent all day in the kitchen.
Paleo Banana Bread with Pears and Honeyed Chocolate Sauce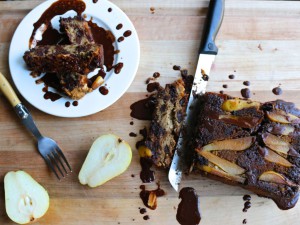 This Paleo Banana Bread with Pears and Honeyed Chocolate Sauce is so darn good, you'll never know it's healthy, moist, rich and oh so yummy on a fall day.
Paleo Hash Browns
These paleo hash browns are the key piece you are missing to make a classic breakfast on the paleo diet. There is nothing that defines the all american breakfast like a couple of eggs over easy, a side of bacon or sausage and some hash browns. These are made with green plantains and they fry up crisp and delicious just like regular potato hash browns.
Harvest Mule (Make it Paleo 2 preview recipe)
Having a Moscow Mule says 'summertime' to me. This particular drink was popular during the 1950s and has experienced a resurgence in recent years. Like many others, I love the refreshing combination of ginger beer and lime juice. If you want to experiment with our Ginger Beer recipe (pg 288 in our new book, Make It Paleo 2 - available for preorder now on Amazon), this is a great way to fully test it out when the book arrives. My favorite vodka brand to use is Three Hunters Vodka, a Paleo-friendly version of the spirit distilled from grapes and blueberries.
Paleo Bananas Foster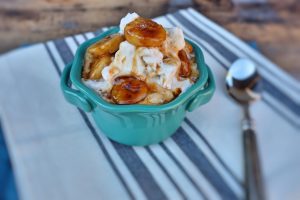 What to do when you get a craving for bananas foster? Do it up real good, as paleo as you can. This version of paleo bananas foster will satisfy your craving and leave you wanting more and more.
Paleo Rabbit Cacciatore and Meatballs Over Mashed Sweet Potatoes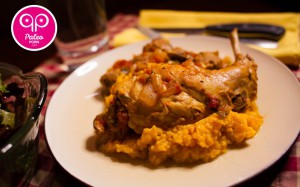 Serve Paleo Rabbit Cacciatore with Meatballs over Mashed Sweet Potatoes for a delicious Paleo dinner.
Fish Tacos with Smoky Slaw (recipe from Make It Paleo 2)
This recipe is one of our favorites from our new cookbook, Make It Paleo 2. We love it for it's balance and fresh flavors... this dish is super refreshing during the summer when the slaw ingredients are in season. If you don't want to go all-in, this would be great in lettuce cups instead of the tortillas, giving it an additional pop of crunch and lightness. If you love this recipe, get your hands on a copy of Make It Paleo 2 (http://bit.ly/MakeItPaleo2)
Paleo Onion Crackers with Thyme, Rosemary, and Sea Salt
These Paleo onion crackers – seasoned with thyme, rosemary, and sea salt – are so tasty that even your non-Paleo friends will be unable to keep their fingers off them (nor will they be able to tell they're completely grain free).
PALEO NIÇOISE SALAD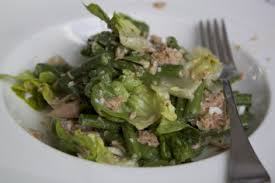 This Paleo version of the classic French salad makes lunch or dinner for two adults.