cook:
10 minutes to 15 minutes
Serves: 4
Tacos with Jicama Shells
We love lettuce-wrapped tacos, and taco salads, but with the addition of jicama in place of the typical corn flour shells, you really experience the full effect of a tasty taco recipe. The jicama adds the perfect crunch to this dish!
Offal-ly Good Paleo Tacos de Lengua
Tender and flavorful beef tongue tacos served on paleo tortillas
Blackened Fish Tacos with Peach Salsa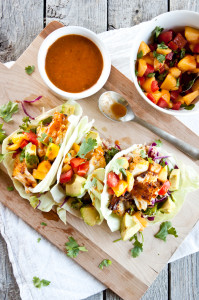 These blackened fish tacos wrapped up in a lettuce leaf, topped with peach salsa and chipotle lime dressing were fresh. Like seriously, deliciously, fresh.
Fish Tacos with Smoky Slaw (recipe from Make It Paleo 2)
This recipe is one of our favorites from our new cookbook, Make It Paleo 2. We love it for it's balance and fresh flavors... this dish is super refreshing during the summer when the slaw ingredients are in season. If you don't want to go all-in, this would be great in lettuce cups instead of the tortillas, giving it an additional pop of crunch and lightness. If you love this recipe, get your hands on a copy of Make It Paleo 2 (http://bit.ly/MakeItPaleo2)
Paleo Brisket Tacos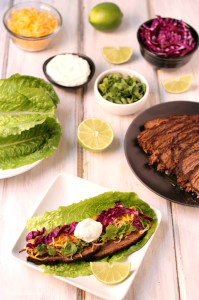 Slow cooked balsamic beef brisket is wrapped in leaves of fresh romaine lettuce and layered with a bunch of colorful fillings for a healthy, tasty, paleo taco night!
Tropical Pork Tacos w/ Pineapple Salsa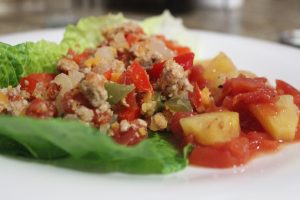 Easy summer dish that will have your friends and family asking for more!
Scrambled Eggs with Lox and Capers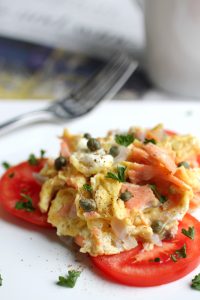 Growing up, my family would often serve lox with bagels and cream cheese at family brunches. This was always a special occasion when family came into town. In my mind, I can still taste the flavors of a toasted bagel topped with cream cheese, lox, red onion, tomato, and capers. For our version of this dish, we replaced the bagel and cream cheese with eggs for an equally delicious and much healthier version.
—Hayley
Chipotle Pork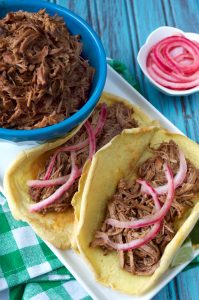 Spicy Paleo Chipotle tacos are made in the slow cooker then wrapped in a grain-free tortilla and topped with easy pickled onions!
Plantain Tortillas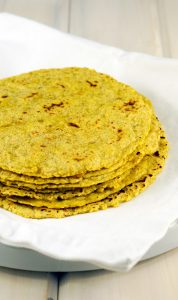 Plantain Tortillas have literally changed my life and they will change yours too! That might sound crazy but it's so true. These are so easy to make because they only contain 2 ingredients! They are perfect for tacos, wraps, chips and can even be turned into a sweet treat by adding a little cinnamon and maple syrup. These tortillas are super stable and flexible making it easy to fill them with anything you like. Enjoy!
Smoky Slaw (from Make It Paleo 2)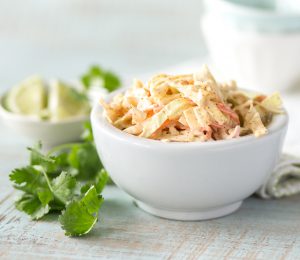 A summertime cookout just isn't complete without a creamy coleslaw. This side dish goes really well with our Fish Tacos, or a big slab of smoked ribs. The chipotle powder spices up this recipe without overwhelming it, though you're welcome to add more if you love spicy food! The smokiness of the slaw is perfectly balanced by the crunchy veggies and creamy mayo.