Spicy Cinnamon Lamb Steaks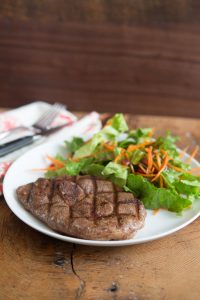 Patagonia Roast Lamb with Chimichurri Sauce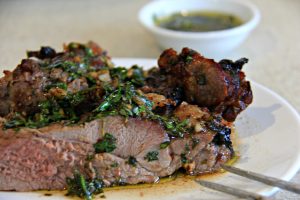 Boned, butterflied, leg of lamb, marinated in chimichurri sauce, then cooked in a very hot oven for only 30 minutes. The meat will be slightly charred on the outside and medium rare in the middle. The lamb will be slightly charred and have a slightly smoky taste as if cooked on a BBQ. Lamb is a staple in Patagonia. In combination with chimichurri, the classic sauce found throughout Argentina and Chile, the lamb becomes divine.Easy to prepare, cook and carve. This is a great dish for a dinner party.
Slow Cooker Lamb Shanks
I have really been enjoying using my slow cooker to make a bunch of amazing recipes, some of which include Slow Cooker Cashew Chicken, Slow Cooker Osso Bucco and Slow Cooker Beef Pot Roast. When I first bought my slow cooker back in 2012, it stayed unused in the cupboard for more than 12 months. These days I cook with it 1-2 times per week. I am certainly making up for lost time. Today's recipe - Slow Cooker Lamb Shanks - is a beauty. Lamb Shanks may feature prominently on the menu of many great restaurants, but they are fairly easy to make at home, especially when using a slow cooker. You will find when using the slow cooker that the meat will be literally falling off the bone once it has finished cooking. I have included two methods with this recipe, the first is my preferred method and involves an extra 30 minutes of prep time. The second method is perfect if you do not have time to do the prep and you basically throw everything straight into the slow cooker. Hope you enjoy my latest slow cooker recipe.
cook:
10 minutes to 12 minutes
Serves: 2
Grilled Lamb Chops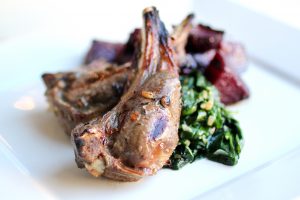 Lamb chops are a tasty way to bring new flavors to summer time grilling. For this recipe we use a simple seasoning of lemon, garlic, shallot, and oregano to enhance the wonderful flavor of the juicy lamb chops.
Dijon Seared Lamb Chops with Leeks & Bok Choy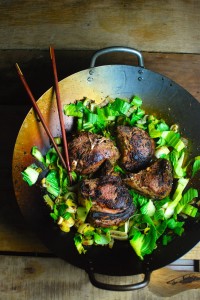 Dijon Seared Lamb Chops with Leeks & Bok Choy - a flavorful, healthy one-pot meal that you can put on the table in 30 minutes or less.
Grilled Lamb Shoulder Chop with Strawberry Mint Truffle Sauce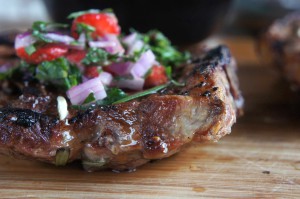 It's a battle. A fight for spring's sweetest bounty and a race against the clock. Has anyone else failed to pick a single strawberry this season? I certainly have. It's not that I haven't tried. On the contrary, I've been eyeballing those berries since they were white flower buds. The problem is, I'm not the only one with a sweet tooth. Oh no, its seems that every being wants a share of these berries: the robins living in the tree, the chipmonk--or was that a mouse?- and probably my own cat all have cheeks full of sweet stawberry pulp. Can you blame them? Strawberries on the vine are pretty much juicy summer in a bite. For the first time this summer, I took what I could get. After savoring the second bite of this grilled lamb with stawberry sauce, I understood what the animals in the yard were so excited about. Garden-fresh strawberries are good. Really good. This recipe showcases our garden's strawberries and mint (which I have no trouble harvesting--that stuff grows like weeds!). The truffle oil and strawberries play on the sweet earthiness of the lamb while the lemon and mint bring it to life! Any trouble collecting your own garden's bounty? What do you make when you FINALLY get your hands on the crop you've been waiting for?
cook:
15 minutes to 18 minutes
Serves: 2
Smoky Lime Rib Steaks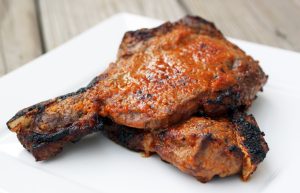 The aromas of smoked paprika, cumin, and garlic pair beautifully with the deep, warm flavor of red palm oil. The addition of fresh lime juice adds a crisp, light dimension to this recipe. This marinade is fantastic over any cut of steak, and also makes for a delicious dipping sauce!
Lamb Asparagus Stir-Fry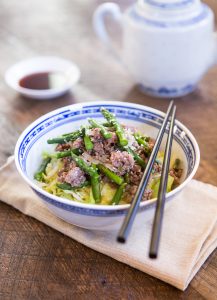 Either ground lamb or beef works well in this stir-fry, where the combination of vegetables, ginger, and coconut aminos really bring out the Asian-inspired flavors.
Eggplant Lamb Paleo Soup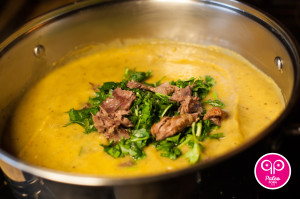 Eggplant Lamb Paleo Soup is so smooth and flavorful, it will warm you up from the inside out. Plus it's easily adaptable to become Vegetarian and Vegan friendly.
Moroccan Spiced Lamb Burgers with Pistachio Crust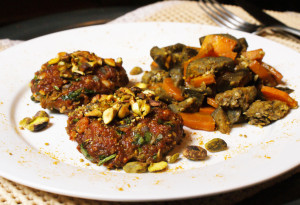 These healthy lamb burgers are spiced with Moroccan seasonings and fresh herbs, and baked in the oven for a juicy and firm patty. If you have Ras-el-Hanout Moroccan spice blend on hand, replace seasonings in the ingredient list with 1 Tbsp of that. You can also use ground beef. Great for entertaining.