Patagonia Roast Lamb with Chimichurri Sauce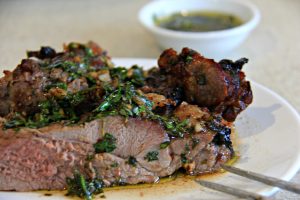 Boned, butterflied, leg of lamb, marinated in chimichurri sauce, then cooked in a very hot oven for only 30 minutes. The meat will be slightly charred on the outside and medium rare in the middle. The lamb will be slightly charred and have a slightly smoky taste as if cooked on a BBQ. Lamb is a staple in Patagonia. In combination with chimichurri, the classic sauce found throughout Argentina and Chile, the lamb becomes divine.Easy to prepare, cook and carve. This is a great dish for a dinner party.
cook:
10 minutes to 12 minutes
Serves: 2
Grilled Lamb Chops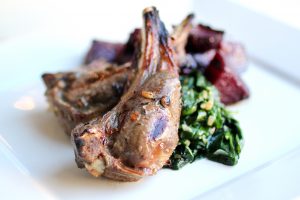 Lamb chops are a tasty way to bring new flavors to summer time grilling. For this recipe we use a simple seasoning of lemon, garlic, shallot, and oregano to enhance the wonderful flavor of the juicy lamb chops.
Slow Cooker Lamb Shanks
I have really been enjoying using my slow cooker to make a bunch of amazing recipes, some of which include Slow Cooker Cashew Chicken, Slow Cooker Osso Bucco and Slow Cooker Beef Pot Roast. When I first bought my slow cooker back in 2012, it stayed unused in the cupboard for more than 12 months. These days I cook with it 1-2 times per week. I am certainly making up for lost time. Today's recipe - Slow Cooker Lamb Shanks - is a beauty. Lamb Shanks may feature prominently on the menu of many great restaurants, but they are fairly easy to make at home, especially when using a slow cooker. You will find when using the slow cooker that the meat will be literally falling off the bone once it has finished cooking. I have included two methods with this recipe, the first is my preferred method and involves an extra 30 minutes of prep time. The second method is perfect if you do not have time to do the prep and you basically throw everything straight into the slow cooker. Hope you enjoy my latest slow cooker recipe.
Roasted Rutabaga With Ranch Seasoning Blend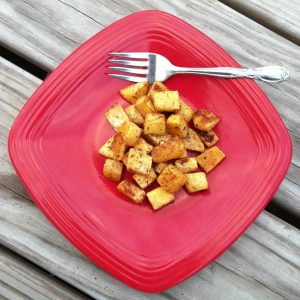 Rutabagas have become an almost-whole-family-approved veggie since we first tried them a few months ago, and a ranch seasoning blend is always a huge hit around here. This is the ratio of herbs/seasonings my family enjoys in the ranch seasoning blend, but you can adjust as necessary to suit your taste. Roasting rutabagas brings out a slight sweetness, and everyone I serve them to thinks they are potatoes at first. They have a mild flavor similar to a Yukon gold potato (as long as you store them in a cool dark place and use them before they develop soft spots or grow sprouts), and their texture is very firm like a carrot. Use a very sharp knife when peeling and dicing and work on a stable surface!
cook:
10 minutes to 12 minutes
Serves: 2
Lemon Thyme Lamb Chops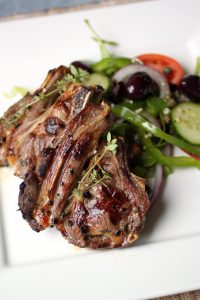 Lemon and thyme are often used to compliment the flavor of lamb. For this recipe we used the ever fragrant lemon thyme herb to infuse the olive oil for marinating. This seasoning combines the wonderful flavors of lemon and thyme by use of one simple herb.
Dijon Seared Lamb Chops with Leeks & Bok Choy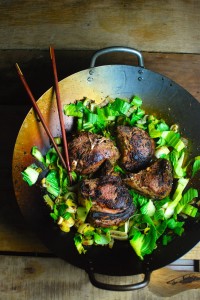 Dijon Seared Lamb Chops with Leeks & Bok Choy - a flavorful, healthy one-pot meal that you can put on the table in 30 minutes or less.
Grilled Lamb Shoulder Chop with Strawberry Mint Truffle Sauce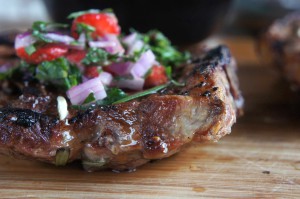 It's a battle. A fight for spring's sweetest bounty and a race against the clock. Has anyone else failed to pick a single strawberry this season? I certainly have. It's not that I haven't tried. On the contrary, I've been eyeballing those berries since they were white flower buds. The problem is, I'm not the only one with a sweet tooth. Oh no, its seems that every being wants a share of these berries: the robins living in the tree, the chipmonk--or was that a mouse?- and probably my own cat all have cheeks full of sweet stawberry pulp. Can you blame them? Strawberries on the vine are pretty much juicy summer in a bite. For the first time this summer, I took what I could get. After savoring the second bite of this grilled lamb with stawberry sauce, I understood what the animals in the yard were so excited about. Garden-fresh strawberries are good. Really good. This recipe showcases our garden's strawberries and mint (which I have no trouble harvesting--that stuff grows like weeds!). The truffle oil and strawberries play on the sweet earthiness of the lamb while the lemon and mint bring it to life! Any trouble collecting your own garden's bounty? What do you make when you FINALLY get your hands on the crop you've been waiting for?
Homemade Taco Seasoning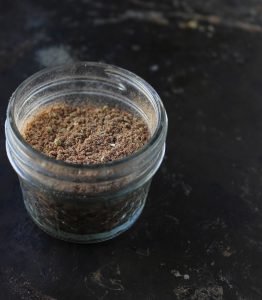 Skip the MSG filled, packaged garbage seasoning mixes and try your hand at making your own. I swear it's way tastier, cheaper, and super easy!
Healthy, Homemade Mexican Seasoning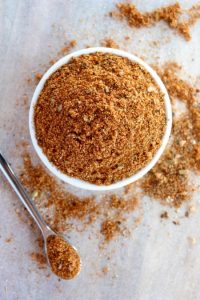 All natural, quick and easy, light, fresh, smoky, sweet, subtly spicy, healthy, homemade Mexican seasoning
Lamb Chops Two Ways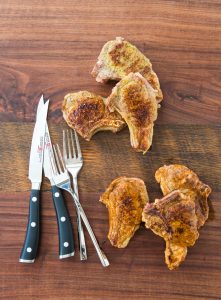 No matter what your flavor preference may be, you'll find something you like with this recipe. If you like dishes with a kick, opt for the sausage seasoning; if prefer a more mild flavor, try the adobo blend.