Jamaican Jerk Salmon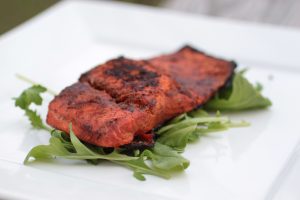 Classic Jamaican jerk spices bring new and exciting flavors to this salmon dish. Jamaican jerk seasoning often uses brown sugar to add sweet flavor to offset the spicy kick that it gives. To make this paleo, we omitted the sugar and just let the spices enhance this meal on their own.
Crab-Stuffed Salmon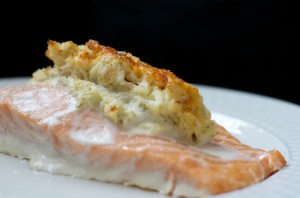 When thinking up new salmon recipes, we look for inspiration every where, even the local Costco. Costco sells crab-stuffed salmon year-round. Growing up, my parents would buy it on rare occasions, and it was always delicious. Heather and I often pick up salmon from Costco, but we've never bought the crab-stuffed salmon because we weren't thrilled by the ingredient list. After some brainstorming, this is what we came up with, and we think you're going to like it.
Guacamole Salmon Poppers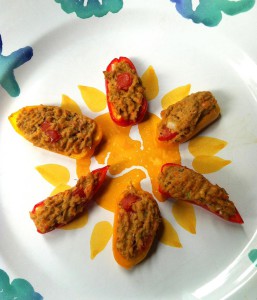 I went to the store one day to pick up some celery and cucumber to serve my guacamole salmon spread on, and I saw a bag of adorable mini sweet peppers that I couldn't pass up. I loved the salmon spread on the raw peppers, but I decided to try baking them, "popper" style, as most members of my family find peppers more palatable when they've been cooked. They are great both ways (as well as on hot or mild peppers)! Cooked though, the salmon mixture reminds me of a delicious and comforting tuna casserole my Grandma used to make, and who doesn't like to be reminded of Grandma?!
Crab-Stuffed Salmon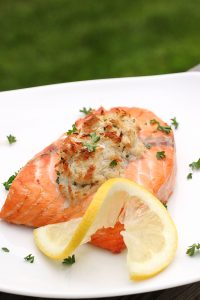 This dish is inspired by a creation of my sister Nellie and her husband, Chris. According to Nellie, "as long as we've been together, whenever Chris wanted to make a nice meal for me, it was always crab-stuffed salmon. To this day, it is still a go-to recipe if we want to treat ourselves."
Creole Salmon Cakes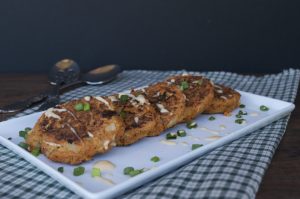 Simple salmon cakes with a New Orleans twist.
Honey Almond Salmon with Roasted Fennel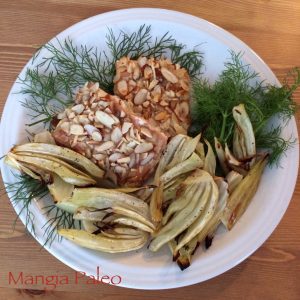 Eating wild salmon about once or twice a week is something you should get used to. It's packed with healthy Omega-3 fats. These fatty acids are super important to those with inflammatory diseases like Crohn's and Colitis because of the benefits of docosahexaenoic acid (DHA) and eicosapentaenoic acid (EPA). What the heck is that? Well, a significant lack of these omega-3 fatty acids can be blamed in part for chronic inflammatory disease and poor brain function. It's actually the over-consumption of omega-6 and not enough consumption of omega-3 that makes everything screwed up. So, just make sure you're eating 8-10 ounces of fish, preferably salmon, to get your omega-3s and don't let this information worry you. :)
Salmon Salad Power Bowls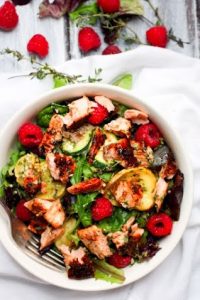 Salmon Salad Veggie Power Bowls with Raspberry and Balsamic Glaze. Finally, a salad this is packed with flavor, healthy fats, and amazing antioxidants! Zucchini, thyme, seasonal greens, grilled salmon, and raspberries make one POWERful and delicious combo.
Rosemary Salmon with Orange Zest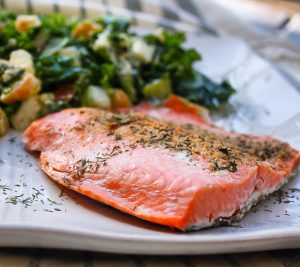 A delicious Salmon Dish with fresh herbs and naturally sweetened with Orange Zest! Perfectly Paleo and great for the Holidays!
cook:
10 minutes to 15 minutes
Serves: 4
Cedar Plank Salmon with Lime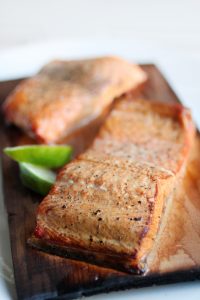 Nothing quite says "summer" like the smoky aroma of cedar on the grill. These simple yet delicious salmon filets are an easy way to win over dinner guests. Present the salmon right on the cedar plank to finish this dish with panache.
Oven Roasted Maple BBQ Salmon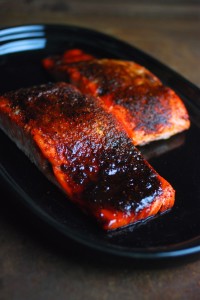 Oven Roasted Maple BBQ Salmon - easy, protein-packed recipe ready in 25 minutes. Serve it atop fresh greens dressed with lemon juice.