Espelette Chili Sirloin Steak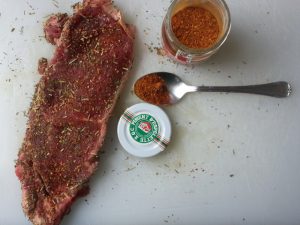 Sometimes there's nothing better than a well-seasoned steak. Espelette chili is a small and flavorful chili pepper from the South of France. Recipe with step by step guidelines to cook the perfect steak!
Flank Steak with Chimichurri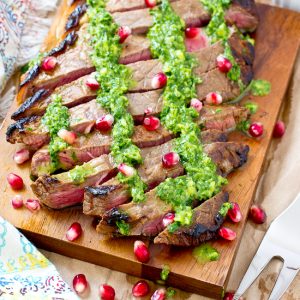 This beautiful steak is deceptively easy & tastes fantastic with simple homemade chimichurri. It's a restaurant-style meal at home!
Paleo Tortillas (from Make It Paleo 2)
These tortillas take a little patience and finesse, but they are a great grain-free version of the flour tortillas you may be used to. They hold up great, and don't break when you wrap them around your favorite foods. Try them with our Fish Tacos or Lamb Gyros!
Asian Steak Salad
When it comes to steak, I usually just want a good grilled rib eye with just a pinch of salt on it. Not so with this tasty steak salad. The marinade for the steak imparts incredible flavor, so to me, the salad is simply a bonus on top of an amazing steak dish.
Steak and Eggs with Sautéed Cabbage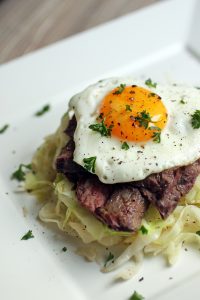 While leftovers are a rare occurrence in our house, we do love utilizing them for breakfast the next morning when we have them. Here is a great way to make use of leftover steak, or a great excuse to throw an extra steak on the grill next time you're cooking out!
Paleo Chicken Cacciatore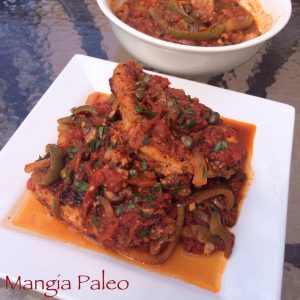 An Italian classic made paleo! Even the word "cacciatore" is very primal. It means "hunter" in Italian. Chicken cacciatore basically tells you it's paleo right in the title. How could you go wrong? This meal is delicious enough to eat on its own, but you may also serve it with spaghetti squash or zucchini noodles. It tastes like you spent all day in the kitchen.
Skirt Steak with Chive Butter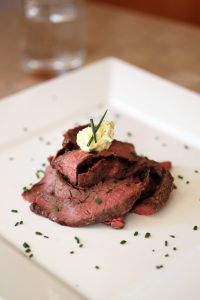 A simply grilled steak is even more mouth watering with homemade chive pasture butter melting over top of it. This recipe brings a taste of gourmet to your plate with the use of only 4 ingredients!
cook:
12 minutes to 16 minutes
ready in:
1 hour and 12 minutes to 24 hours
Serves: 4
Cinnamon Steak Skewers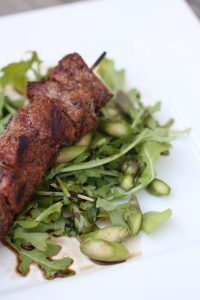 These skewers bring unique flavors to classic grilled steak. Cinnamon is a great pairing with beef, albeit underutilized. The addition of curry and ginger give this dish a warm and slightly tangy flavor.
Gluten Free Steak Salad Flatbread
Making a meal gluten free can be simple and delicious! All you need are the right ingredients. Our favorite "fit and healthy" recipe trick is to use gluten free pizza crust to create a delicious steak and salad flatbread. It's simple, effortless, and ready in 15 minutes.
Pan Seared Steak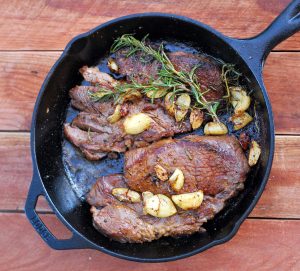 This pan seared steak is part of our regular dinner rotation because its easy to make using a cast iron pan versus the grill and comes out perfectly medium rare and juicy. A dry rub of salt, pepper, onion and garlic powder and paprika gives the steak great flavor and I finish it with a garlic rosemary butter sauce mixed with the pan drippings. Move over A1! Its one of the most viewed recipes on my blog so I hope you'd give it a try :)