Roasted Garlic and Basil Guacamole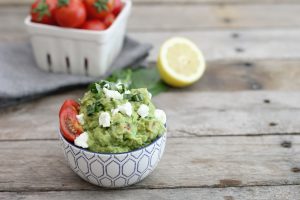 I am a big fan of non-traditional guacamole. Avocados are so versatile and I don't think we give them enough credit. I decided to make guacamole with basically the complete opposite flavor of traditional guacamole. We had gotten some delicious tomatoes, basil and goat cheese from our farmer's market and I decided that I wanted to combine those flavors for the guacamole. I also decided to use some roasted garlic because it lends a sweet garlic flavor instead of a "kill a vampire" flavor. The combination turned out absolutely amazing and really is a perfect seasonal dip. It may take your senses a second to realize it isn't the traditional flavor but it is so worth trying!
Game Day Guacamole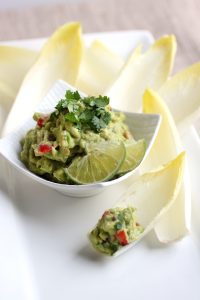 Guacamole is a party-time staple for us. Always a hit, this creamy dip pairs beautifully with most vegetables. Whether it is a summer cookout or Monday night football, we are always sure to serve up some delicious guac' and fresh veggies for dipping.
Grilled Peach, Jalapeno, and Bacon Guacamole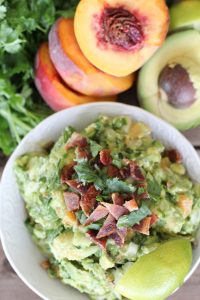 A perfect blend of sweet, smokey and spicy. Serve with your favorite chips or on top of a salad, burger or grilled chicken.
Pineapple Bacon Guacamole w/ Tostones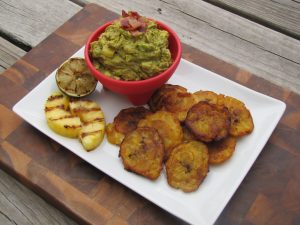 Want to kick your guacamole up a notch? Add some grilled pineapple and crispy bacon to the mix! Serve along side some crispy plantain chips and boom, show stopper!
Guacamole Salmon Poppers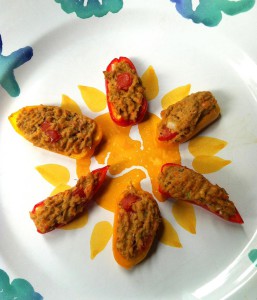 I went to the store one day to pick up some celery and cucumber to serve my guacamole salmon spread on, and I saw a bag of adorable mini sweet peppers that I couldn't pass up. I loved the salmon spread on the raw peppers, but I decided to try baking them, "popper" style, as most members of my family find peppers more palatable when they've been cooked. They are great both ways (as well as on hot or mild peppers)! Cooked though, the salmon mixture reminds me of a delicious and comforting tuna casserole my Grandma used to make, and who doesn't like to be reminded of Grandma?!
Scrambled Eggs with Lox and Capers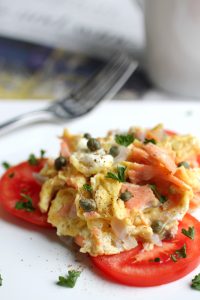 Growing up, my family would often serve lox with bagels and cream cheese at family brunches. This was always a special occasion when family came into town. In my mind, I can still taste the flavors of a toasted bagel topped with cream cheese, lox, red onion, tomato, and capers. For our version of this dish, we replaced the bagel and cream cheese with eggs for an equally delicious and much healthier version.
—Hayley
AIP Pupusas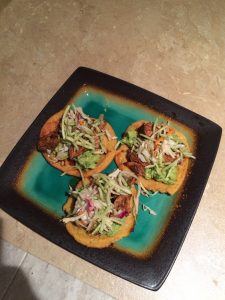 A grain free, dairy free, inside out version of this traditional Salvadorian dish.
Taco Salad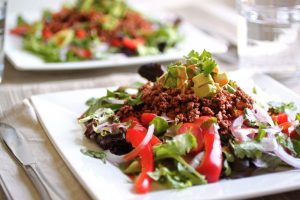 Nothing says you can't still enjoy taco night when you live a grain-free lifestyle! This recipe takes classic taco flavors and deconstructs them to create a deliciously fresh salad. Enjoy this meal for lunch or dinner any day of the week!
Manguac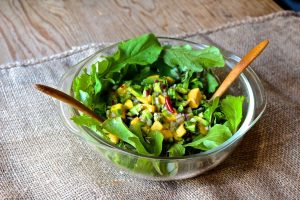 Manguac- A collision of tropical bliss to top your grilled favorites, mango guacamole will rock your world. GF paleo vegan
Grilled Shrimp, Citrus and Fennel Salad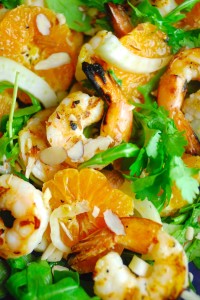 Grilled Shrimp, Citrus and Fennel Salad with Arugula and Almonds. Healthy, delicious and easy! Vinaigrette is naturally sweetened with a little orange juice.