Paleo Swedish Meatballs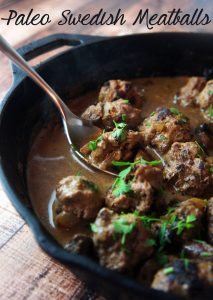 After a couple of thunder and hail storms, it has finally cooled off here. We escaped to Rocky Mountain National Park on Saturday, and I found myself wishing for a sweater and a mug of hot coffee. We were lucky enough to get up close and personal with an Elk! There are pictures at the bottom of this post but for now, these cooler temperatures mean that I am finally in the mood to talk about warm food again! As promised, this post is about Paleo Swedish Meatballs. When you Google the origins of Swedish Meatballs, you don't find much in the way of answers. What you do find is a lot of people talking about IKEA, and how they've discovered the furniture store's famous recipe. In truth, I've never stepped foot into an IKEA, and so when I hear this I furrow my brow and wonder how a furniture store ended up so famous for beef and gravy. Anyone with me? Since I haven't been to IKEA, I guess I can't really judge. My own memories of Swedish Meatballs don't make much more sense anyways (they include a lot of Costco and have nothing to do with Sweden). This is why I found myself searching for answers. Why are they Swedish? While I consider myself a perfectly competent search-engine-maneuverer, I can't say I came back with many answers. It does seem that in some parts of Sweden, some meatballs are served in gravy. Unlike French Fries, maybe Swedish Meatballs do have an origin-appropriate name. I never really got to the bottom of the issue, because at that point I just gave in and decided it was time to eat. Maybe that's what French Fries and Swedish Meatballs have in common: they're just too dang delicious for anyone to really care what they're named. Serve them over a pile of mash potatoes or on toothpicks as an appetizer. Swedish or not, there's something about gravy that just hits the spot.
Sweet Apple Pork Meatballs
I grew up eating lots and lots of pork. Despite all of the jokes you can throw my way about failing to keep "Kosher", I'm a very happy Jew with my breakfast filled with bacon and sausages. My body responds well to animal fat, so there is no reason for me to resist. I wanted to make some spiraled pasta with my nifty and new kitchen gadget: The Paderno Spiralizer! It's about time I attempted to make some meatballs anyways. What else would I put atop these awesome zucchini noodles? Well, I'm sure there are a million things I could serve them with, but the most obvious choice for me was meatballs. I wanted to incorporate some sweetness because one of my favorite breakfast foods is apple chicken sausage. Since I am babbling on about pork though, I will be omitting the chicken and replacing it with some pig, wink wink. If you'd like, you can turn these into patties as well. I just love meatballs, bada boom.
Greek Salad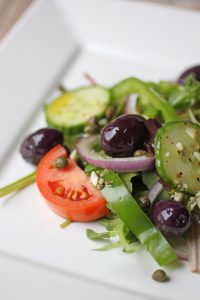 This salad is our go-to side dish for any time lamb is on our menu. Our simple Greek salad is perfect plated under "lamburgers," paired with grilled lamb chops, or even with roast leg of lamb.
Carrot Ginger Meatballs
Tasty Carrot Ginger Meatballs have no added sugar but are slightly sweet from a combination of shredded carrots and ginger inside the meatballs!
Chicken Kofta Curry – Chicken meatballs in spicy tomato sauce
Except for vegetarians, who doesn't like meatballs? Simple to make, different ways to play with ingredients as per taste, they are great quick snacks or appetizers and make excellent leftovers to turn into a curry or a meatball sandwich. In India and Middle East, a spiced meatball is called kofta. Koftas consist of balls made with minced ground meat (usually beef or lamb) mixed with spices. Here it is chicken kofta curry recipe - fried meatballs, cooked in a rich spiced tomato sauce. This is delicious, you must try it. Just look at the ingredients, all those amazing spices that give a divine favor to the meat.
Paleo Mushroom Herb Meatballs
A simple gluten-free, egg-free beefy meatball that's packed full of fresh flavor. Only 5 ingredients and no fillers; these meatballs are all beef and mushrooms. They're easy to put together and are cooked in 10 minutes!
Ancho Chile Mexican Meatballs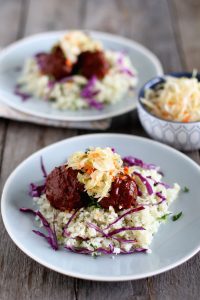 This meatball recipe was originally created out of mistake. I didn't have a lot of food in the house but I had dried chiles so I decided to make a sauce and then all I had was ground beef for protein. Logically the thing to do was to make meatballs and I had some leftover cilantro cauliflower rice to go with it. Now this is one of my favorite recipes and the smoked jalapeno kraut on top complements the flavors perfectly.
Pasta with Meatballs
One of our favorite spice blends is adobo, which is a beautifully balanced mix of garlic, onion, bay leaf, oregano, and pepper. We love using it to season meatballs (even in soup). We think you'll find it to be a nice addition to the classic spaghetti and meatballs.
Lemon Rpsemary Greek Yogurt Chicken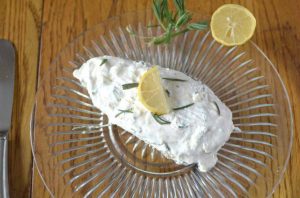 This Healthy Lemon Rosemary Greek Yogurt Chicken is super easy to make, only 4 ingredients and is moist and tender! It will be to be a crowd-pleaser!
Greek Cauliflower Salad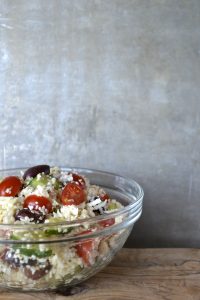 This salad was inspired by a Greek quinoa salad my mom used to make, but I used cauliflower and one of my favorite super foods to make it grain free! You can even add some feta cheese if you want, but this salad is so flavorful you don't even need it! Did I mention it is super easy to make, and super delicious too!