Chicken coconut curry recipe – Chicken with coconut milk and spices
It looks a little fancy, doesn't it? Well, it's the most unfussy dish to make, and is filled with nutrients that will keep you feeling great. This simple coconut chicken curry it's creamy, colorful (isn't just amazing that bright yellow color of turmeric?), full of flavor and incredibly healthy. If you don't like yellow in your plate or you don't easily find turmeric, then you can skip the turmeric.
Chicken Kofta Curry – Chicken meatballs in spicy tomato sauce
Except for vegetarians, who doesn't like meatballs? Simple to make, different ways to play with ingredients as per taste, they are great quick snacks or appetizers and make excellent leftovers to turn into a curry or a meatball sandwich. In India and Middle East, a spiced meatball is called kofta. Koftas consist of balls made with minced ground meat (usually beef or lamb) mixed with spices. Here it is chicken kofta curry recipe - fried meatballs, cooked in a rich spiced tomato sauce. This is delicious, you must try it. Just look at the ingredients, all those amazing spices that give a divine favor to the meat.
Hawaiian Crockpot Chicken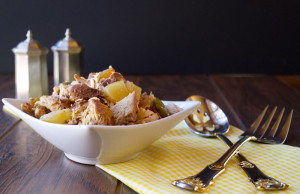 With only 5 ingredients this dish is simple and delicious.
Autoimmune Paleo Creamy Lemon Chicken Kale Soup
An easy crockpot Autoimmune Paleo recipe that is coconut free
Slow Cooker Butter Chicken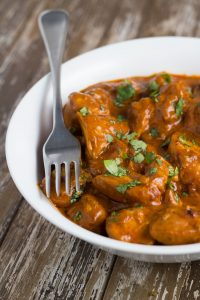 A long, long time ago, I used to eat out and get takeaway a few times a week. I did love to cook, but when I was getting home late from work, it was easy just to buy dinner. When we would eat at an Indian restaurant (or get Indian takeaway), I would order one of two dishes - Butter Chicken or Chicken Tikka Masala. If I ever made one of these dishes at home, it would usually be from a jar. These days I like to know what goes in to the meals that my family eats - and this means fresh, whole foods and a variety of herbs and spices - no numbers, and no crap. I have made Butter Chicken several times before from scratch, but never using a slow cooker. Seriously, why did I not have one of these babies before!! Cooking is so easy when you use a slow cooker (easy enough that you don't need to settle for takeaway, so long as you plan a little bit ahead) and the results are fantastic. If you are cooking meat, it is always really tender or falling off the bone, depending on what cut of meat you are cooking. This version of Butter Chicken is delicious, healthy and so easy to prepare. I would have to say it is in my top four slow-cooker meals, along with my Slow Cooker Cashew Chicken, Slow Cooker Lamb Shanks and Slow Cooker Osso Bucco.
Paleo Cauliflower Chicken Chowder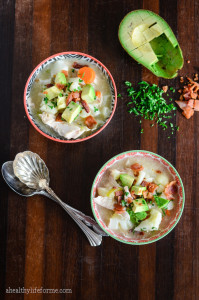 Paleo Cauliflower Chicken Chowder is unbelievably good and good for you, gluten free, grain free, dairy free, and soy free. You will be amazed at how hearty flavorful and satisfying this chowder is, and it is super easy to pull together. Use a Cooked Organic rotisserie chicken from your local store to cut down on cook time. If you want to keep this vegetarian, skip adding the chicken the chowder.
ready in:
1 hour and 15 minutes
Serves: 4
Grilled Cilantro Chicken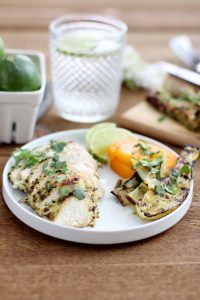 I promise I do use other herbs than cilantro. I am really sorry if you are one of those people who genetically hate cilantro because it tastes like soap. This has been one of my favorite ways to make grilled chicken for a long time. I am not really sure why it has taken me so long to post the recipe for it. It is super simple and always a huge hit for a crowd. You can easily double this recipe and grill a bunch of chicken for a BBQ or if you just want to eat a lot of chicken. I prefer to grill this recipe because the flavor really shines. You can also pan fry it if you don't have a grill. I find that it usually takes long to cook on a stove (or maybe my stove stinks). This chicken is great by itself or served on top of a salad, cauliflower rice or with a bunch of super fresh summer salsa.
cook:
15 minutes to 25 minutes
ready in:
25 minutes to 35 minutes
Serves: 2
Grilled Split Chicken Breasts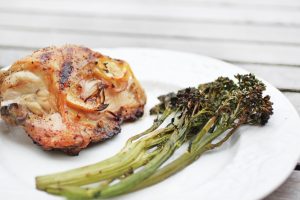 Lemon and garlic are classic flavors often paired with chicken. For this dish, the lemon and garlic, along with the shallot, infuse the chicken under the skin, resulting in wonderful flavor, all tucked under crispy grilled skin.
Honey, Ginger and Sesame Chicken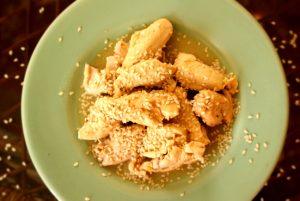 An easy way to prepare chicken breast that's ready in minutes and is packed with diverse flavors and crunchy sesame seeds. tIf you have some time ahead of you, I strongly recommend brining the chicken breasts in a salt-water solution for 3 to 6 hours before preparing it so as to have an irresistibly juicy and tender chicken.
cook:
12 minutes to 15 minutes
ready in:
about 1 hour and 15 minutes
Serves: 4
Cumin-Spiced Chicken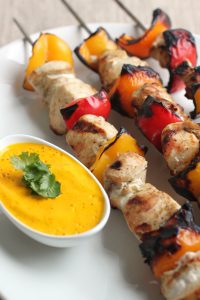 Ground cumin brings a warm, earthy flavor to these chicken skewers, which nicely compliments the sweet flavor of the bell peppers. The addition of an aioli sauce made from red palm oil really brings this dish together.