Spicy Maple Bacon and Dark Chocolate Scones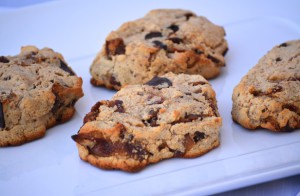 Spicy Maple Bacon make these Scones with Dark Chocolate Chunks irresistible ! Made with healthy ingredients these make the perfect breakfast, brunch or dessert!
ready in:
1 hour and 11 minutes
Serves: 68
Paleo Parisian Chocolate Mousse
This chocolate mousse recipe was inspired by a trip to Paris, where I had the best mousse ever! This mousse was literally out of this world good. How does this sound? Fluffy, rich, chocolatey, silky mousse toped with a thin chocolate disk and an elegant, edible gold flake; and eaten on a bench overlooking the Louvre. Pretty dreamy, right? I love and miss Paris for so many reasons, this definitely being one. I tried to make this mousse as close in taste as possible yet making it nutritional as well, and it turned out almost the same as I remember! I can't wait to someday be able to go back, but until then this chocolate mouse will do, as I dream of Paris;) I hope you enjoy this treat when ever your craving a little bit of Paris. (paleo, egg-free, gluten-free, grain-free, dairy-free, refined sugar free)
Chocolate Hazelnut Macaroons with Chocolate Fudge Sauce
You will notice that these macaroons are not overly sweet, but rather a great sweet treat. I prefer to make my own chocolate sauce so that I know how much sweetener it contains. Enjoy these little chocolate hazelnut bites!
Beef Bacon and Eggs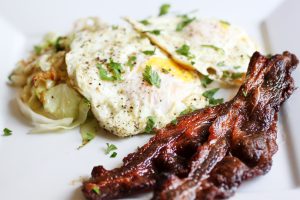 Imagine, if you will, a marriage between traditional pork bacon and beef jerky. That is the flavor you will taste from beef bacon. If you are a bacon lover, as many are, then we encourage you to try beef bacon. It is a delicious way to bring slightly new flavors to a classic breakfast.
"The Reese's Cupcake" Chocolate Chocolate Chip Cupcakes with Sunbutter Frosting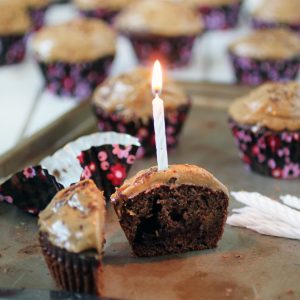 prep:
1 hour and 20 minutes
ready in:
1 hour and 20 minutes
Serves: 12
Chocolate, Chocolate Chip Fruit and Nut Bars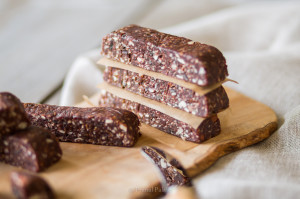 These fruit and nut bars are a healthy option for any time you are craving something sweet, as well as a fun food project for you and your kids! You can serve these in bar form, or in bite size pieces.
ready in:
1 week, plus 2 hours
Serves: 30
Bacon – Cured Pork Belly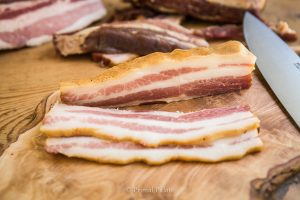 Curing your own pork belly at home to make bacon is easy! Just follow these simple instructions and you'll be frying up your own bacon in no time! The recipe below is adapted from Michael Ruhlman's recipe from his popular book, Charcuterie.
Chocolate Chip Snack Bars
These yummy bars are soft with a cake-like texture and studded with rich chocolate throughout! They are also a super easy to make gluten and grain free dessert!
Mexican Spiced Dark Chocolate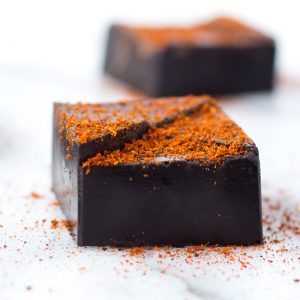 Flavorful, decadent dark chocolate is flavored with fragrant Mexican spices!
Oven Cooked Bacon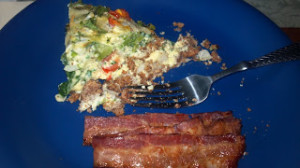 Save that fat - it is delicious. Pour it into a heat-safe container and store in the fridge until you want something to taste extra good by cooking with it. Once the bacon is all cooled off, I wrap up two slices at a time in paper towels and store them in the fridge for later. To reheat, pop the paper towel bundled bacon in the microwave for 10-15 seconds. My super awesome microwave from the 1980s in the rental property where I live doesn't have a digital display, but I assume it was around that long since that's about how long it takes to reheat in a microwave that shouldn't be kicked off a cliff. I like doing this on the weekend because by Wednesday it's like hell yeah, I have bacon.