Seared Cauliflower with Hazelnuts and Pomegranate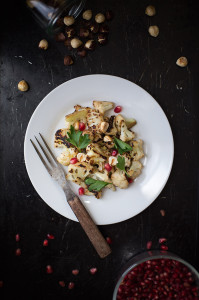 Nutty and slightly sweet tasting cauliflower that has been caramelized to perfection studded with toasted hazelnuts and pomegranate seeds. A simply yet elegant side dish that just happens to be Paleo and is easy to prepare.
Turmeric Cinnamon Roasted Cauliflower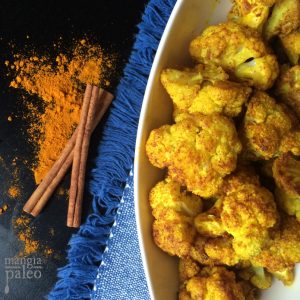 Cauliflower can be one of the most boring foods if you're just boiling or roasting it plain. It even looks tired. That's why I add a colorful anti-inflammatory spice (turmeric) and blood sugar regulating spice (cinnamon) to this wonderfully versatile veggie. This is a great side dish for any meat dish, especially something lean like fish or chicken. In less only 6 ingredients!
ready in:
1 hour and 15 minutes
Serves: 4
Creamy Chicken, Cauliflower and Broccoli Bake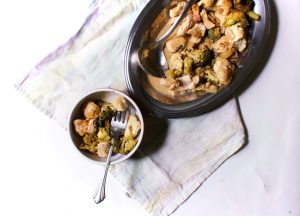 This is such a flavorful recipe, it's unbelievably easy to get on the table, will please anyone - even those who have trouble eating broccoli! - and you'll probably have most of the ingredients in your refrigerator already! It's dairy-free, however if you can have a little bit of cheese I suggest sprinkling the top of the casserole with parmesan for the last 15 minutes of cooking time. This recipe is a great meal by itself, but it also pairs well with some cauliflower rice to absorb the sauce.
Roasted Cauliflower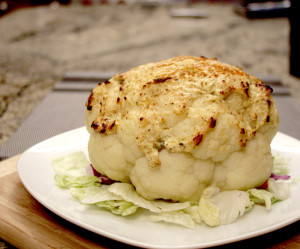 This easy roasted cauliflower is for people like me who are sometimes just too lazy to cut it into florets.
Paleo Cauliflower Chicken Chowder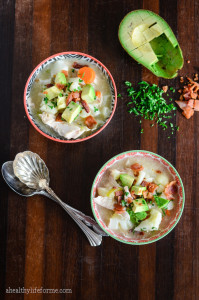 Paleo Cauliflower Chicken Chowder is unbelievably good and good for you, gluten free, grain free, dairy free, and soy free. You will be amazed at how hearty flavorful and satisfying this chowder is, and it is super easy to pull together. Use a Cooked Organic rotisserie chicken from your local store to cut down on cook time. If you want to keep this vegetarian, skip adding the chicken the chowder.
cook:
2 hours and 30 minutes
Serves: 4
Paleo Mustard Braised Short Ribs with Mashed Cauliflower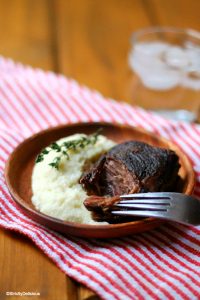 These delicious short ribs are slow braised for hours until they're fork tender and bursting with flavor! Served over creamy, lush mashed cauliflower, this meal is perfect for cold days!
Fluffy Lemon Cauliflower Rice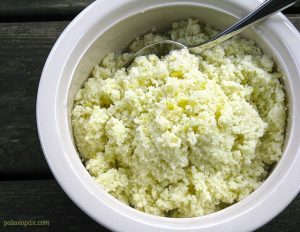 A refreshing twist on cauliflower rice, this version offers a zesty lemon flavor and healthy dose of fats.
Cauliflower Tabbouleh
A traditional, delicious, Arabic salad (with the bulgur/couscous (ie wheat) replaced with cauliflower.
Cauliflower Hash Browns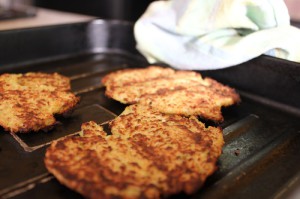 If you thought you'd never have another hash brown with your healthy paleo lifestyle, think again! These hash browns are made with cauliflower and are so close to the texture and taste of potato hash browns you won't know the difference! They require very little ingredients and are low carb.
ready in:
2 hours and 25 minutes
Serves: 6
Fried Cauliflower Rice with Pineapple, Shrimp, and Pork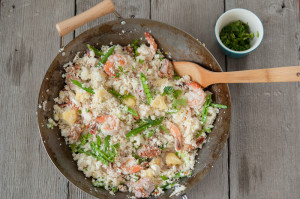 This is a veggie-heavy meal with an Asian flair. If you struggle with getting enough vegetables into your diet, cauliflower rice is one wonderful way of getting more. It has the look and feel of real rice, is as filling as real rice, and yet it is filled with nutrients whereas real rice is not. Skip the pork if in a bit of a rush for a beautiful yet quick weeknight dinner ( I would recommend adding some red pepper flakes to the dish if you skip the pork and still want a bit of a kick).