prep:
16 hours to 24 hours
Serves: 4-6
Beef Tongue Taco Bites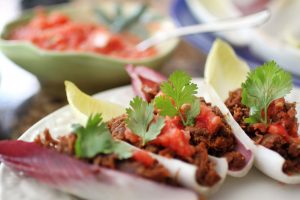 Chorizo Beef Tongue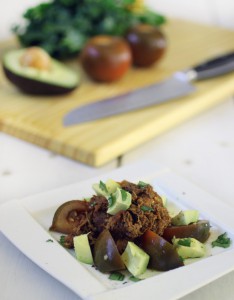 Stuffed Beef Tenderloin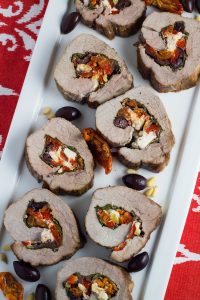 This is one of the many amazing meals that my mum made when I was growing up. I need to explain the preparation process as it can be tricky. You need to take care when preparing the beef - you need to cut horizontally through the center of the beef tenderloin, cutting to - but not though - the other side. Then you open flat like a book and then cover with cling wrap and flatten with a meat tenderiser. There are several other ways that you can cut the beef tenderloin to get the same result, but I think that this is the easier one for me to explain in this post. Once you flatten the beef tenderloin, you need to place the other ingredients on top, making sure you leave some space free at all the ends. Once you have placed all the ingredients, you then roll it up and secure with either toothpicks or kitchen twine.
Slow-Cooked Beef Ragu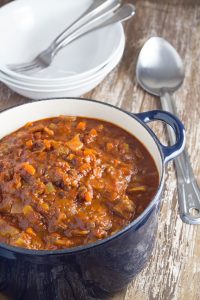 Beef Ragu was a meal my husband and I really enjoyed back when we lived in Canberra - the perfect meal to get through a winter in one of Australia's coldest cities! Back then we often served it with pasta, which we later discovered had contributed to some health problems - which kind of took the fun out of things. With a few key adjustments to the ingredients list, I am really pleased to bring you my latest (re)creation: Slow Cooker Beef Ragu. What I really love about this meal is that the flavours work so well together, the beef is really tender, and the sauce is rich - even though I have substituted in beef stock for the more traditional red wine (in the interests of keeping it healthy!)
Beef Bacon and Eggs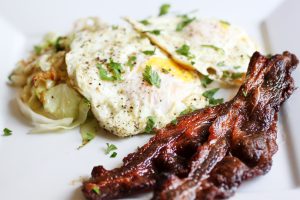 Imagine, if you will, a marriage between traditional pork bacon and beef jerky. That is the flavor you will taste from beef bacon. If you are a bacon lover, as many are, then we encourage you to try beef bacon. It is a delicious way to bring slightly new flavors to a classic breakfast.
Braised Beef Brisket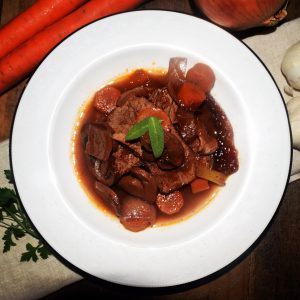 Braised Beef Brisket.. Bet you can't say that 3 times in a row! ;) It's a bit of a tongue twister, but a deliciously savory one at that! Try this out at your next tailgate! I guarantee it's a hit!
cook:
1 hour and 15 minutes
Serves: 8
Peppercorn Beef Tenderloin with Roasted Garlic Cream Sauce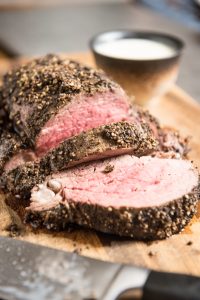 Tender, peppercorn encrusted beef slices with a creamy, dairy-free roasted garlic sauce - an amazing meal for any special occasion. You can make the sauce and put the peppercorns on the beef ahead of time , leaving you with minimal work to do while entertaining. Visit the original blog post for a how-to video tutorial as well.
cook:
20 minutes to 30 minutes
Serves: 4
Beef Tenderloin with Balsamic Drizzle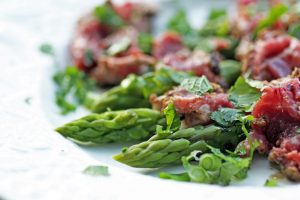 Best served rare to medium rare, beef tenderloin is one of the most prized cuts of the cow. Our favorite way of preparing beef tenderloin is to sear it with a tangy mustard-based crust and serve it over asparagus and mint with a balsamic drizzle. Divine would be an understatement.
Beef Heart Kabobs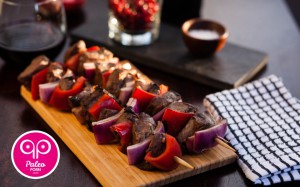 Prepare this Paleo Beef Heart recipe for Valentine's Day and serve that special someone an extra dose of CoQ10. My heart beef's for you! :)
Beef Liver and Onion Meatballs
My Grandy always told me that when my mom was young she would have the butcher grind liver into their beef. She even told a story of one of the neighbor boys coming over for dinner and saying her hamburgers were the best he's ever had. So that was it. I was going to mix our beef liver into some ground meat and hope for the best.