cook:
10 minutes to 15 minutes
ready in:
about 30 minutes
Yield: 9-inch round pie crust
Almond Flour Pie Crust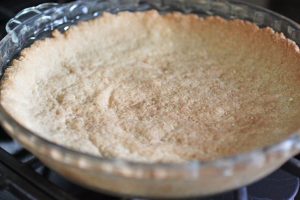 Our classic pie crust is a must-have recipe for anyone who loves to bake. We use this crust for all our pie-making adventures. The flavor is versatile enough for fresh fruit pies, pudding pies, pumpkin pies, or even cheesecake.
Almond Flour Sugar Cookies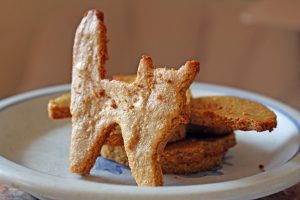 Almond Flour Pancakes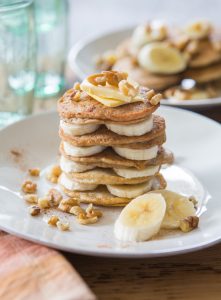 Grain-Free Naan Bread with Cassava Flour
Grain Free Naan Bread with Cassava Flour! A simple and flavorful Middle Eastern bread made grain free and in 20 minutes or less! No oven required, just a skillet and few simple ingredients. Great with hummus, yogurt sauce, or by itself. Definitely a staple recipe you'll want to make over and over again!
Burnt Almond Cupcakes
In Pittsburgh there is a bakery known for its Burnt Almond Torte cake. This is a light and fluffy two-layer cake with a middle layer of creamy custard. The frosting is a lightly whipped vanilla frosting, all topped with toasted almonds. We recreated that amazing dessert by filling vanilla coconut flour cupcakes with coconut vanilla custard, topped with vanilla frosting and toasted almonds.
Toasted Coconut Almond Butter
You'll never look at almond butter the same way again after you try this homemade toasted coconut almond butter!
Almond Butter Chocolate Chip Bread
This Almond Butter Chocolate Chip Bread is a healthy treat, breakfast, or after school snack that even your kids will love!
Dark Chocolate Almond Butter Bites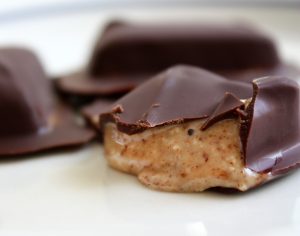 We both shared a love for the classic pairing of chocolate and peanut butter before we began the paleo diet. To satisfy our flavor fix of M&M's or Reese's cups, we created these tasty little dark chocolate–covered almond butter bites. With only two ingredients, you really can't go wrong with these!
Dairy Free Almond Joy Strawberry Smoothie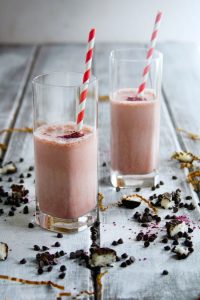 Craving an Almond joy candy bar? Try this layered Chocolate Almond Coconut and Strawberry smoothie that is vegan, gluten free, and tastes just like the real deal; only better for you. The perfect healthy substitute for a milk shake too!
Almond Butter, Turmeric and Ginger Cookies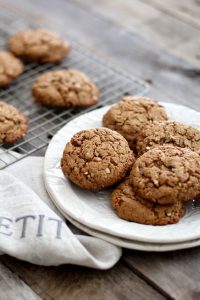 A fun way to include some turmeric in your diet. A soft and chewy middle with a crispy outside. A great combination between a ginger snap and a graham cracker!