Beet and Avocado Salad with Tahini Dressing
This easy salad will definitely wow guests.
Tahini, Walnut and Caramelized Onion Chicken Salad
A new twist on an old classic: chicken salad! This one is nut free and full of flavor.
Lamb & Mango Salad with Lemon-Tahini Dressing
A refreshing summer salad that can be thrown together in 15 minutes! Additional ingredients that would be nice include cilantro, mint, black olives, and feta cheese (if primal).
Tahini-Mashed Twice-Baked Sweet Potato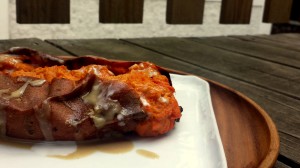 A marriage between creamy baked sweet potato and legume-free hummus... a super easy, 4-ingredient meal or hearty side dish to grilled chicken shwarma or crockpot Kahlua pork.
Scrambled Eggs with Lox and Capers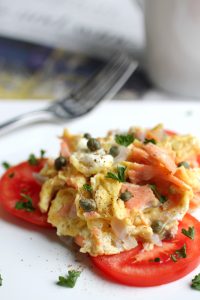 Growing up, my family would often serve lox with bagels and cream cheese at family brunches. This was always a special occasion when family came into town. In my mind, I can still taste the flavors of a toasted bagel topped with cream cheese, lox, red onion, tomato, and capers. For our version of this dish, we replaced the bagel and cream cheese with eggs for an equally delicious and much healthier version.
—Hayley
Brussels Sprout Salad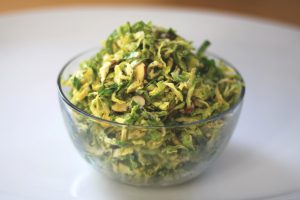 This hearty winter salad is made of shaved brussels sprouts, slightly cooked, and tossed in a tangy lemon-mint-tahini dressing and slivered almonds.