Stuffed Banana Peppers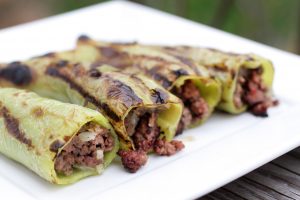 These peppers may look harmless, but do not be fooled—they pack quite a punch of spice. Using the recommended tablespoon of seeds will really give you a kick in the pants. You've been warned!
ready in:
1 hour and 15 minutes
Serves: 6
Pizza Stuffed Peppers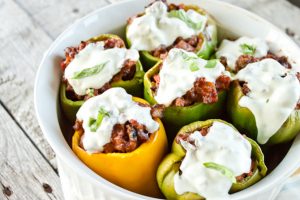 Pizza Stuffed Peppers are a great alternative to traditional pizza by adding an extra vegetable instead of crust.
Turkey Stuffed Peppers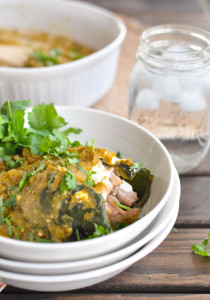 These Turkey Stuffed Peppers are a quick, simple, delicious, and healthy way to use up your leftover turkey. GF+P
Stuffed Poblano Peppers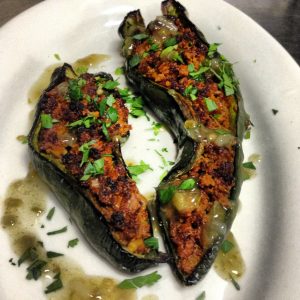 Want a great alternative to the regular old stuffed green pepper? Here is a great way to mix things up. Stuff the poblano with chorizo and cauliflower "rice" add some veggies, top with salsa and you have yourself a Mexican inspired stuffed pepper! Ole!
Karen's Paleo Friendly Stuffed Bell Peppers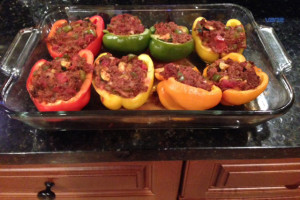 This easy but flavorful dish will be sure to become a favorite for your family. It is super delicious, paleo friendly and comes in under 350 calories per serving as calculated in the recipe creator on my fitness pal.
Crab Stuffed Mushrooms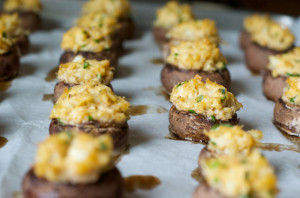 This stuffed mushroom recipe came about somewhat in a "kitchen sink" experiment. We had crab meat in the refrigerator we wanted to use and mushrooms that we bought and needed to be used. These little crab stuffed mushrooms are delicious, and make a great finger food. We hope to make it again as soon as we have an opportunity to go to or host a gathering of friends and family.
Crab-Stuffed Salmon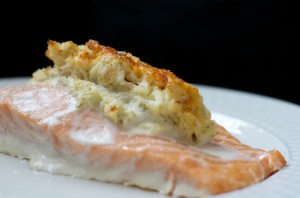 When thinking up new salmon recipes, we look for inspiration every where, even the local Costco. Costco sells crab-stuffed salmon year-round. Growing up, my parents would buy it on rare occasions, and it was always delicious. Heather and I often pick up salmon from Costco, but we've never bought the crab-stuffed salmon because we weren't thrilled by the ingredient list. After some brainstorming, this is what we came up with, and we think you're going to like it.
Roasted Mini Peppers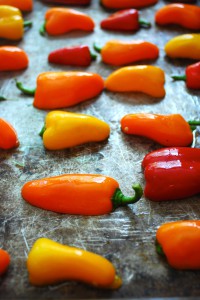 Sometimes the simplest recipes are the best recipes. Roasted Mini Peppers, drizzled with olive oil, kosher salt, and freshly ground pepper, make a healthy, naturally sweet and colorful side dish.
Stuffed Pork Chop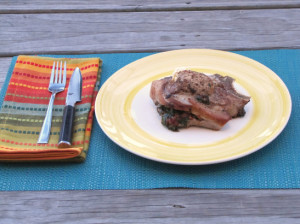 Pork Chop stuffed with goat cheese, sun-dried tomatoes, spinach and garlic
ready in:
1 hour and 10 minutes
Serves: 4
Karniyarik (Turkish Stuffed Eggplant)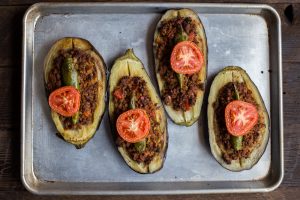 Karniyarik is a stuffed eggplant dish from Turkey, similar to another popular Turkish dish, Imam Bayildi, which is similar but made without ground meat. Eggplants got their name from their egg-like shape, although they are referred to as aubergines nearly everywhere outside of the United States. Eggplants were probably first cultivated in India about 2,000 years ago, before making their way to the Middle East and Europe. It was one of the first foods brought to the Americas by Spanish and Portuguese explorers in the 16th century.