Steak Stir-Fry Soup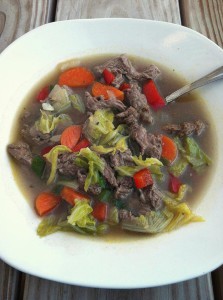 I came up with this recipe when 3/4 of my kiddos brought home the sniffles shortly after school started in September. For dinner one night, I had planned to make stir-fry with some minutes steaks that were thawed in the fridge and a head of Napa cabbage that needed to be used up ASAP, but I also wanted to keep bone broth-loading everyone. So, Steak Stir-Fry Soup it was! Substitute/omit/add ingredients depending on which meats and veggies you enjoy in your stir-fry and how chunky you like your soup.
Beef and Bok Choy Stir Fry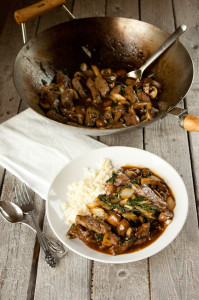 This stir-fry is sure to hit the spot! Loaded with protein and veggies with the cauliflower rice and bok choy it is sure to leave you asking for more!
Curry Beef Stir-Fry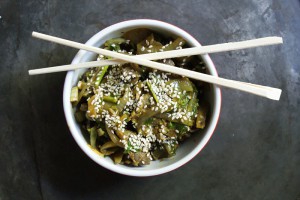 This steak stir-fry is packed with bold flavors such as curry and ginger, and is very quick to make! It makes a perfect weeknight meal served with sauteed greens or over cauli-rice!
Chicken Basil Stir Fry with Walnuts and Kale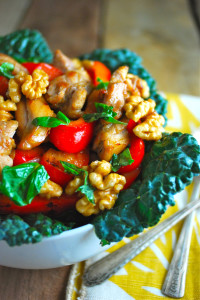 Chicken basil stir fry with walnuts is a quick, healthy weeknight meal with whole ingredients and the superfood nutrition of walnuts and kale.
Asian Shrimp Stir Fry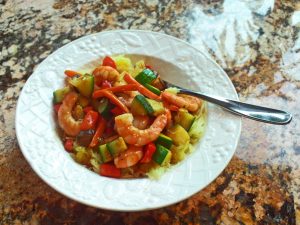 Piña Colada Shrimp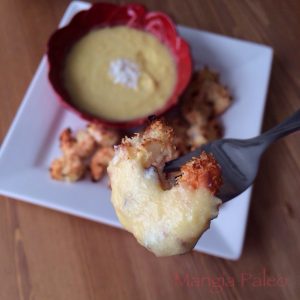 Do you like piña coladas? How about getting caught in the rain? This probably isn't as fun as laying on the beach with a rum drink in your hand, but it's pretty darn close.
Pineapple Bacon Guacamole w/ Tostones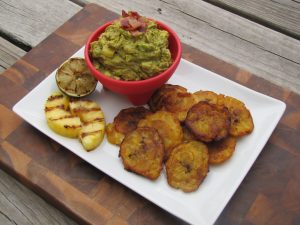 Want to kick your guacamole up a notch? Add some grilled pineapple and crispy bacon to the mix! Serve along side some crispy plantain chips and boom, show stopper!
Sautéed Collard Greens and Apples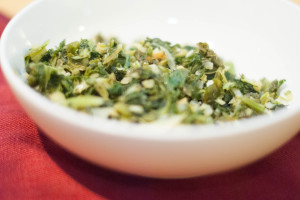 A delicious way to add more greens to your diet. Use as a side dish or as part of a stir fry. The combination of savory bacon fat, sweet apples, and a dash of tangy vinegar will keep your taste buds very happy!
Kale Pesto
This pesto is heavy on the goodness with the addition of kale, a nutritional powerhouse, and free of dairy, for a great tasting, savory paleo treat!
Scrambled Eggs with Lox and Capers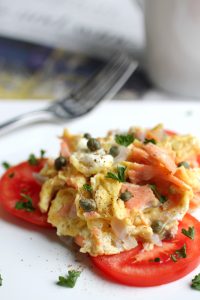 Growing up, my family would often serve lox with bagels and cream cheese at family brunches. This was always a special occasion when family came into town. In my mind, I can still taste the flavors of a toasted bagel topped with cream cheese, lox, red onion, tomato, and capers. For our version of this dish, we replaced the bagel and cream cheese with eggs for an equally delicious and much healthier version.
—Hayley