ready in:
1 hour and 11 minutes
Serves: 68
Paleo Parisian Chocolate Mousse
This chocolate mousse recipe was inspired by a trip to Paris, where I had the best mousse ever! This mousse was literally out of this world good. How does this sound? Fluffy, rich, chocolatey, silky mousse toped with a thin chocolate disk and an elegant, edible gold flake; and eaten on a bench overlooking the Louvre. Pretty dreamy, right? I love and miss Paris for so many reasons, this definitely being one. I tried to make this mousse as close in taste as possible yet making it nutritional as well, and it turned out almost the same as I remember! I can't wait to someday be able to go back, but until then this chocolate mouse will do, as I dream of Paris;) I hope you enjoy this treat when ever your craving a little bit of Paris. (paleo, egg-free, gluten-free, grain-free, dairy-free, refined sugar free)
Chocolate Hazelnut Macaroons with Chocolate Fudge Sauce
You will notice that these macaroons are not overly sweet, but rather a great sweet treat. I prefer to make my own chocolate sauce so that I know how much sweetener it contains. Enjoy these little chocolate hazelnut bites!
Chocolate Chocolate Chip Banana Muffins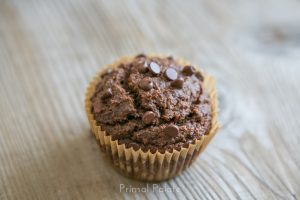 These delicious double chocolate banana muffins, are a really fun twist on classic banana bread. Made without grains, and low in sugar, they are a healthy option when you want a sweet treat!
prep:
1 hour and 20 minutes
ready in:
1 hour and 20 minutes
Serves: 12
Chocolate, Chocolate Chip Fruit and Nut Bars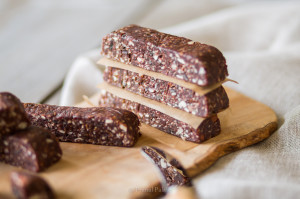 These fruit and nut bars are a healthy option for any time you are craving something sweet, as well as a fun food project for you and your kids! You can serve these in bar form, or in bite size pieces.
"The Reese's Cupcake" Chocolate Chocolate Chip Cupcakes with Sunbutter Frosting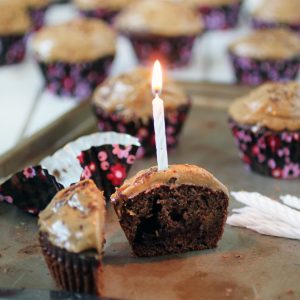 Mexican Spiced Dark Chocolate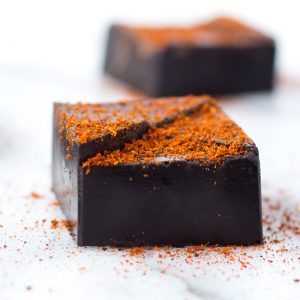 Flavorful, decadent dark chocolate is flavored with fragrant Mexican spices!
Chocolate Chip Snack Bars
These yummy bars are soft with a cake-like texture and studded with rich chocolate throughout! They are also a super easy to make gluten and grain free dessert!
Dark Chocolate Almond Butter Filled Coconut Nests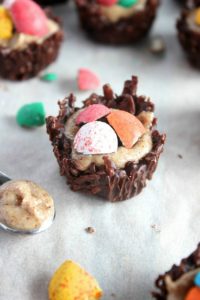 All natural, secretly healthy, dark chocolate almond butter filled coconut nests. 4 ingredients + 15 mins and you're done!
Frozen Chocolate Covered Caramelized Bananas
An easy frozen treat for summer. Perfect if you just want a small bite of something sweet. Caramelized bananas covered in chocolate and sea salt!
Dark Chocolate Almond Butter Bites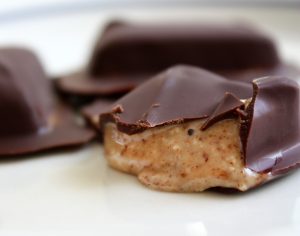 We both shared a love for the classic pairing of chocolate and peanut butter before we began the paleo diet. To satisfy our flavor fix of M&M's or Reese's cups, we created these tasty little dark chocolate–covered almond butter bites. With only two ingredients, you really can't go wrong with these!