Paleo Chicken Cacciatore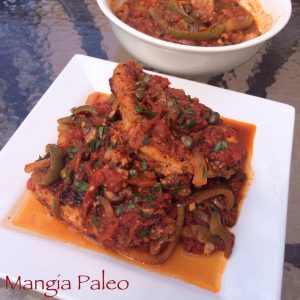 An Italian classic made paleo! Even the word "cacciatore" is very primal. It means "hunter" in Italian. Chicken cacciatore basically tells you it's paleo right in the title. How could you go wrong? This meal is delicious enough to eat on its own, but you may also serve it with spaghetti squash or zucchini noodles. It tastes like you spent all day in the kitchen.
Autoimmune Paleo Creamy Lemon Chicken Kale Soup
An easy crockpot Autoimmune Paleo recipe that is coconut free
Paleo Cauliflower Chicken Chowder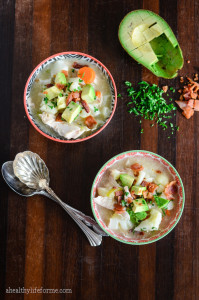 Paleo Cauliflower Chicken Chowder is unbelievably good and good for you, gluten free, grain free, dairy free, and soy free. You will be amazed at how hearty flavorful and satisfying this chowder is, and it is super easy to pull together. Use a Cooked Organic rotisserie chicken from your local store to cut down on cook time. If you want to keep this vegetarian, skip adding the chicken the chowder.
Amazingly Crispy Paleo Fried Chicken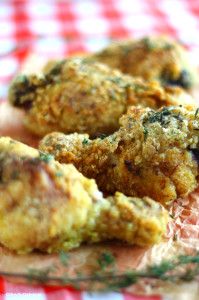 Paleo comfort food at its best! Delicious, crispy, golden brown fried chicken that's grain-free and coconut-free. Done in under an hour!
Slow Cooker Butter Chicken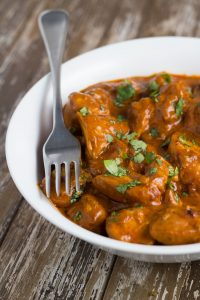 A long, long time ago, I used to eat out and get takeaway a few times a week. I did love to cook, but when I was getting home late from work, it was easy just to buy dinner. When we would eat at an Indian restaurant (or get Indian takeaway), I would order one of two dishes - Butter Chicken or Chicken Tikka Masala. If I ever made one of these dishes at home, it would usually be from a jar. These days I like to know what goes in to the meals that my family eats - and this means fresh, whole foods and a variety of herbs and spices - no numbers, and no crap. I have made Butter Chicken several times before from scratch, but never using a slow cooker. Seriously, why did I not have one of these babies before!! Cooking is so easy when you use a slow cooker (easy enough that you don't need to settle for takeaway, so long as you plan a little bit ahead) and the results are fantastic. If you are cooking meat, it is always really tender or falling off the bone, depending on what cut of meat you are cooking. This version of Butter Chicken is delicious, healthy and so easy to prepare. I would have to say it is in my top four slow-cooker meals, along with my Slow Cooker Cashew Chicken, Slow Cooker Lamb Shanks and Slow Cooker Osso Bucco.
cook:
15 minutes to 25 minutes
ready in:
25 minutes to 35 minutes
Serves: 2
Grilled Split Chicken Breasts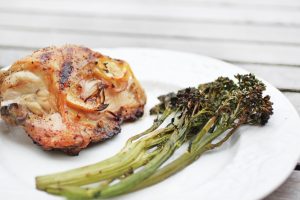 Lemon and garlic are classic flavors often paired with chicken. For this dish, the lemon and garlic, along with the shallot, infuse the chicken under the skin, resulting in wonderful flavor, all tucked under crispy grilled skin.
cook:
12 minutes to 15 minutes
ready in:
about 1 hour and 15 minutes
Serves: 4
Cumin-Spiced Chicken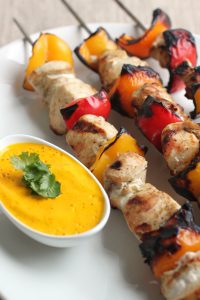 Ground cumin brings a warm, earthy flavor to these chicken skewers, which nicely compliments the sweet flavor of the bell peppers. The addition of an aioli sauce made from red palm oil really brings this dish together.
ready in:
1 hour and 20 minutes
Serves: 4
Breakfast Chicken Liver Pate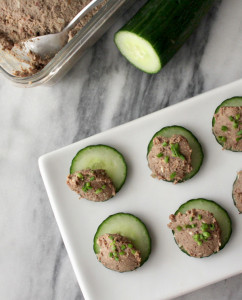 This breakfast chicken liver pate is for all my breakfast and bacon lovers out there. It's especially great, for all the chicken liver newbies out, and for all my bacon loving paleo people. Trust me, bacon makes everything taste better, and if you're not a fan of chicken liver, you should still give this a try.
cook:
1 hour and 30 minutes
ready in:
1 hour and 45 minutes
Serves: 8
Grandy Kyp's Chicken Soup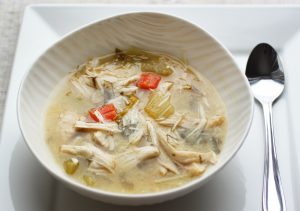 The smell of dill, garlic, and chicken that fills the kitchen when this soup simmers will always remind me of my Grandy Kyp. The original recipe, created by my Grandy's Bubbe, used an entire roasting chicken for some very healing bone broth! I will gladly enjoy this soup any day of the week, but it is particularly comforting when I am not feeling my best.
ready in:
1 hour and 15 minutes
Serves: 4
Boiled chicken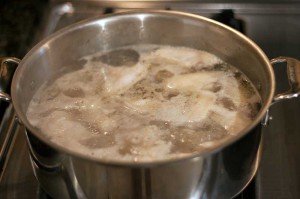 Chicken Boiled in water and then baked in oven.