PALEO NIÇOISE SALAD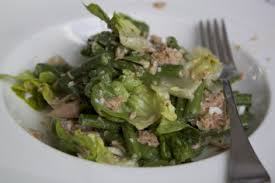 This Paleo version of the classic French salad makes lunch or dinner for two adults.
prep:
1 hour and 15 minutes
Serves: 6
Salad-e Shirazi (Chilled Tomato and Cucumber Salad)
Salad-e Shirazi is a chilled salad of tomato, cucumber, onion and mint dressed in olive oil and fresh lime juice. I read it's often enjoyed in summer time in Iran, and while it is far from summer here in Minnesota, we always enjoy a refreshing salad with a meal. It's similar to a cucumber salsa I often make in the summer when the cucumbers are taking over the garden, and you might find it similar to something you already enjoy as well.
Cucumber and Tomato Salad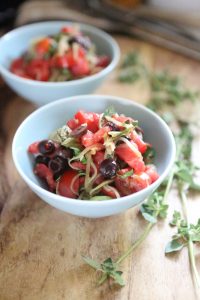 This salad would be the perfect antipasto, that is, if pasta were a part of the paleo diet. We regularly make this salad to take on picnics or for casual midweek dinners on the back porch. Despite having sophisticated flavors, this salad easily "dresses down" for any occasion.
Paleo Tortillas (from Make It Paleo 2)
These tortillas take a little patience and finesse, but they are a great grain-free version of the flour tortillas you may be used to. They hold up great, and don't break when you wrap them around your favorite foods. Try them with our Fish Tacos or Lamb Gyros!
Broccoli Cauliflower Salad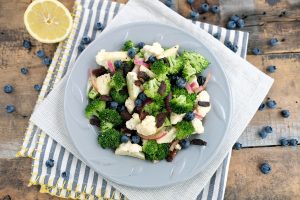 Do you ever find yourself wanting a salad, but don't feel like having the same old greens and dressing? If so, this broccoli cauliflower salad could be just what you are looking for on those days when you want to be healthy and have a salad, but also feel like mixing it up a bit. Plus, this salad has bacon in it. Enough said.
Greek Cauliflower Salad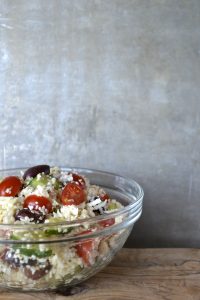 This salad was inspired by a Greek quinoa salad my mom used to make, but I used cauliflower and one of my favorite super foods to make it grain free! You can even add some feta cheese if you want, but this salad is so flavorful you don't even need it! Did I mention it is super easy to make, and super delicious too!
Paleo Chicken Cacciatore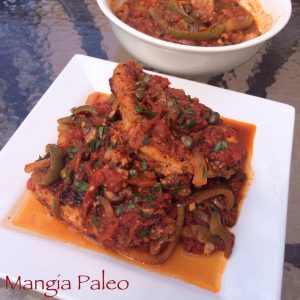 An Italian classic made paleo! Even the word "cacciatore" is very primal. It means "hunter" in Italian. Chicken cacciatore basically tells you it's paleo right in the title. How could you go wrong? This meal is delicious enough to eat on its own, but you may also serve it with spaghetti squash or zucchini noodles. It tastes like you spent all day in the kitchen.
Detox Salad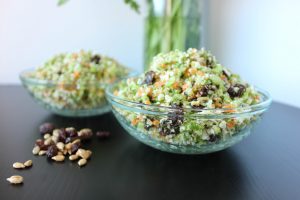 Welcome to the January! The month of worldwide detoxing. With all of the holidays clumped at the end of the year – the cookies, the cakes, pats of butter, sweets and cocktails piling up it can start to make your body feel sluggish. This detox salad is a great way to fill your body with healthy vegetables while still getting great flavors. Parsley plays a key role in this salad as it has powerful detoxing and nutritional benefits. Not only does parsley contain vitamins A, B, C, K along with minerals iron and potassium it also helps to drop extra water weight if you're getting ready to weigh in for sports or just get ready for your weekend events. It will remove excess fluids while still maintaining the right balance of electrolytes in your body. I used a food processor to make this salad but if you don't have one you can chop it into larger sections. Happy detoxing!
Cauliflower Salad with Vegetables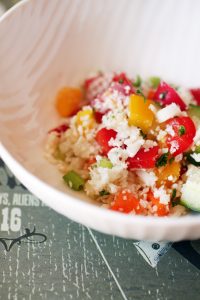 This fresh salad adds gorgeous color to your plate. The flavors of all the vegetables in this salad are so wonderful on their own that all you need to dress this salad is a touch of olive oil and fresh lime.
cook:
14 minutes to 20 minutes
Serves: 4
Grilled Chicken Salad
A big fresh salad, topped with grilled chicken is a quick, easy, and delicious option for lunch or dinner. We love to throw in as many fresh veggies as we can, top it with simply seasoned chicken, and a drizzle of homemade balsamic dressing.