Braised Beef Shanks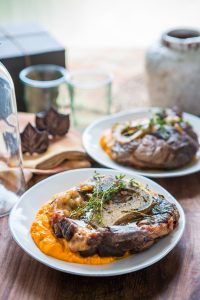 By first searing the beef shanks then braising them for an additional two hours, this dish finishes with an excellent texture and flavor. Try pairing it with mashed cauliflower or sweet potatoes.
Braised Beef Shanks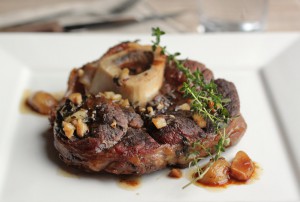 Paleo Beef Shanks aka Ossobuco Della Rosy (My mom's famous Ossobuco!)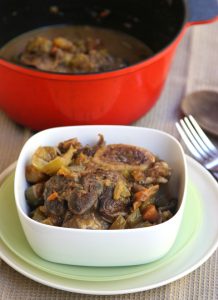 Ossobuco is a delicious way to cook your meat on the bone. It also contains the marrow, full of important nutrients. Try it with just the lightest sprinkle of sea salt.
Stuffed Beef Tenderloin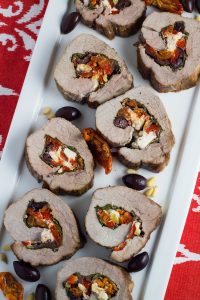 This is one of the many amazing meals that my mum made when I was growing up. I need to explain the preparation process as it can be tricky. You need to take care when preparing the beef - you need to cut horizontally through the center of the beef tenderloin, cutting to - but not though - the other side. Then you open flat like a book and then cover with cling wrap and flatten with a meat tenderiser. There are several other ways that you can cut the beef tenderloin to get the same result, but I think that this is the easier one for me to explain in this post. Once you flatten the beef tenderloin, you need to place the other ingredients on top, making sure you leave some space free at all the ends. Once you have placed all the ingredients, you then roll it up and secure with either toothpicks or kitchen twine.
Slow Cooker Lamb Shanks
I have really been enjoying using my slow cooker to make a bunch of amazing recipes, some of which include Slow Cooker Cashew Chicken, Slow Cooker Osso Bucco and Slow Cooker Beef Pot Roast. When I first bought my slow cooker back in 2012, it stayed unused in the cupboard for more than 12 months. These days I cook with it 1-2 times per week. I am certainly making up for lost time. Today's recipe - Slow Cooker Lamb Shanks - is a beauty. Lamb Shanks may feature prominently on the menu of many great restaurants, but they are fairly easy to make at home, especially when using a slow cooker. You will find when using the slow cooker that the meat will be literally falling off the bone once it has finished cooking. I have included two methods with this recipe, the first is my preferred method and involves an extra 30 minutes of prep time. The second method is perfect if you do not have time to do the prep and you basically throw everything straight into the slow cooker. Hope you enjoy my latest slow cooker recipe.
Slow-Cooked Beef Ragu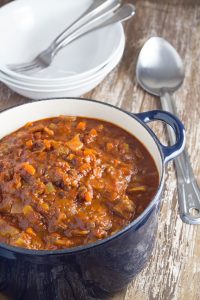 Beef Ragu was a meal my husband and I really enjoyed back when we lived in Canberra - the perfect meal to get through a winter in one of Australia's coldest cities! Back then we often served it with pasta, which we later discovered had contributed to some health problems - which kind of took the fun out of things. With a few key adjustments to the ingredients list, I am really pleased to bring you my latest (re)creation: Slow Cooker Beef Ragu. What I really love about this meal is that the flavours work so well together, the beef is really tender, and the sauce is rich - even though I have substituted in beef stock for the more traditional red wine (in the interests of keeping it healthy!)
Shredded Beef Stew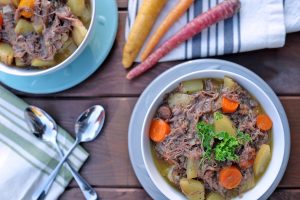 Instead of using traditional chopped stew meat we used a chuck roast we had on hand and shredded the roast to create a shredded beef stew. It was perfect because we cooked the roast in the crock pot and were able to use all of the leftover juices for the stew, adding some serious meaty flavor. Including the beef and broth, this shredded beef stew only has seven ingredients so it is very simple and easy to make. The cooking time is long, but it is only about 15 minutes of active cooking time to get this hearty stew that is a meal in a bowl.
Beef Bacon and Eggs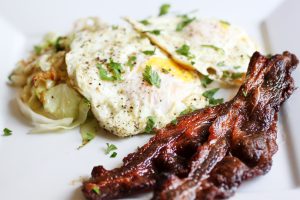 Imagine, if you will, a marriage between traditional pork bacon and beef jerky. That is the flavor you will taste from beef bacon. If you are a bacon lover, as many are, then we encourage you to try beef bacon. It is a delicious way to bring slightly new flavors to a classic breakfast.
Beef Liver and Onion Meatballs
My Grandy always told me that when my mom was young she would have the butcher grind liver into their beef. She even told a story of one of the neighbor boys coming over for dinner and saying her hamburgers were the best he's ever had. So that was it. I was going to mix our beef liver into some ground meat and hope for the best.
cook:
20 minutes to 30 minutes
Serves: 4
Beef Tenderloin with Balsamic Drizzle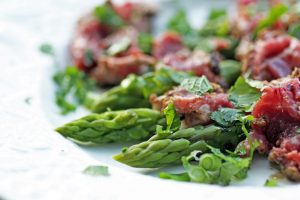 Best served rare to medium rare, beef tenderloin is one of the most prized cuts of the cow. Our favorite way of preparing beef tenderloin is to sear it with a tangy mustard-based crust and serve it over asparagus and mint with a balsamic drizzle. Divine would be an understatement.