What is the 21 Day Sugar Detox?
The 21-Day Sugar Detox, written by (Diane Sanfilipo, Certified Nutrition Consultant of Balanced Bites) has helped thousands of people bust their sugar and carb cravings, increase energy, improve sleep quality and lose weight. The program is designed in three Levels, introducing Level 1 participants to a life without refined foods, but not excluding all grain, legume and dairy products. Level 2 goes on to exclude grain and legume products while Level 3 is a strict Paleo diet with additional modifications specific to The 21-Day Sugar Detox's goals for participants in breaking their sugar and carb addictions.
We have both participated in The 21 Day Sugar Detox, and we saw amazing results!
Our sleep was better, our energy was more balanced throughout the day, our skin started to really glow, and most of all, our sugar cravings were gone! We know how difficult it can be to commit to a new way of eating or even eliminate even more foods from an already restrictive diet without the support of friends or family, so to help support those of you looking to really eliminate your sugar cravings, we have constructed a 21 day meal plan with all of our favorite Sugar Detox friendly recipes. These recipes are all in line with Level 3 of the sugar detox strict paleo diet, so in these recipes you will not find any grains, dairy, soy, legumes, or sugar (besides fresh fruit). For more information on The 21 Day Sugar detox, and to purchase your own copy of the book, click here.
Order the 21 Day Sugar Detox Guide ebook and get amazing recipes like these: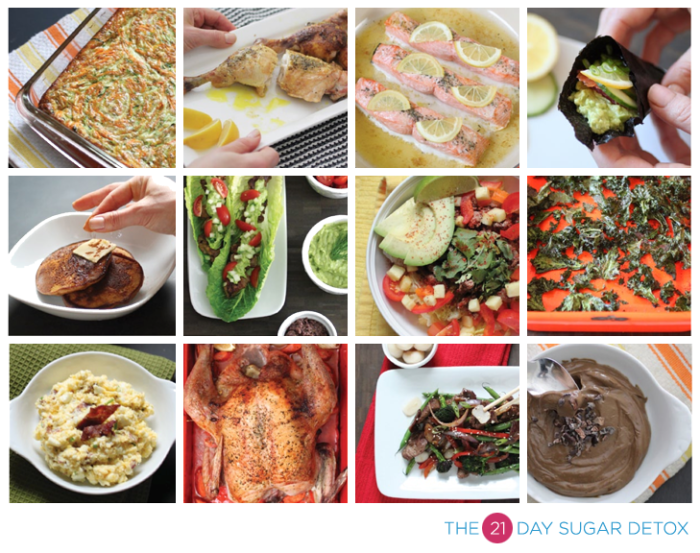 Here's what you get in Diane's amazing eBook guide:
A Getting Started Guide
A Replacing Foods Guide
Three extensive Yes and No Foods Lists
Special modifications for:

athletes
pregnant / breastfeeding moms
those following a vegetarian or vegan diet

A handy one-page guide to Sugar & Sweeteners
A handy one-page guide to Fats & Oils
Dining Out & Party Tips – great while on the detox or anytime
Lots of Meal & Snack Ideas
Tips on where to find special ingredients 
Over 30 pages of easy recipes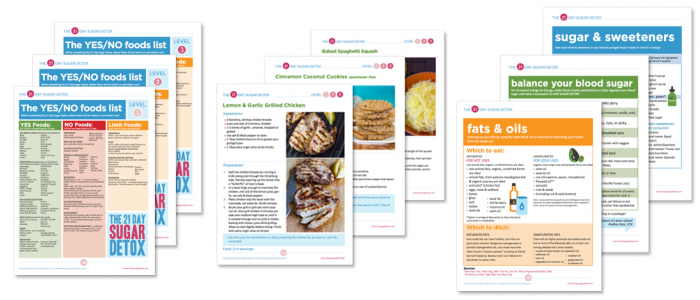 Here is a sample meal plan to accompany the full program
The meal plan below is intended to assist those who have decided to purchase and participate in the Detox.
Good luck, and happy detoxing!
The week's events
Sun

Sunday

Mon

Monday

Tue

Tuesday

Wed

Wednesday

Thu

Thursday

Fri

Friday

Sat

Saturday

6

7

8

9

10

11

12