Hayley and I have had the busiest, craziest week ever. A few weeks ago, I caught Hayley looking at PetFinder multiple times checking out shih tzu puppies up for adoption. One little guy named "Trouble" stuck out as being terribly cute. A few phone calls later, we were making arrangements to drive up to Connecticut to visit with him. I had a shih tzu growing up, and my parents also have one now (named Miles). They are amazing dogs, and we have both been considering adding a four legged family member for several months now. Knowing that there would never "truly" be a good time to adopt, we pulled the trigger and went to see Trouble.
When we reached the shelter (a giant barn), we were greeted with the sound of barking dogs. Out bounded a hoard of dogs and puppies, and the littlest shih tzu either of us have ever seen. Trouble (now "Charlie") has been here a week and we can clearly see why he was given the name Trouble in the first place. He is very mischievous, very friendly, and devastatingly cute with a pair of eyes that seem to look in two different directions. I lobbied to call him "Wednesday"…. because he's looking both ways to Sunday …. but that name got vetoed after a few chuckles. Either way, we're so happy to have given Charlie a forever home here with us. We will try not to bombard you with too many puppy pics, but here is one for good measure.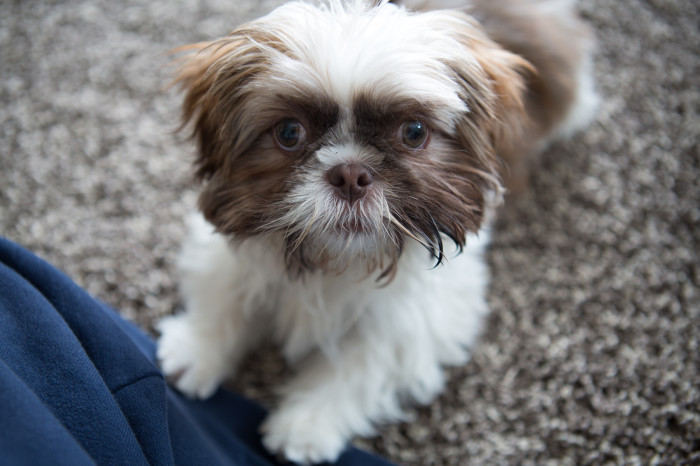 That's, of course, a big part of why we're busy. The house, frankly, is a complete disaster. As Hayley points out, "we're definitely new parents." The other reason is that we're clawing to get our third book, The 30 Day Guide to Paleo Cooking, out the door to copy edit. Last summer, we decided to work on the two books at the same time. Bad decision! But now, nearing the end, we're happy we did – sort of. If we can survive the next week, we'll be golden. AND you guys will have not one but TWO new books to look forward to.
For some reason, I've been craving fat in my diet over the last few days. It's not for lack of fat, that's for sure – but the brain food was an absolute necessity today. Good thing I had set out some beef marrow bones to defrost yesterday. Instead of having what many would consider "typical" breakfast food today (like eggs and bacon), we had these tasty marrow bones and some leftover paella which we made last night (paleo paella, mind you). That recipe will be in the 30 Day Guide book too. For this recipe, it's definitely preferable to have your marrow bones cut longways for ease of access. Unless you don't mind digging the marrow out, then go for it.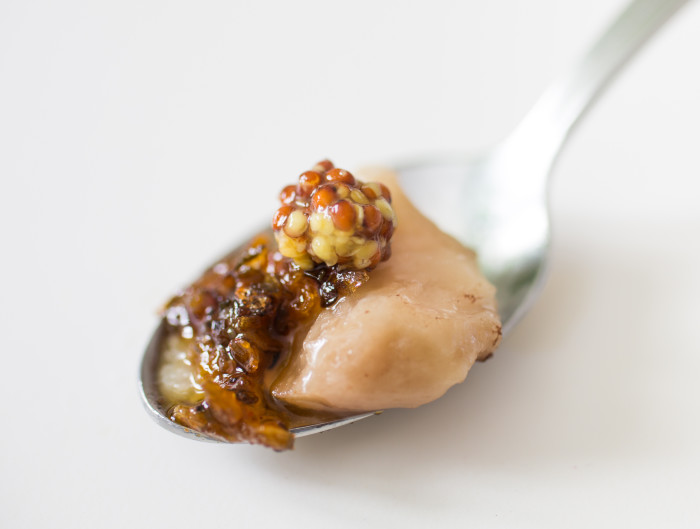 We should be back to normal in a few weeks. Actually, you'll really want to check back because our web development team has been working with us on updates for many months now, and some of them are going to start rolling out. Exciting stuff! Let us know if you make this recipe, and what you thought of it! Cheers.
Difficulty



Shop
Process
Note, these instructions are written assuming the standard serving size, since you have modified the number of servings, these steps may need to be modified for best results
Preheat oven to 450 degrees.
Place marrow bones in a roasting dish, and roast for 20-30 minutes (depending on their thickness, and whether or not they are cut in half longways).
Mince onion, capers and garlic. Toss with the olive oil and spices.
Saute onion caper relish in a small skillet over medium-low heat until onions are soft. Shut off heat, and allow to rest until marrow bones are done.
Serve marrow bones with the onion caper relish and a spoonful of grain mustard.
Notes
Marrow bones sliced longways are ideal for this recipe. Have your butcher prepare the bones this way. If they are not sliced longways, simply use a narrow knife or small spoon to remove the marrow.
Our recipes are created using Paleo, Primal and Gluten-free guidelines.
Learn more
about our diet and lifestyle
at www.primalpalate.com
.