Last night, Hayley wanted to have some of our Chicken Soup for dinner. Since we had a generous portion already frozen (and I wasn't really interested in having some, anyway), I decided to make something for myself that Hayley might not enjoy otherwise. At first, I thought I might make something with eggs since she's currently avoiding eggs. That's a shame unto itself, since we have backyard chickens now, and are just overrun with eggs! After flipping through Make It Paleo 2 for a little while, I came across our Fish Tacos recipe. Boy, those looked really good! So I went down to our freezer to see if we had any tuna steaks on hand. We did not… but we DID have a couple cod fillets from SizzleFish! It only took me a second to realize I could make one of my all time favorite pub foods: Fish and Chips!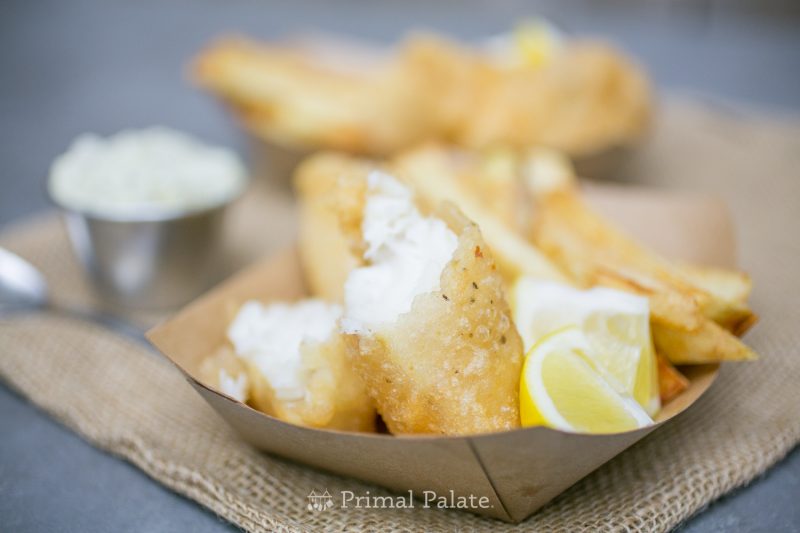 After I graduated from Penn State, I spent some time living in Northern Virginia near Old Town Alexandria. There was (and still is) a great Irish pub on King Street called Murphy's, and I loved to order the Fish and Chips (and a Harp Lager or Guinness to go with it). I wasn't gluten-free back then, and it seems almost entirely like a different lifetime, looking back on it now. The crew of friends I had in D.C. loved good food, and all enjoyed the vibrant restaurant scene. It's a big part of how I came to appreciate good food! The slew of great restaurants along King Street were frequent stops on our way to a night out on the town.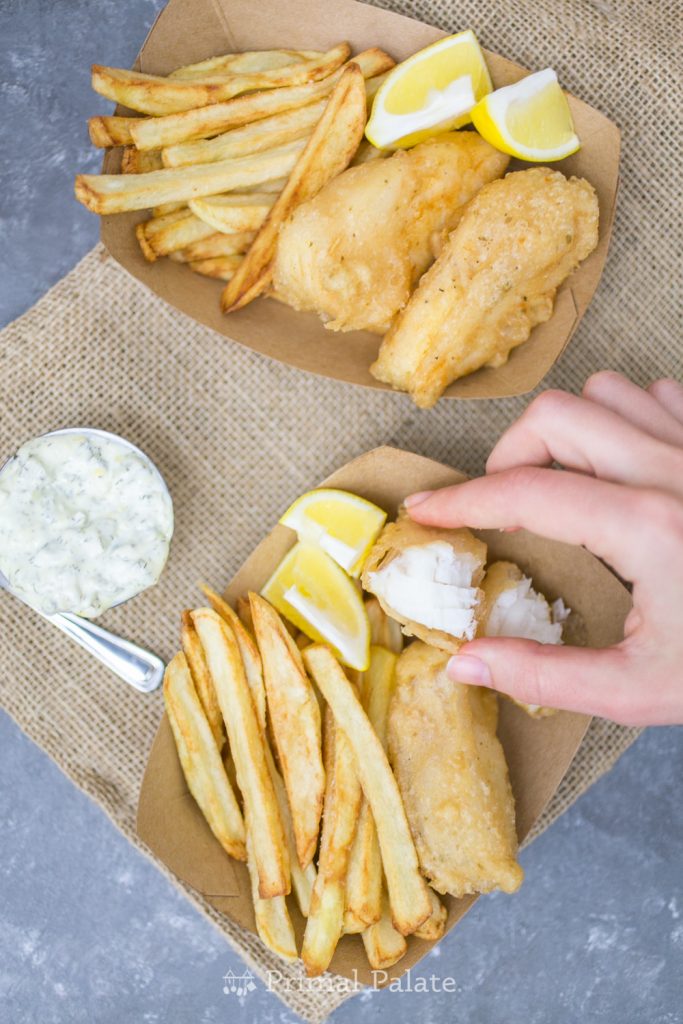 Regardless of my past glutenous transgressions, I absolutely loved the Fish and Chips at Murphy's… so much so that I would know in an instant if I had nailed their recipe or not. And I think I did last night. I did have a few good ideas about making a kick-ass batter for this, but rather than ruin some perfectly good cod, I wanted to scope out a couple recipes, anyway. The recipe I did check out for basic ideas was Alton Brown's recipe (it's a flour and beer-based recipe, so we had to do our usual suite of substitutions to make it work.)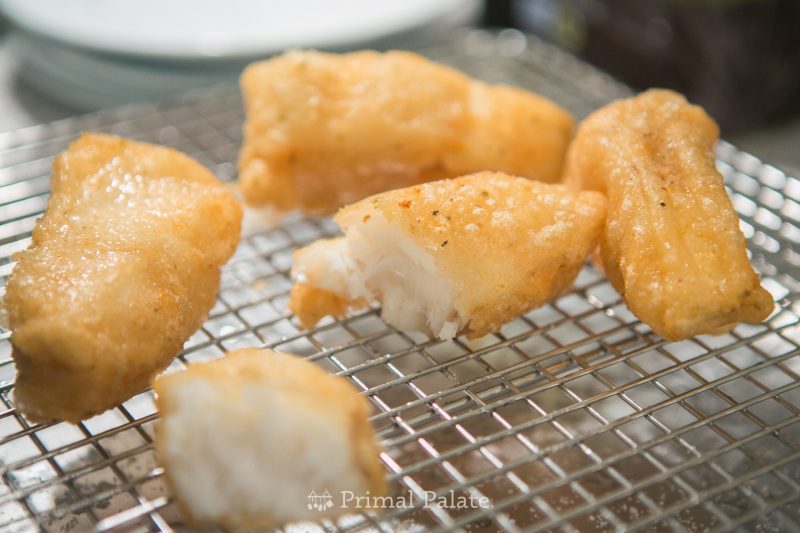 Here's what you need to know about making this recipe. First of all, it's important to get the frying oil to the correct depth and stable temperature. I wouldn't try to make this with any less than 3″ of oil in an 8″ round pot. Keep your oil temperature as close to 320 degrees Fahrenheit as possible. Another tip is to maintain consistent cuts and thicknesses with both the fries and the cod: this helps them cook evenly. For the cod, I like 2″ wide strips. You might think smaller pieces of cod would work better, but the fewer pieces you put into the pot at once, the less chance they have to stick together. Dip them in slowly so that the batter has a chance to harden a bit before the fish sinks to the bottom, and potentially sticks to the pot. Having a batter-covered hand acts as measure of protection against the super-hot oil, too.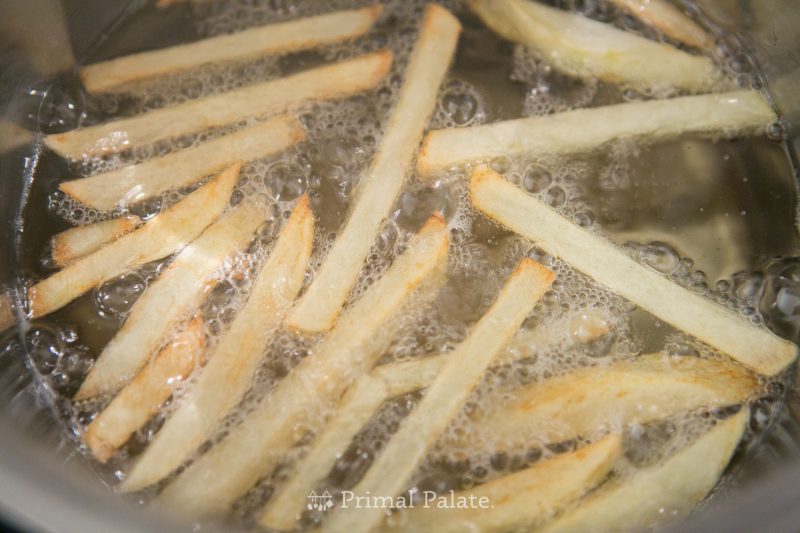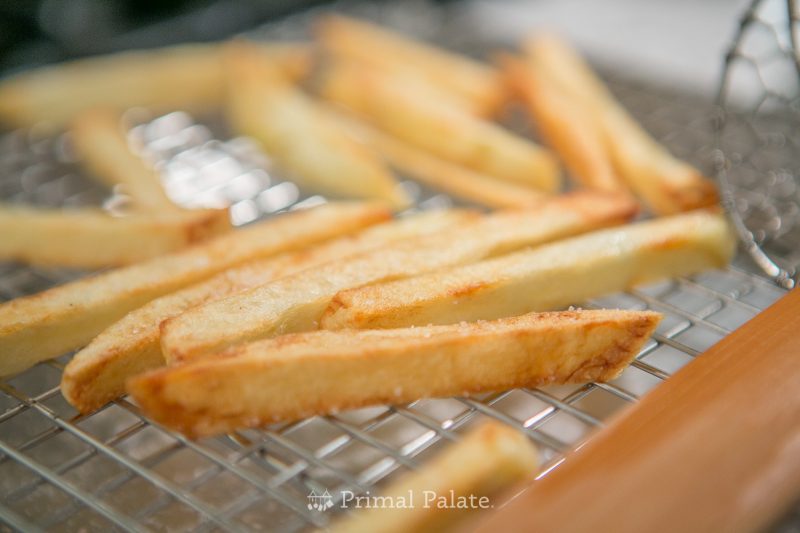 The batter recipe is pretty much perfection, especially with the addition of our Adobo Seasoning in it. It is super crispy, light, and puffs to a perfect golden brown around the fluffy cod inside. If you like fish and chips, you're going to love this recipe!
Enjoy
Bill
Difficulty


Instantly transport yourself to your favorite english pub and tuck in for a decadent meal of fish and chips. You'll feel as if you're right there: the thick, crispy batter gives way to light and fluffy cod. Topping a bed of crispy and salty fries, this meal would be best served with a crisp, hard cider or gluten free beer.
Shop
Process
Note, these instructions are written assuming the standard serving size, since you have modified the number of servings, these steps may need to be modified for best results
If you would like to serve your Fish and Chips with Tartar Sauce, begin by making that. Click the ingredient to get that recipe.
Start by preparing the fries (chips). Peel the russet potatoes, and cut into 1/2" fries. Place the fries in a bowl of cold water and agitate to help remove excess starch.
Heat your choice of cooking fat (we like steam-refined coconut oil, because it is heat stable and doesn't impart a lot of flavor) in a medium pot. The amount of fat you need will depend on the size of pot you use. Aim to get at least 3" of fat (melted) in the bottom of the pot. Heat to around 320 degrees, measuring the temperature with a candy thermometer.
Add the fries to the hot oil, taking care not to over-crowd them. Fry until golden brown, then remove to a wire rack. Season and allow to drain. Continue until all fries are cooked.
While the fries are cooking, bring together the batter ingredients. Start with the dry ingredients (don't forget the extra salt), and stir together with a whisk. Add 1/2 cup of sparkling water and stir together. Continue by adding around 1/2 cup of water. Even if the batter seems runny, it will stiffen up slightly a few moments after mixing. Add more water if necessary.
Cut the cod into 2" wide strips, and dip into the batter, coating on all sides.
Keep the frying oil around 320 degrees, and slowly, gently dip the battered fish in to the oil. A technique Alton Brown outlines, which is helpful, is to dip half way and allow the batter to slightly cook before dipping the rest of the way. This keeps the fish from sticking to the bottom of the pot. As with the fries, do not crowd the pot.
Fry for 3-4 minutes at 320 degrees, or until the batter is golden brown. Drain on a wire rack, and sprinkle lightly with additional salt if desired.
Serve together, along with Tartar Sauce.
Our recipes are created using Paleo, Primal and Gluten-free guidelines.
Learn more
about our diet and lifestyle
at www.primalpalate.com
.