I'm going to keep this post short and sweet because I REAAAAAALLY have to finish writing thank you notes for our wedding, and it's eating away at me inside. We sent out about half of the thank you notes in September, and so now anyone else waiting on one probably thinks we aren't sending them one. Uggh. Anyway, I'm doing it today-even if it takes me all day, and my hand cramps up for hours (this is a given, anyway).
On to the crab bisque! Don't ask me why I wanted to make this, I really have no idea. For some reason I just did, and no I'm not pregnant, craving crab bisque. There wont be any Primal Palate babies (hopefully just one at a time) for at least a year probably. I know, I'm sad too. Anyway, my desire to make crab bisque had nothing to do with a tiny human inside me. For some reason the thought of it popped into my head, and I thought "well, we haven't made this yet, in fact I've NEVER made it, so lets give it a shot".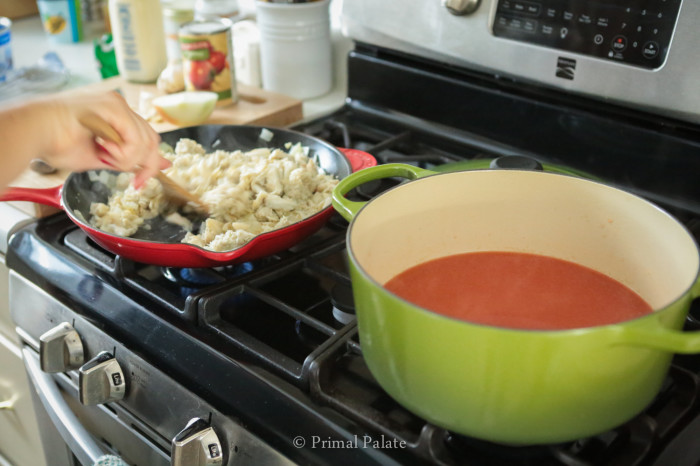 I'm not going to lie, I thought I failed at first. It smelled really fishy to me, and I made this soup after eating a meal, so I was the opposite of hungry and it just kept turning me off to the point where I didn't even want to taste it, but you really can't not taste something you've never made before. Cooking doesn't really work that way. Smell and taste are key when developing a recipe. I did taste it, and decided I did like it. Then once it bubbled and then simmered for a while, Bill tasted it, and then his mom stopped by and she tasted it, and they both gave it two thumbs up. I did really like it too, once I was hungry again. Then the next day our assistant Kara came over and she tasted it, and loved it as well.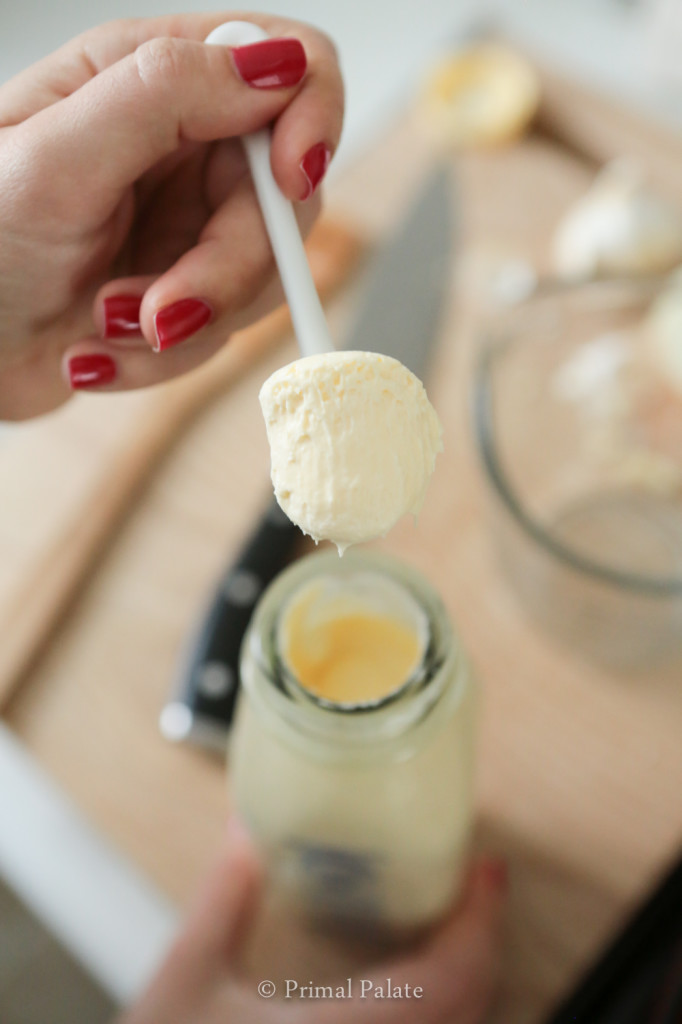 A few things you should know about this soup. It really needs cream. Like really needs cream. I know coconut milk is the non-dairy substitute of choice for things that need cream, but I really don't think coconut milk will cut it for this soup. Recently I have found that I am just not a fan of using coconut milk in soup to replace cream, but if dairy makes you really sick, then you can give it a shot! Another thing is that I let this soup boil for a while to reduce it, and enhance the flavors. I really didn't time it, and I'm horrible at judging time, but I thought this soup was going to be a fail, so I didn't really worry about it. It wasn't a fail, so now I have to figure it out. If I were to make it again, I would let it bubble once the crab is added for about 5 minutes, and then turn it down to simmer and cover with the lid cracked and just let it cook for an hour. The last thing about this soup is that it probably didn't need as much crab as I used, which would save anyone a lot of money if you want to make this soup, because crab is expensive!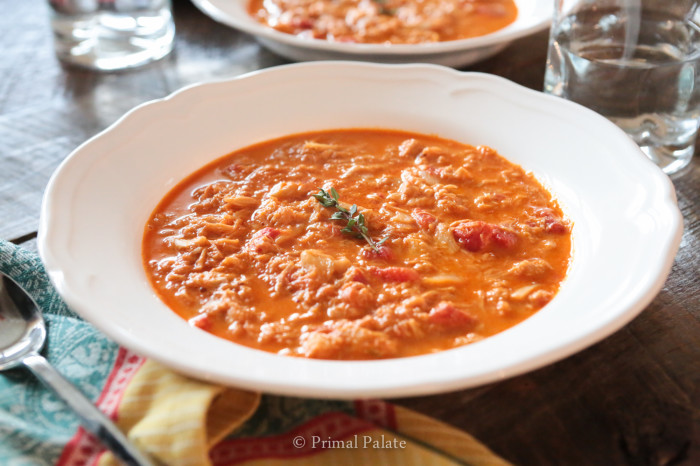 Hope you all enjoy this soup. If you are able to make this without the cream and it turns out well, please let us know!
Difficulty



Shop
Process
Note, these instructions are written assuming the standard serving size, since you have modified the number of servings, these steps may need to be modified for best results
Pour chicken bone broth into a large soup pot, heating over medium heat. Whisk the tomato paste into the broth, bring to a low bubble, and then turn down to simmer.
In a large skillet, melt the ghee over medium heat. Add the chopped onion to the skillet, and saute for 1 minute.
Add the garlic to the skillet, and continue to saute until the onion starts to turn translucent. Once the onion and garlic have softened a bit add the crab meat.
Stir the crab into the onion and garlic, and season with salt and pepper.
Add the diced tomatoes to the skillet, and stir to combine all ingredients.
While the crab mixture is cooking, add the cream to the broth, and whisk to combine. Turn the heat up to medium-low.
Once the crab mixture as cooked to combine all of the flavors for about 5 minutes, add the crab mixture to the broth using a slotted spoon to avoid getting excess liquid in the broth.
Turn the heat up to medium/medium-high, so the soup can bubble. Stir the soup, while it bubble for about 5 minutes, then turn the soup down to simmer, and cover leaving the lid cracked.
Simmer the soup for 1 hour, or up to 2 hours, stirring every so often, and then serve.
Our recipes are created using Paleo, Primal and Gluten-free guidelines.
Learn more
about our diet and lifestyle
at www.primalpalate.com
.