Having survived the holidays as well as the darkest days of winter, Hayley and I finally came down with a bit of a cold this week. We've both come through the worst of it though and are feeling better. That's good, because we have tickets to see the Pittsburgh Symphony tonight, as they are playing Tchaikovsky's masterpiece: Sleeping Beauty. We bought the tickets on a whim last month, and neither of us thought we'd be racing to feel better from being so sick.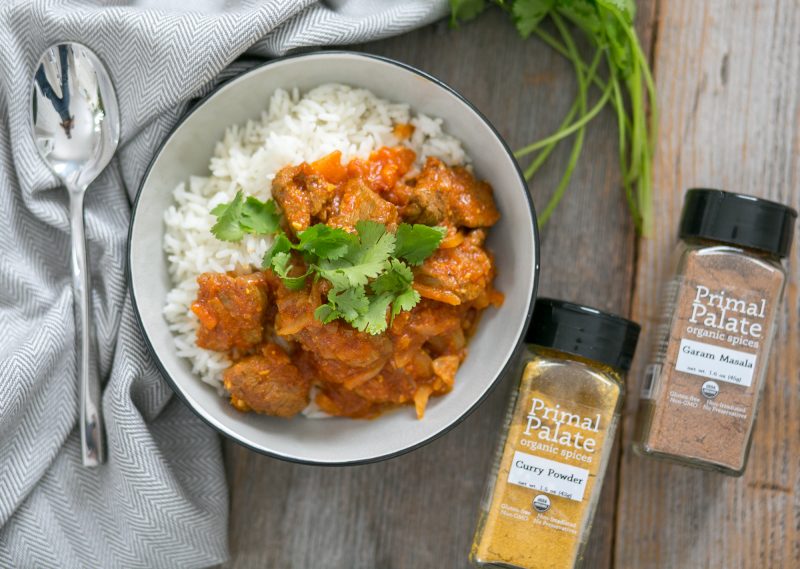 Comfort foods, therefore, have ruled our house this week, and I really wanted to make Rogan Josh. This Persian dish is so comforting and warm, filling your house with all the slow cooked aromas you'd like if you're not feeling well: garlic, ginger, onion, and then a simmering tomato based sauce. Now that I think about it, it's funny how many cultures have versions of this type of dish. But at the same time, it's also clear why: it just makes you feel good.
For this dish, you can really use any cut of lamb that you'd like, but the more tender the cut, the better it will be. Though there's no need to go overboard and get super-pricey lamb chops. Save those for the grill. Instead, I got some lamb shoulder blade chops which are quite a bit cheaper – $7 or $8 a pound. To make this cut work, you need to de-bone it, and since you're cubing the meat you can do this any which way you like. Once cubed, toss in a heavy pot with some ghee and sear.
Once the meat is seared, you remove it, but leaving the fat and juices. Add to it 2 whole sliced onions (or about 4 cups), and saute until soft and golden. Then add the garlic and ginger and saute until fragrant (1-2 minutes.) Then you'll add the tomato puree, water, yogurt, and curry powder and stir it all together. It's going to smell pretty amazing. Return the lamb chunks to the pot, stir them in, then cover with a skewed lid so that a little moisture can escape. Reduce flame to low, and simmer for an hour. You'll want to stir it every 15 minutes or so to prevent the parts on the bottom from overcooking.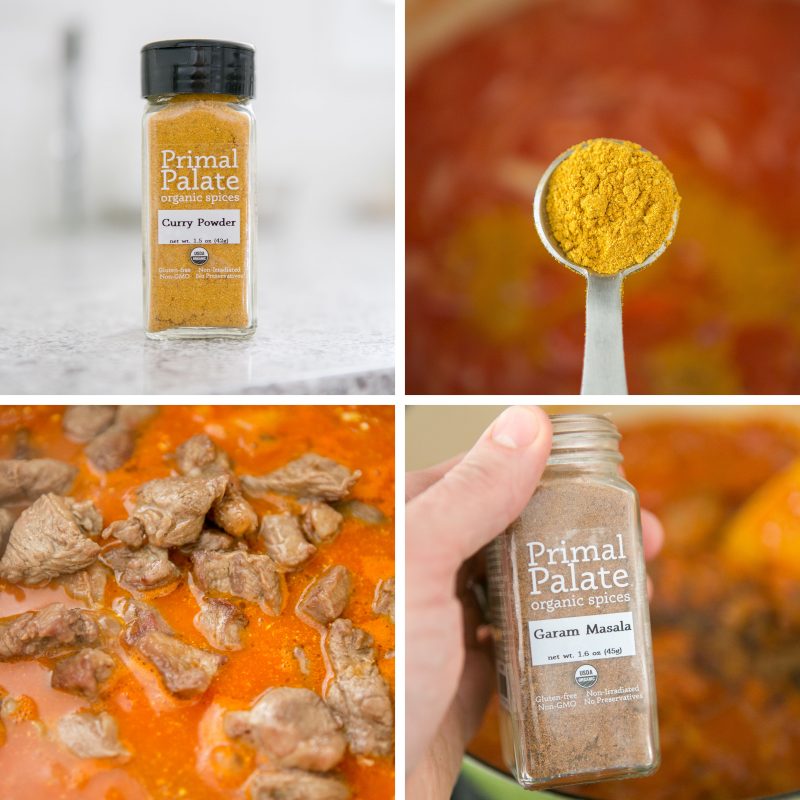 When the dish has cooked 30 minutes, make some rice to serve as a side dish. At this time, you can also rinse some cilantro for topping. And that's pretty much it. This dish is so simple to make, you'll wonder why you haven't tried it before! (Those who make it are nodding enthusiastically).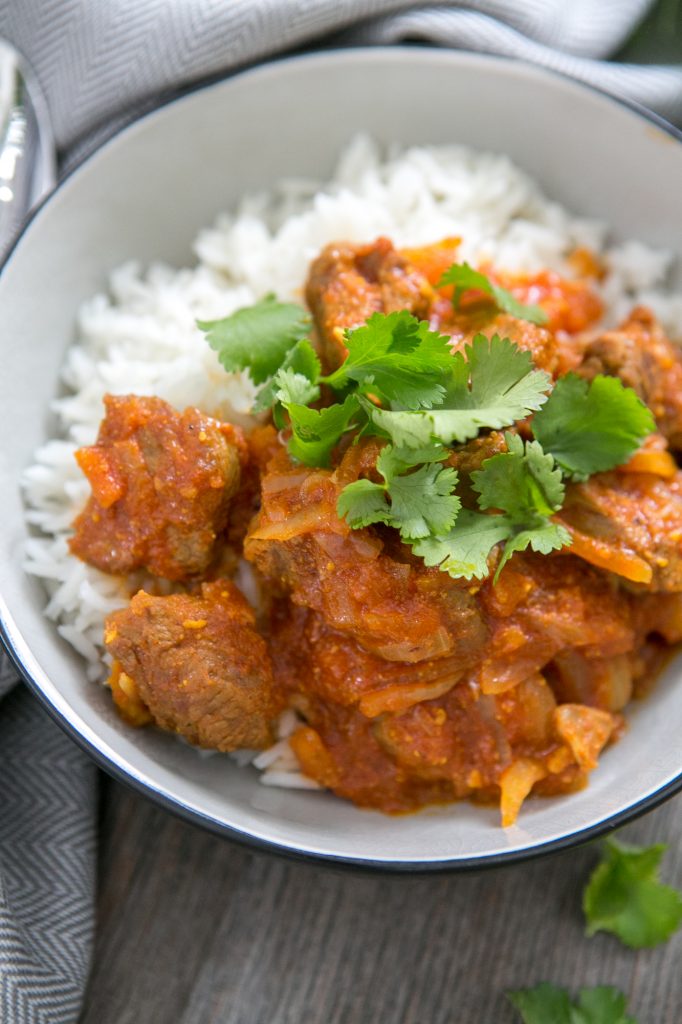 Enjoy!
B&H
>>
PS: Our Organic Spices are on sale for the next few days for Valentine's Day. If you want to get the Curry Powder and Garam Masala we used in this recipe, this is a great time to pick up our new Taste of Asia Pack. Take 10% off your order using code "SpiceLove" at the checkout.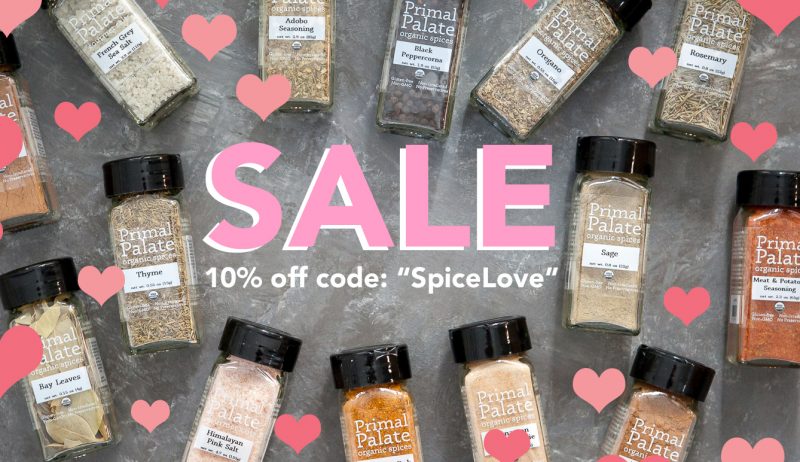 This dish is like the Persian version of a nice Italian meaty red sauce. The amazing aromas that fill your home when you cook this dish are worth the effort alone, but the taste is even better.
Process
Note, these instructions are written assuming the standard serving size, since you have modified the number of servings, these steps may need to be modified for best results
Begin by preparing your ingredients (which makes cooking easier). Cube the lamb, mince the garlic and ginger, slice the onion.
In a large pot or dutch oven, heat 2 Tbsp of ghee over medium high heat. Sear the lamb for about 10 minutes, stirring to evenly cook. Sprinkle with about 1/2 tsp of Himalayan Pink Salt. Remove meat and set aside.
Reduce heat to medium. Add the onion and saute until soft and it begins to get golden in color. Add the garlic and ginger, continue to saute another minute.
Add the tomato puree, water, yogurt, and curry powder. Stir to combine. Cover with a lid (the lid can be askew to let some moisture escape), and simmer for one hour. Stir every 15 minutes during the hour to prevent the sauce at the bottom of the pot from burning.
When the dish has cooked 30 minutes, prepare rice or your choice of side dish to enjoy.
At the end of the hour of cooking, add the Garam Masala and stir to combine. Cook another few moments, then remove from heat.
Serve over rice, garnished with fresh cilantro.
Our recipes are created using Paleo, Primal and Gluten-free guidelines.
Learn more
about our diet and lifestyle
at www.primalpalate.com
.