Hi friends!
Mother's Day is coming up this weekend, and we wanted to share this awesome recipe from Make It Paleo II with you, for Lemon Blueberry Waffles.
First of all… to all you Moms out there… you all are just the best bunch of people, ever. Thank you for all that you do for your kids. From the sacrifices you make in your lives (and at times, your careers), to the long nights you stay up worrying about us, to the guidance you give us a young adults. We are who we are because of you. And to all the new moms and moms-to-be out there, happy Mother's Day to you too!
This recipe is straight from our brand new cookbook,Make It Paleo II, which is the follow up to our first cookbook, Make It Paleo. If you don't have this one yet, it's on sale on Amazon right now at the lowest price since its release a couple months ago.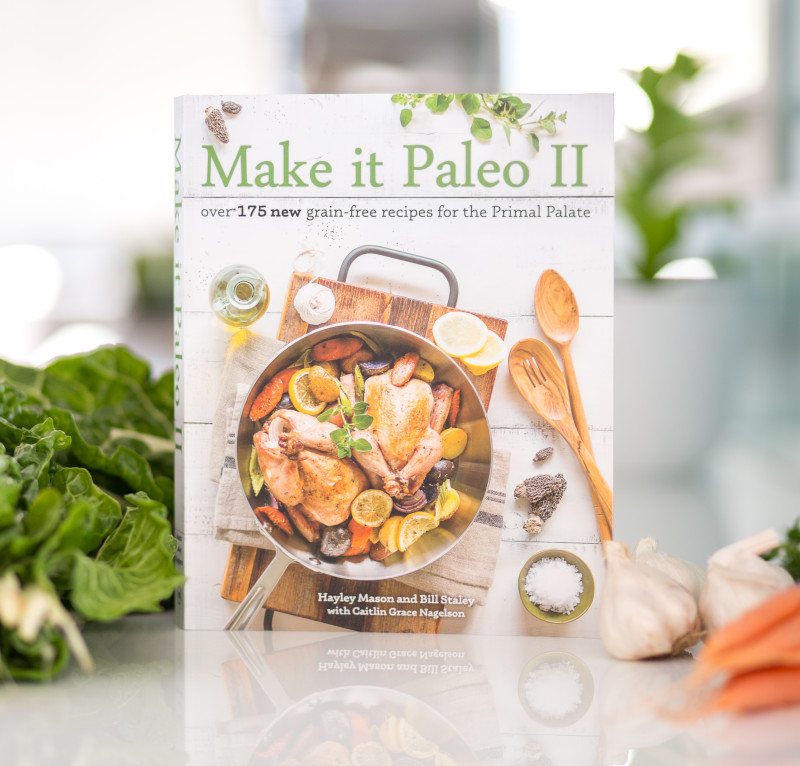 When I think of waffles, I think of a leisurely brunch with family. Waffles are not a rushed breakfast – at least not when you make them from scratch. As with any Paleo meal, there's a reason to slow down and enjoy the process of cooking. We made these waffles for our family brunch on Mother's Day last year (and then they ended up going into Make It Paleo II). When I make them now, I always think of enjoying them with my family, talking and laughing around the dining table.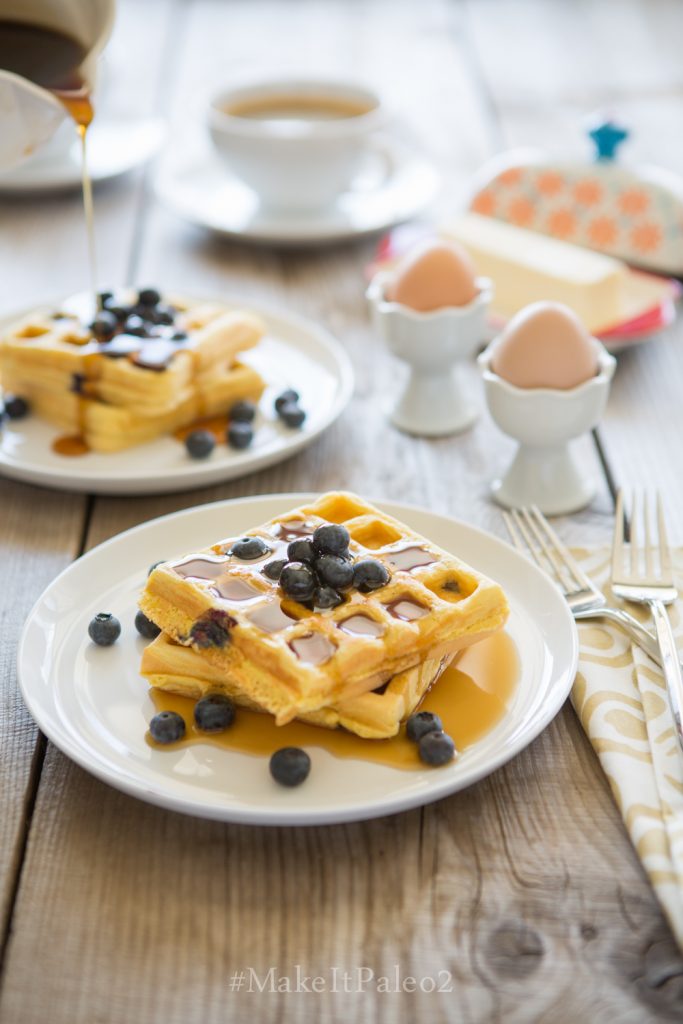 If you have our second cookbook, Gather, you could also pick and choose recipes from the Casual Sunday Brunch menu for this special occasion.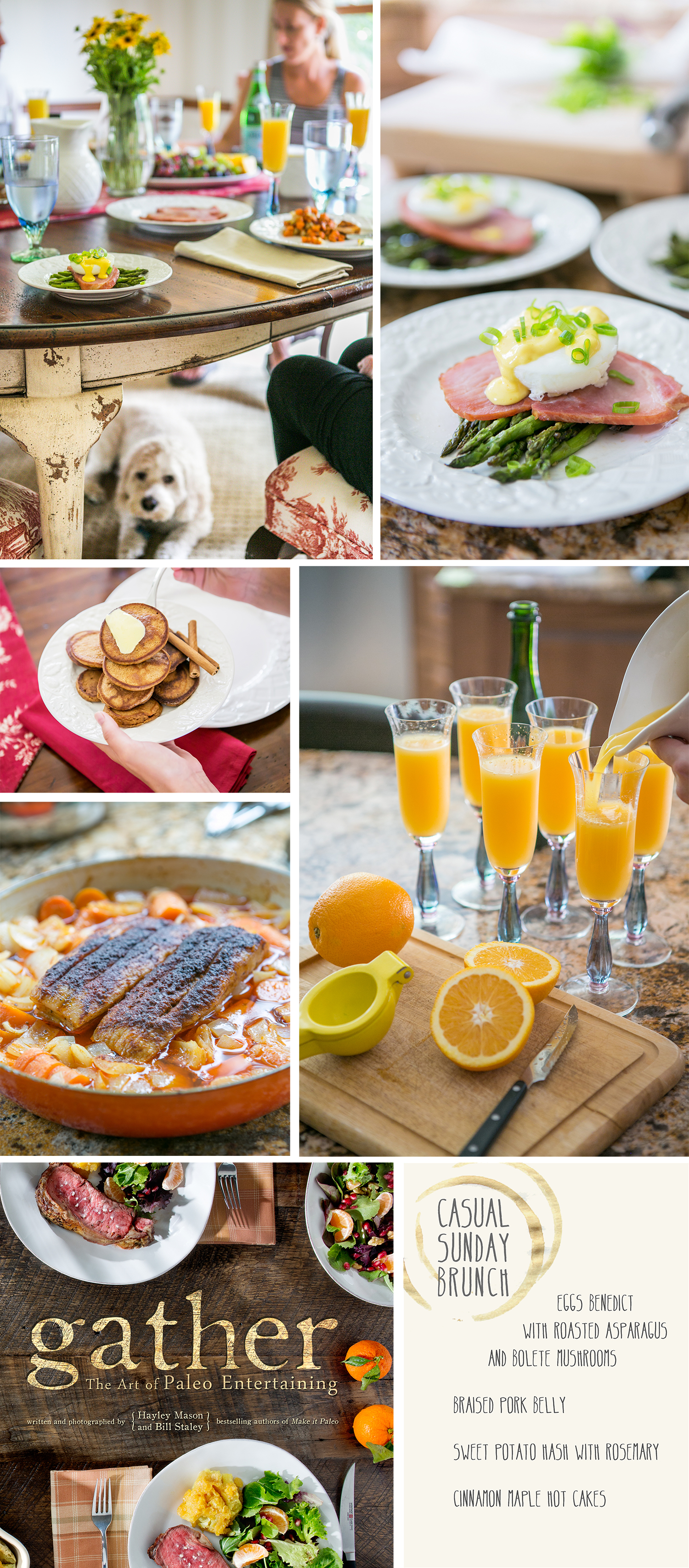 Come back tomorrow for MANY MORE recipes, perfect for Mother's Day, featuring our fabulous group of contributors. Anyone can contribute their own recipes to Primal Palate. We just might feature yours in our next roundup!
Difficulty



Serve these tasty waffles topped with extra fresh blueberries, maple syrup, and some grass-fed butter, if desired. These waffles are perfect for Mother's Day brunch! This recipe is nut-free and dairy-free (if you decide to skip the butter on top).
Shop
Process
Note, these instructions are written assuming the standard serving size, since you have modified the number of servings, these steps may need to be modified for best results
In a high-speed blender, combine the eggs, arrowroot starch, coconut flour, baking powder, coconut sugar, salt, coconut milk, and lemon zest and process until smooth. Stir in the blueberries by hand.
Heat a waffle iron to medium heat and grease the surface with coconut oil. Once the waffle iron is up to temperature, pour the batter onto the grids, using the waffle manufacturer's guidelines for suggested cup quantity. Be sure to ladle the batter evenly over the surface of the waffle iron, and cook for 2–3 minutes (the time and amount of batter will vary depending on your particular waffle iron). Repeat with the remaining batter.
Serve the waffles topped with more fresh blueberries, maple syrup, and some grass-fed butter, if desired.
Our recipes are created using Paleo, Primal and Gluten-free guidelines.
Learn more
about our diet and lifestyle
at www.primalpalate.com
.