Hi friends!
Today I wanted to share with you an easy recipe to make this beloved boardwalk / carnival treat: Funnel Cakes! I have fond memories of enjoying funnel cakes every summer when my family would go to the Jersey Shore. There are four, okay, maybe five categories of beach foods: breakfast pastries, nightly ice cream treats, free samples of fudge, sandwiches from Wawa, and the apex treat for a Jersey Shore vacation – boardwalk funnel cakes. Its a wonder anyone wanted to get into bathing suits by the end of our trips, with all that junk food.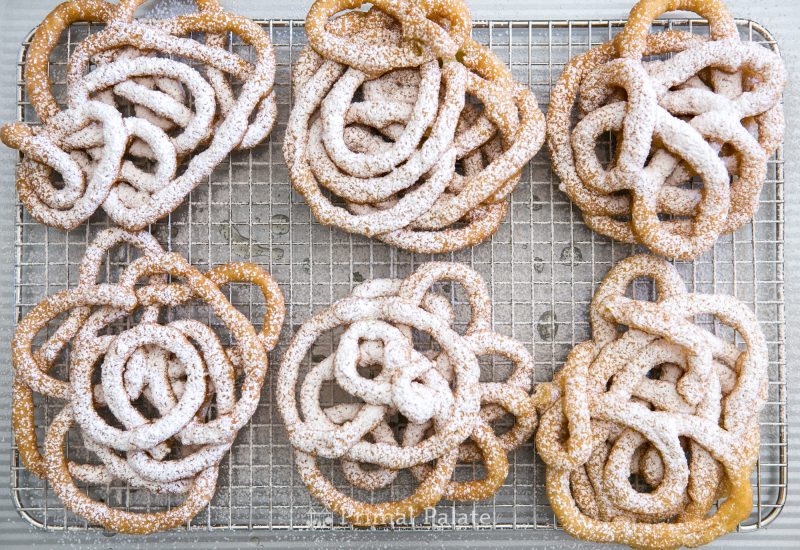 Funnel Cakes, therefore, hold a special place in my heart. Eating them takes me back to a simpler, fun time in my life when all I cared about was boogie boarding and what was for dinner.
I've been sporadicly attempting this recipe for a couple years now. One failed attempt even became a zucchini fritters recipe in Make It Paleo 2. A couple nights ago, I thought I'd give it a go again and try to make a funnel cake recipe. Not knowing what the base recipe really was, I just figured it was a fried batter-y type of dough. We have a great batter recipe that has been applied to General Tso's Chicken (in Gather), Fish 'n Chips, and Tempura Shrimp. It's our go-to batter recipe when something needs to be fried. But it didn't really work for funnel cakes. The batter pretty much exploded when it hit the 350 degree oil.
While the taste and texture were awesome, the actual form of the funnel cake just wasn't happening… as you can see. I knew I was missing some fundamental truths about how actual funnel cakes are made.
After a consultation with Chef Google (And thereby Alton Brown) I found out that funnel cakes, like many other delicious pastry-like treats, are based off of Pate a Choux. It was a really easy recipe to adapt for being gluten/grain free, so I made those minor changes and went for it.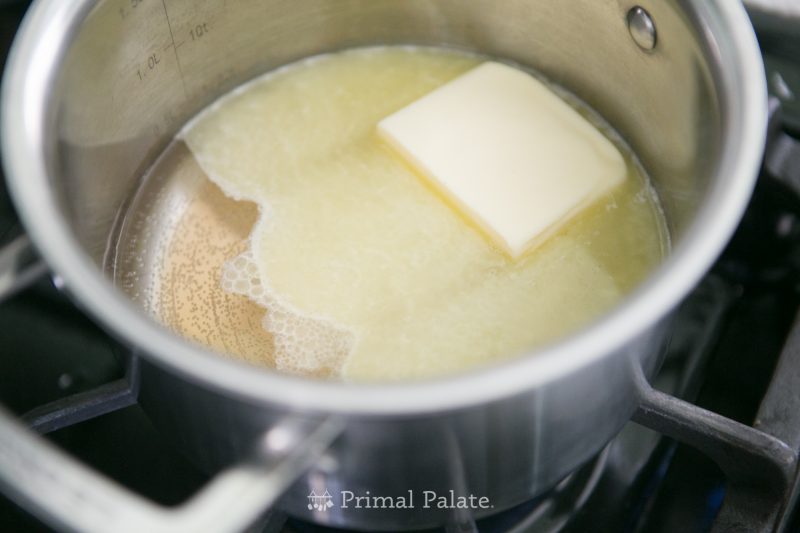 To start, you boil 1 cup of water, 1 tbsp of sugar (maple syrup, in this case), and 6 tbsp of unsalted butter. You can also add a pinch of Himalayan Pink Salt, because salty and sweet is an awesome combo.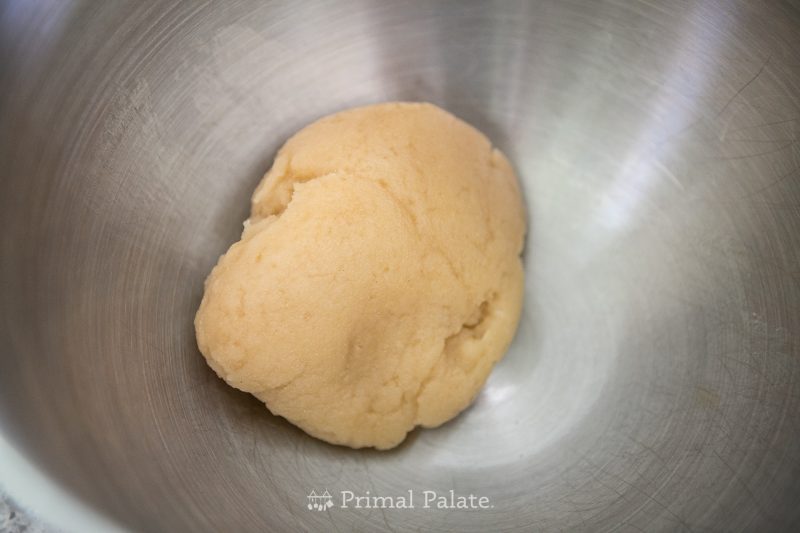 After adding the cup of cassava flour (in place of wheat flour), remove from heat and stir the dough together. Then you let it cool in the bowl of your stand mixer, which you'll need for the next step.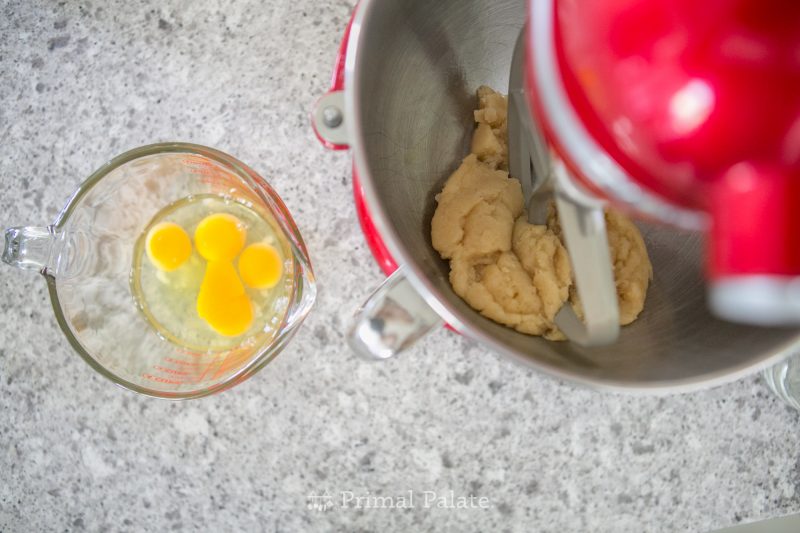 While it's cooling, you're going to crack 4 eggs and 1 additional egg white into a liquid measuring cup. These will get added to the dough one by one, once it's cool. If you don't wait for it to cool… well, I hope you like scrambled eggs!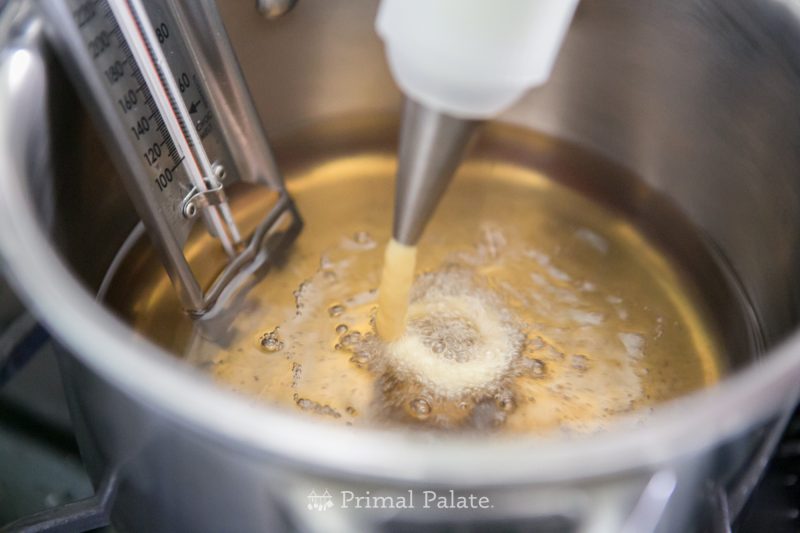 Once you have the batter worked together with the eggs, put it into a piping bag with a round tip. An average size round tip will be fine – the dough really puffs up once it hits the hot oil! Heat about 1″ of oil to 350F (monitor with a candy thermometer).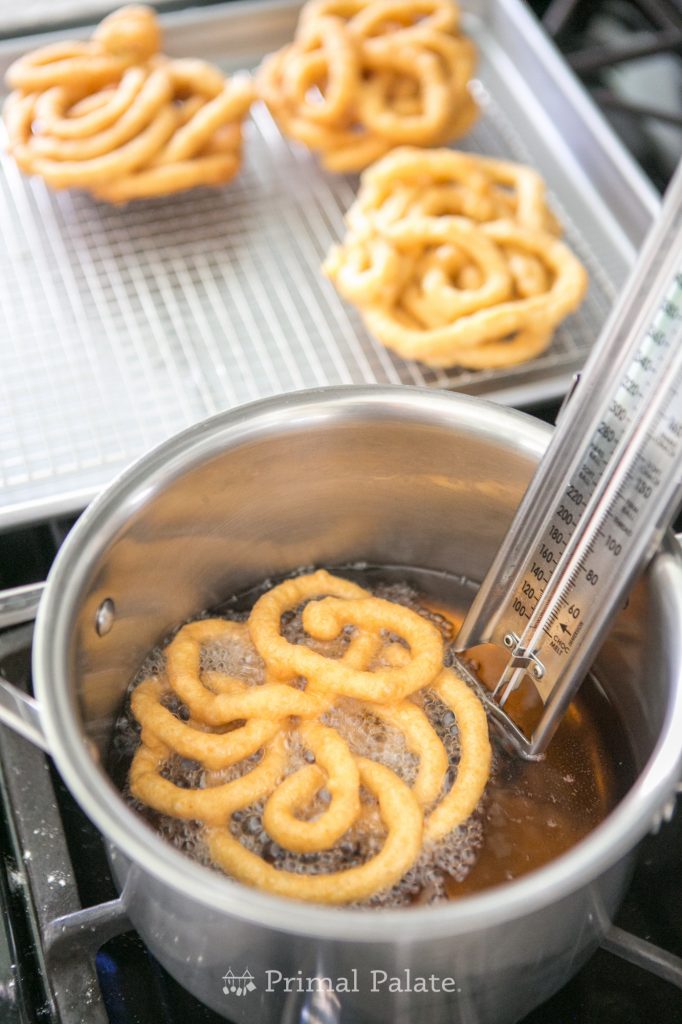 When you pipe in the dough, keep the tip down low to the oil, and keep the batter flowing, piping it into circles and arcs that overlap. This creates the lattice work that holds it all together. Cook for about 2 minutes for the first side, flip, and a minute and a half for the second side. Flip it with a slotted spoon, then place on a wire rack to drain and cool.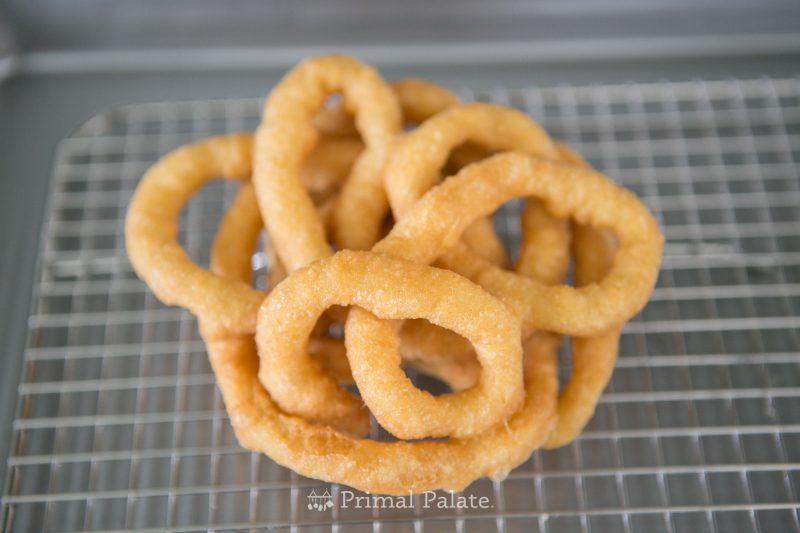 Once fully cool, you can dust with powdered sugar. We have a recipe for home made powdered sugar on our site, if you can't find high quality stuff at the store.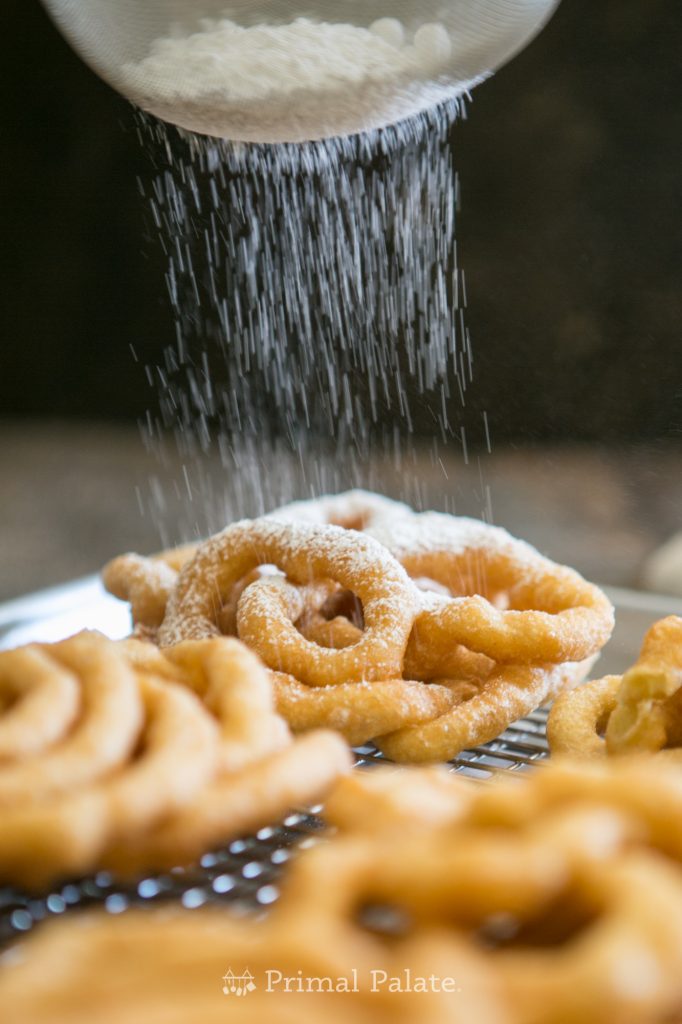 That's pretty much it! If you're having a party, you can make these a couple hours ahead of time. They do lose their crisp a little with time, but they are still delicious!
Look at those beautiful air pockets inside! These funnel cakes are super light and fluffy, with a sweet and crispy outside. They are just perfect!
We hope you enjoy this recipe as much as we did. Happy eating!
Bill & Hayley
---
Difficulty



This recipe is based on choux dough, a light pastry dough that is the foundation for many tasty treats. In this iteration, we're frying it and serving it up boardwalk-style as a funnel cake. Hat Tip to Alton Brown's recipe from his exceptional show, Good Eats, which was our starting point for this grain-free version.
Process
Note, these instructions are written assuming the standard serving size, since you have modified the number of servings, these steps may need to be modified for best results
In a medium saucepan, boil the water, butter, and maple syrup over medium heat. Stir until evenly combined.
Reduce the heat to low and add 1 cup of cassava flour. Stir to combine, then turn off the heat. Continue to stir until it's a ball of dough.
Add the ball of dough to the bowl of a stand mixer. Allow to cool off for 5-7 minutes.
While the dough is cooling, crack your eggs into a liquid measuring cup (it should be about 1 cup). Make sure the dough is cooled off before proceeding, otherwise you'll end up with scrambled eggs in your dough.
With the stand mixer on a low setting, add the eggs little by little, until fully incorporated. Wait for one egg to incorporate into the batter before adding the next one.
Heat a pot over medium high heat with your choice of frying oil. Coconut oil or lard are good choices. Use a candy thermometer to monitor the temperature.
While the frying oil is heating, pack the dough into a piping bag. Use a large, circular tip.
When the oil hits 350F, you can begin frying. With the tip close to (but not touching) the surface of the oil, begin by piping in overlapping circles and curves. Bringing the lines back over one another will make the funnel cake sturdy. Cook for 1.5 minutes the first side, then flip and cook for another minute. Depending on your oil temperature, this might vary slightly.
Once cooked, place on a wire rack, and allow to drain and cool off. Continue until all batter is cooked. Dust with confectioner's sugar and enjoy!
Our recipes are created using Paleo, Primal and Gluten-free guidelines.
Learn more
about our diet and lifestyle
at www.primalpalate.com
.
---