A couple weeks ago, Hayley put in an order for grass-fed beef from our friends at US Wellness Meats. We have a long standing relationship with them, and really enjoy their grass-fed beef (and other cuts of meat). We even took a trip out to visit them back in 2012, which was super fun. We got a personal tour of several of the USWM family farms, and spent time with everyone that works there.
Watching that video brings back some great memories! We really enjoyed our time amongst the cows… they were so friendly!
We decided to place an order for some special cuts of meat from them, seeing as the holidays were coming up and we wanted to have some fun meals. For Christmas dinner, we made a fantastic piece of Prime Rib. Now, you could do this cut right on a screaming hot grill, then put it off to the side to finish cooking with indirect heat. I feel like thats risky, but could also be very rewarding if done right. I wanted to make this particular cut with the most fool-proof technique that I know of: Sous Vide.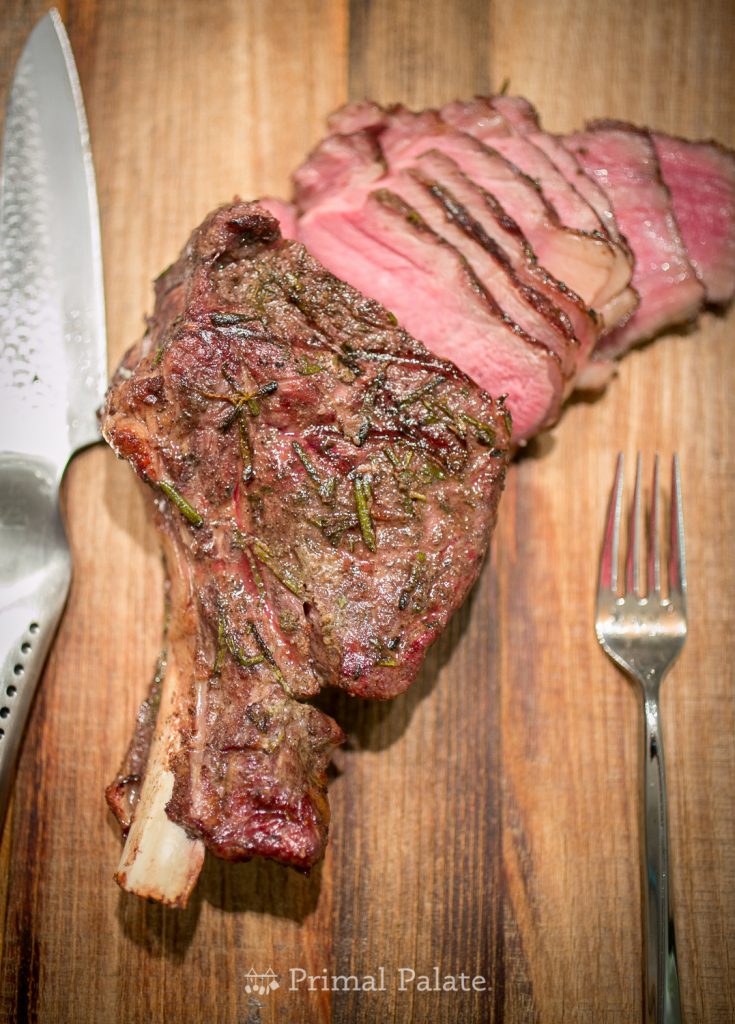 If you aren't familiar, Sous Vide is basically cooking a food at it's desired internal temperature, sealed in a vacuum-sealed BPA-free pack, in a water bath. I know what you're thinking: Maybe you should't cook something in plastic! Fair enough, it's probably not ideal. But for the few times a year we do it, we aren't too worried. (Still concerned about Sous Vide cooking? Read this informative post on Nom Nom Paleo about the do's and dont's of Sous Vide). We've cooked Sous Vide before, and it's a pretty great way to cook super-expensive cuts of meat that you absolutely do not want to screw up. Check out our Sous Vide Beef Tenderloin Recipe (and Video).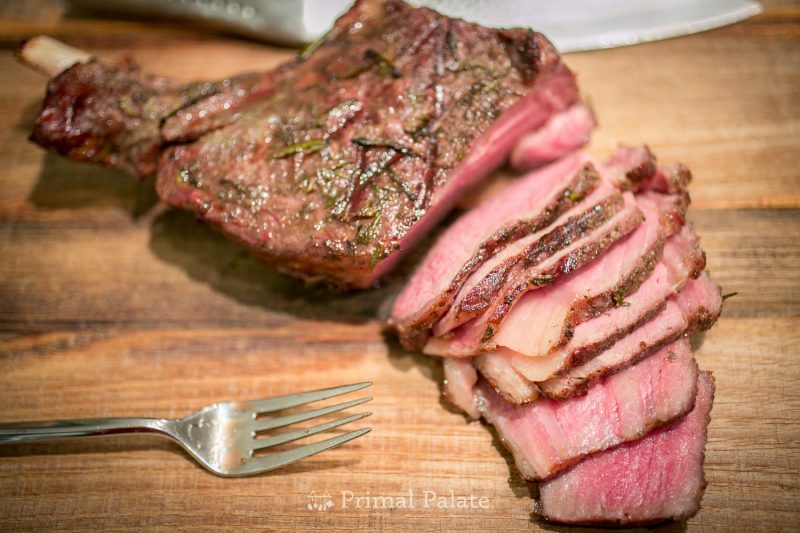 For the Prime Rib, we wanted to do a simple seasoning that would compliment the flavors of the cut without overpowering it. Even a single-bone prime rib is quite thick (almost 2″ thick), so it's also worth noting that the seasoning will on be on a small percentage of the meat (the surface). We went with ghee (which is clarified butter), chopped fresh rosemary from our garden, Himalayan Pink Salt and ground Black Pepper (both of which we now sell! Check out Primal Palate Organic Spices, and take 10% off through New Year's Day using code "Holiday10"). All of these ingredients get rubbed onto the prime rib, and then placed into a vacuum sealing bag. The whole thing goes into the 136 Fahrenheit water (really 134-137 F will yield varying degrees of medium rare). It cooks for 5-7 hours, then is removed from the pouch, dried off, and seared on a screaming hot grill for a nice crust. You can see from the cut piece of meat that it's cooked medium rare PERFECTLY throughout, with a gentle sear on the edges.
We served the Prime Rib with steamed green beans, as well as carrot mash (there's a recipe for it in Beyond Bacon. According to Stacy, they created that recipe because they loved our Carrot Souffle recipe so much, which is super flattering!)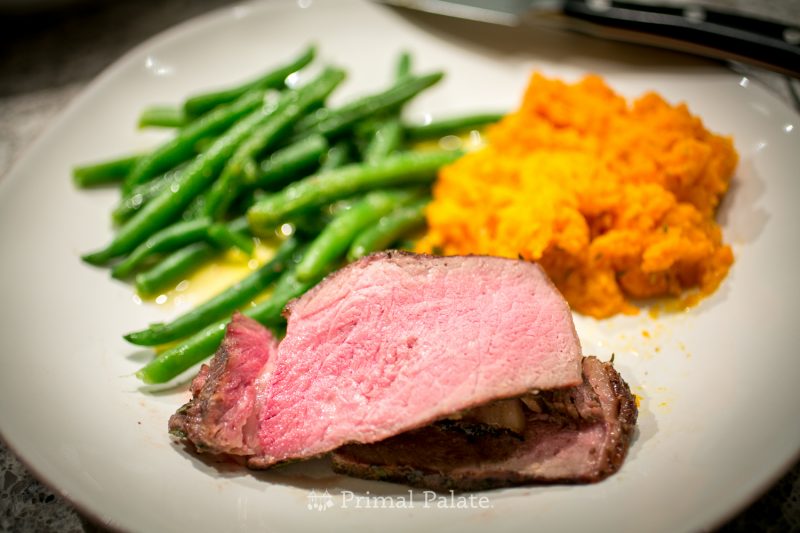 We hope you love this recipe! It really is a fool-proof way of cooking Prime Rib, and one we'll continue to use when we make it for holidays and special occasions.
Before you go! Don't forget to take advantage of 10% off our spices now through New Year's Day (Jan 1st). Use code "Holiday10" at checkout!

Cheers, and Happy New Year!
Bill & Hayley
Difficulty




This is an absolutely fool-proof way of cooking Prime Rib that results in the most perfectly cooked, medium-rare piece of meat. The compound ghee seasoning with Rosemary, Salt, and Pepper really accentuate the flavors of the juicy steak. It's perfection!
Process
Note, these instructions are written assuming the standard serving size, since you have modified the number of servings, these steps may need to be modified for best results
Start by filling your Sous Vide with hot water. If the device is on, it will display the temperature of the water. Set the device to 136 degrees Fahrenheit. Take care not to fill the bath with water that is hotter than 136 degrees. Using hot water reduces "warm up" time.
Take a one-bone cut of prime rib, and rub it down with the ghee. Sprinkle with chopped fresh rosemary, salt, and pepper. Place the prime rib in a vacuum-sealing pouch, and vacuum seal it.
Place the vacuum sealed pouch into the 136 degree water, and allow it to cook for 5-7 hours.
Remove the pouch from the water bath, and heat your grill to high heat.
Allow your grill to reach at least 500 degrees. Take the meat out of the pouch, let the juices drip off (you can blot off any extra moisture with a paper towel for a better sear), and season again with additional salt and pepper.
Place the meat on the hot grill, and sear for 2-3 minutes per side. No need to let the meat rest due to the cooking method: just slice and serve!
Our recipes are created using Paleo, Primal and Gluten-free guidelines.
Learn more
about our diet and lifestyle
at www.primalpalate.com
.