With summer winding down here in western Pennsylvania, I've really been craving early harvest comfort foods. The dishes I've wanted are ones my mom made when I was a kid. One of them that I make on repeat is the Chicken Salsa Salad recipe, from our newest cookbook (which you should really get): Make It Paleo 2. This dish is typically made with grilled or steamed corn, and served with corn chips. I'll be honest: I've been doing both. I actually seem to tolerate corn well, and I ONLY get the organic (non-GMO) kind, so I don't feel too bad about it. Even though my stance is paleo-flexible on corn, buying organic is simply non-negotiable. With everything we know, and don't know, about Genetically Modified crops, it's a no-brainer to buy organic. Plus, I only eat fresh corn when it's locally in season, which is from late July until September.
This recipe is topped with grilled, split chicken breasts dusted with our fabulous Organic Adobo Seasoning, which is just delicious! (Click here to read more about our new line of organic spices).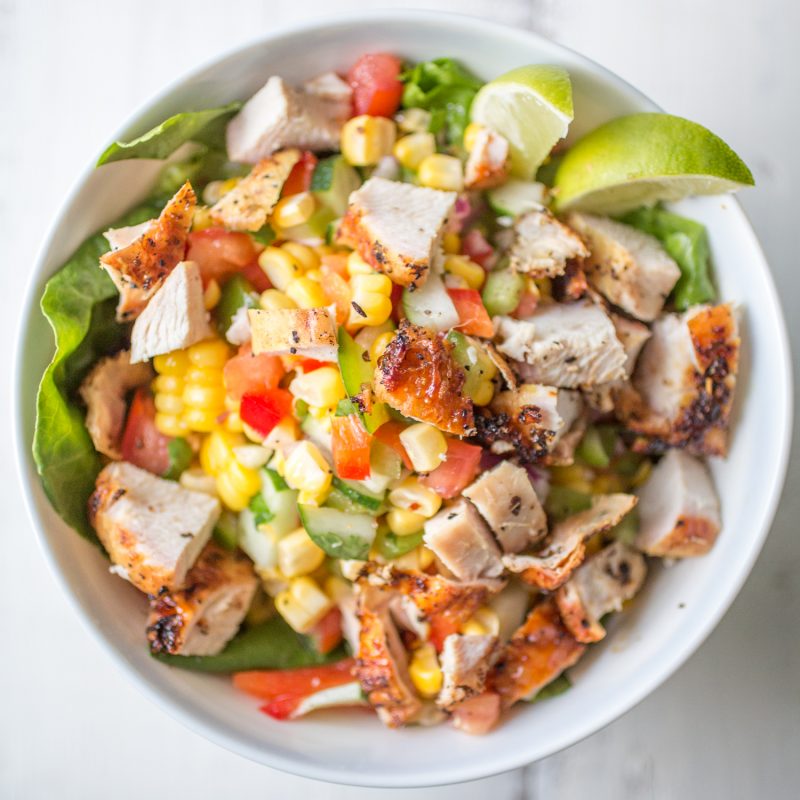 Another dish that really reminds me of my childhood is this "couscous" dish below, using Cauliflower in place of couscous. For those who aren't familiar with couscous, it is a very popular dish in North Africa. Couscous is essentially small semolina beads, which become light and fluffy when cooked. Getting the approximate texture is part of replicating this dish, and if you shred the cauliflower just right, you'll get a similar mouth feel to couscous. The other flavors in this great dish my mom used to make really bring it to life. The fresh vegetables and bright note of citrus are very refreshing! This dish is ALSO straight out of Make It Paleo 2. You're going to get the book, right?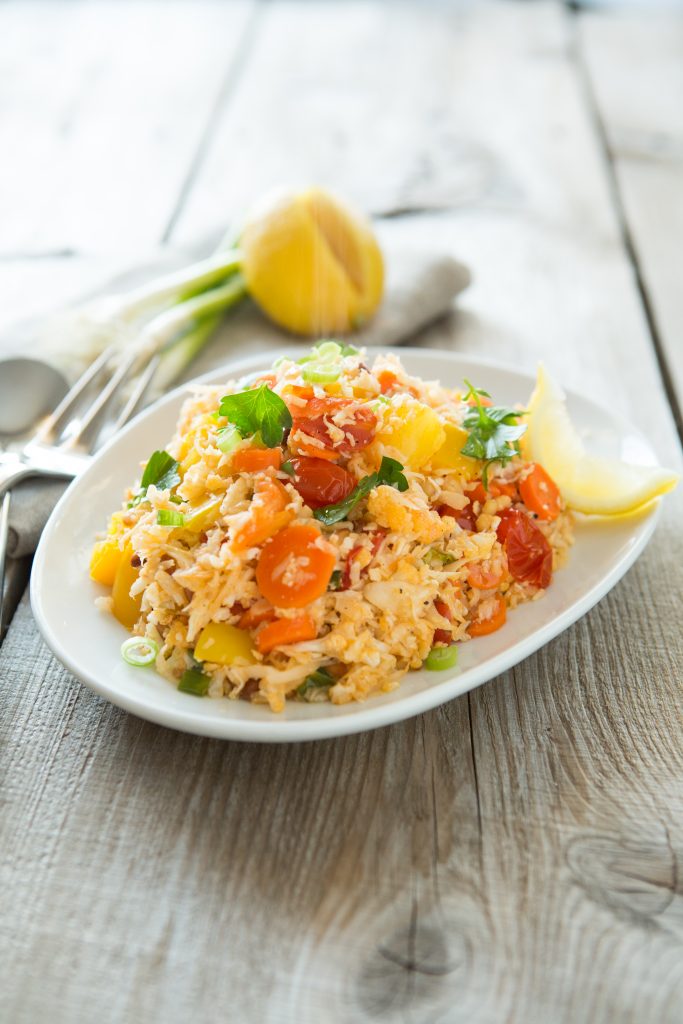 Difficulty


This is another Staley Family favorite recipe, remixed into a grain-free version. The major swap in this dish is replacing all the couscous with riced cauliflower. This summery side dish is the perfect way to utilize fresh, seasonal ingredients in a dish that is light on the palate.
Shop
Process
Note, these instructions are written assuming the standard serving size, since you have modified the number of servings, these steps may need to be modified for best results
In a large skillet over medium heat, sauté the pine nuts and garlic in 1 Tbsp of the duck fat. When the pine nuts are golden brown, remove them from the skillet and set aside. Add the remaining 1 Tbsp of duck fat to the skillet and sauté the carrots, bell pepper, and tomatoes for about 15 minutes, until soft. Season with the salt and pepper.
Grate the cauliflower with the stems parallel to the grating surface (giving you longer grains of "rice"). Add the cauliflower to the skillet along with the sliced scallions, toasted pine nuts, and garlic.
Serve with a squeeze of lemon juice and a drizzle of olive oil, garnished with flat-leaf parsley.
Notes
You can easily make this recipe nut-free by omitting the pine nuts.
Our recipes are created using Paleo, Primal and Gluten-free guidelines.
Learn more
about our diet and lifestyle
at www.primalpalate.com
.