I really do not like ripe bananas. In fact, I kind of hate them. I love eating green tipped bananas, but ripe ones? Eww. No. However, when it comes to baking, I love ripe bananas! We had three overly ripe bananas sitting on our kitchen island today (which will now be yesterday), so I decided to whip up some muffins.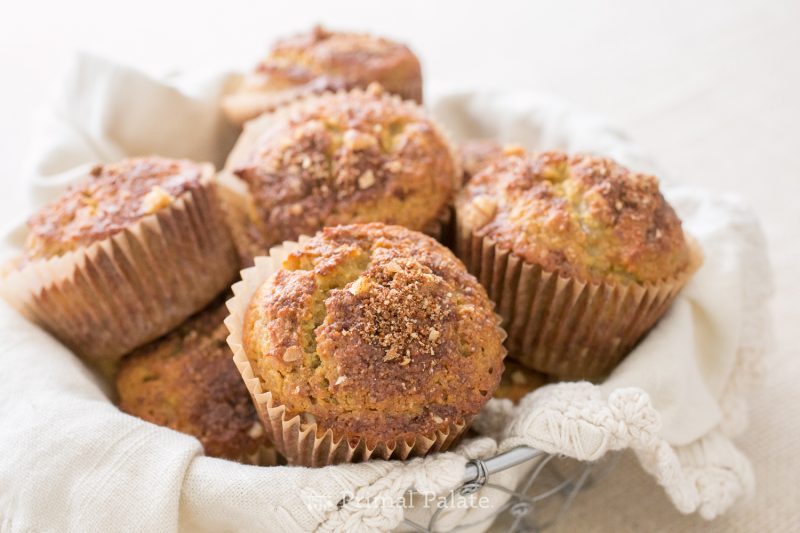 I usually avoid making banana bread, or muffins, because it never cooks all the way through the center for me. Today I decided to try something different, and rather than mash the bananas into almost a puree, I decided to chop and slightly mash them, so they were still in small pieces. I planned on folding the small pieces of banana into the muffins, instead of blending mashed banana into the batter. This new method ended up being perfect for me!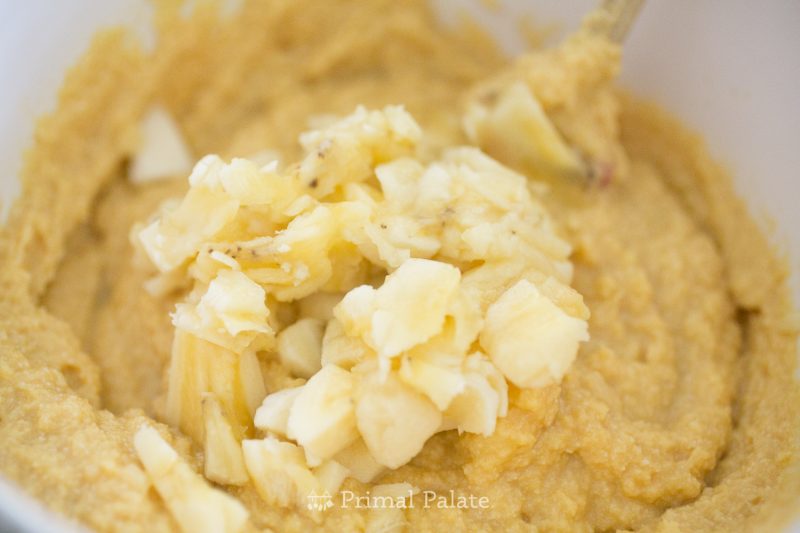 I never take advantage of our blender for baking, and today I actually thought to whip the batter in the blender, rather than using a hand mixer. Why don't I do this more? It really speeds the prep along!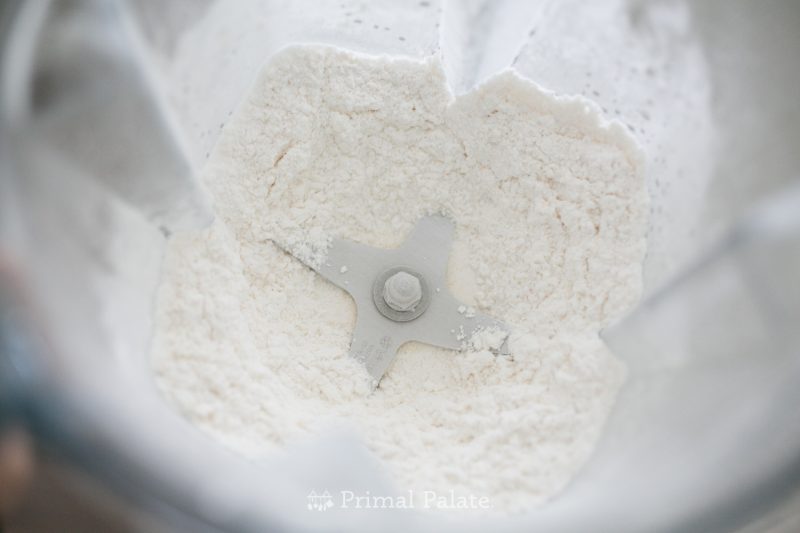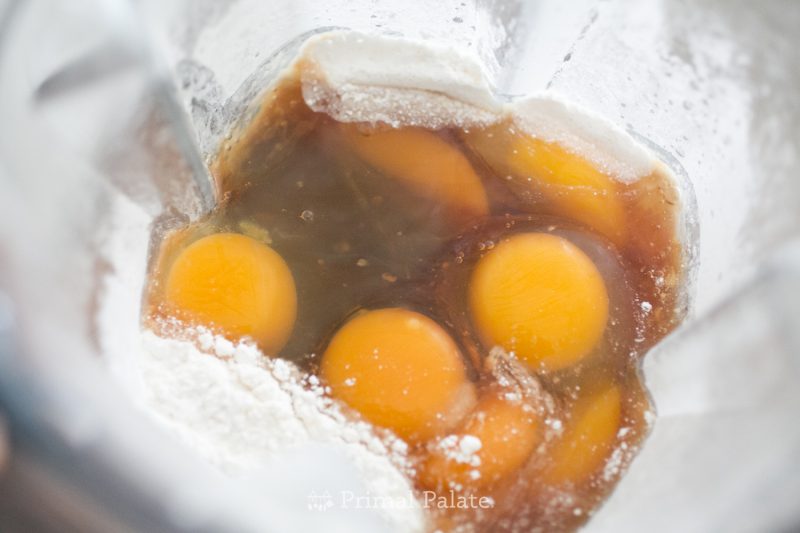 I did use some chopped walnuts to add a little texture to the muffins, and added the walnuts and some blanched almond flour to my crumb topping. If you would prefer to have completely nut-free muffins, you can omit the walnuts and almond flour, and just sprinkle the tops with our Cinnamon Sugar Cookie blend! If you did not purchase our seasonal pack of spices, then you can substitute 1 tablespoon of maple sugar or coconut sugar, and 1/2 teaspoon of ground cinnamon in its place. We will be bringing this pack back this fall, so make sure you keep an eye out for that!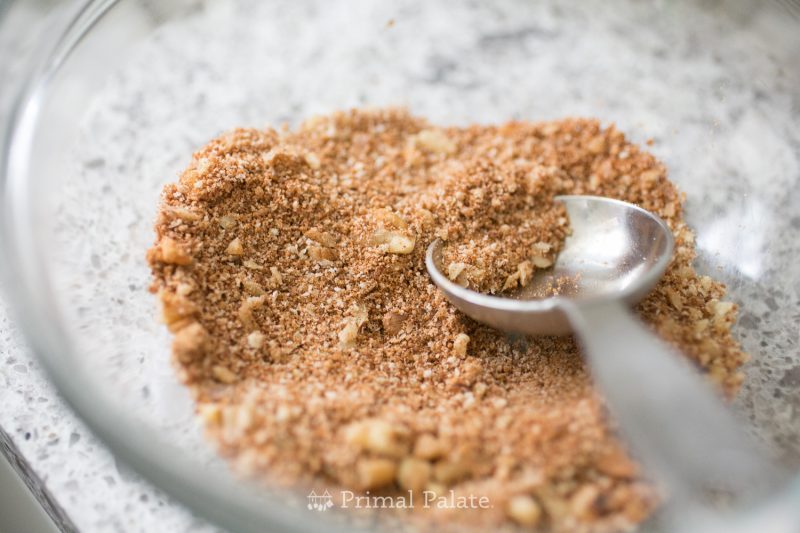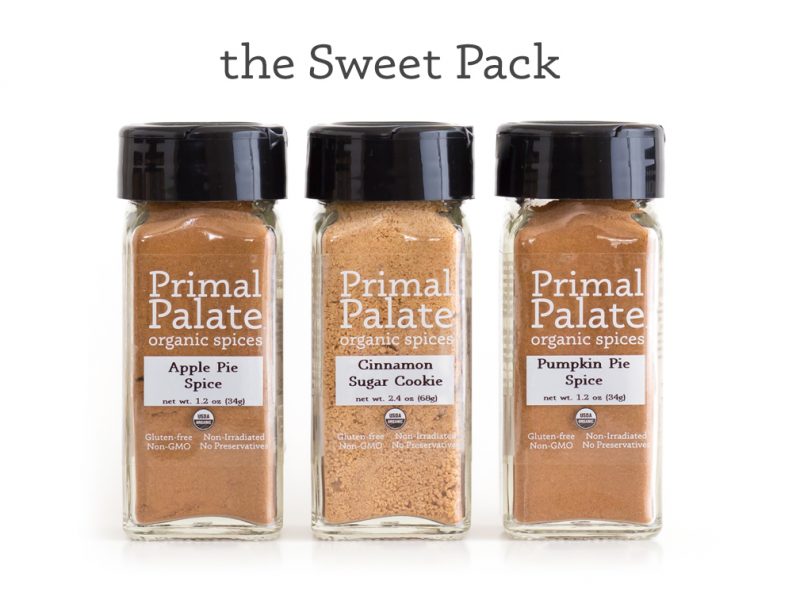 (We still have a handful of Sweet Packs in our Canadian warehouse for Canadian residents. Email us to special order!)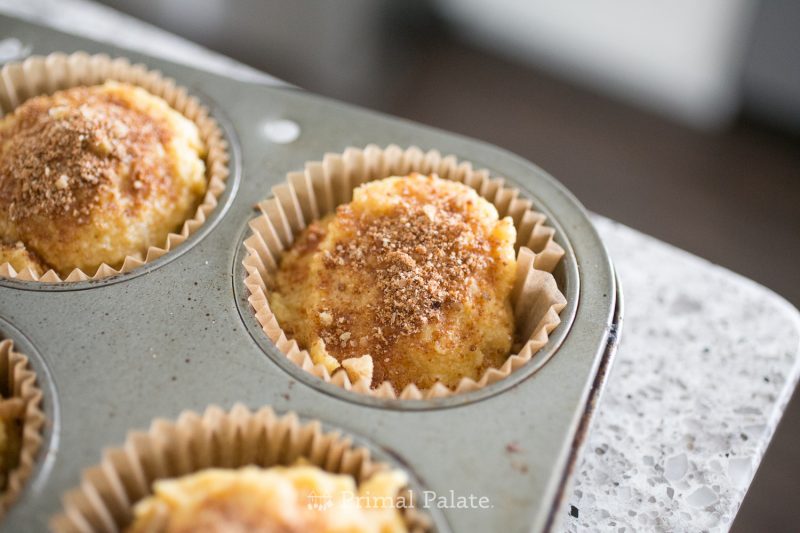 These muffins are absolutely wonderful. They are the perfect addition to a brunch spread, that your guests will LOVE. They would be fantastic alongside our Apple Streusel Muffins in Make it Paleo II if you are hosting a lot of people!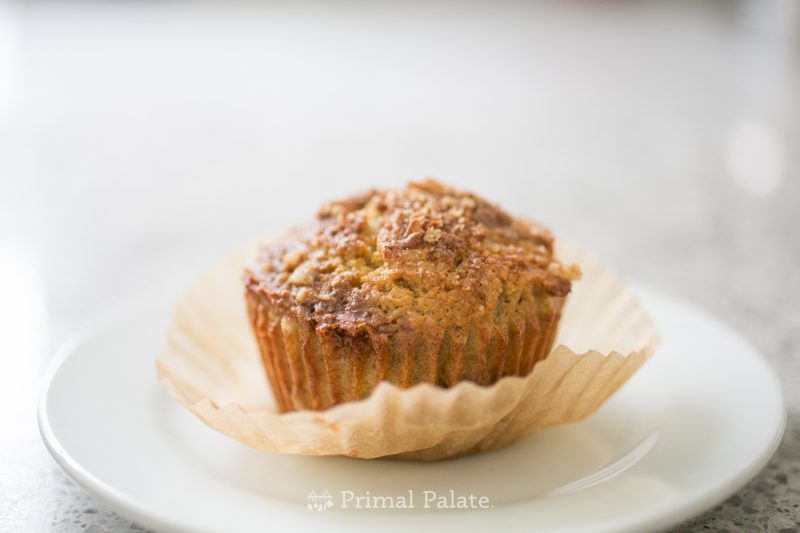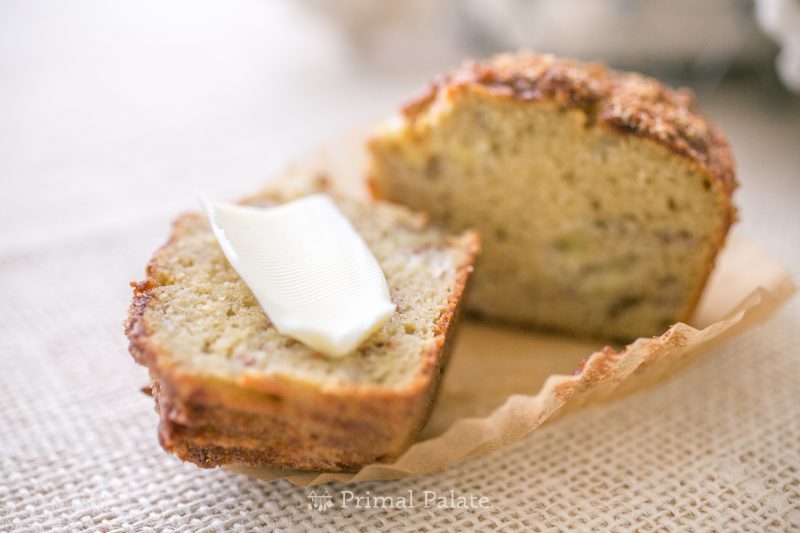 Hope you love these as much as we did!
xoxo,
Hayley
Difficulty


These delicious banana muffins have all the flavors you love from banana bread, but in individual size portions. These muffins will fill your house with the warm, sweet smells of banana bread, and make a wonderful addition to your brunch spread!
Shop
Process
Note, these instructions are written assuming the standard serving size, since you have modified the number of servings, these steps may need to be modified for best results
Preheat your oven to bake at 350 degrees, and line a muffin tin with 10 muffin papers.
Dice, or lightly mash the two bananas with a fork, and set aside. You do not want the bananas to puree, you want small pieces.
In a small prep bowl, stir together the almond flour, Primal Palate organic Cinnamon Sugar Cookie blend, and 1 tablespoon of the finely chopped walnuts from your 1/3 cup.
In a food processor, or high speed blender, pulse the coconut flour, arrowroot flour, salt, and baking soda.
Add the maple syrup, vanilla, and eggs, and blend on high until smooth.
Add the palm shortening, and blend again until smooth.
Pour the batter into a small mixing bowl, and fold in the banana, and the rest of your finely chopped walnuts.
Using an ice cream scoop, fill each muffin tin with the batter.
Sprinkle the top of each muffin with your crumb topping.
Bake for 35 minutes, or until a toothpick inserted into the center comes out clean.
Serve with grass-fed butter or ghee.
Our recipes are created using Paleo, Primal and Gluten-free guidelines.
Learn more
about our diet and lifestyle
at www.primalpalate.com
.