We are working on a 4th cookbook, and if you follow us on Instagram, you can see lots of fun "teasers" as we work on the book! We haven't really officially announced the book, and what it's about, but don't worry… the announcement is coming, and I'll just say that you will NOT be disappointed. We can't wait to share all the details with you! Sometimes when working on a cookbook, it's really easy to get sick of your own food, or cooking for that matter. In fact, for weeks I hated all food, everywhere. Wanted nothing to do with anything, just from cooking so much. I made the mistake of posting a goofy status about it on Facebook, which resulted in my SIL texting me to say "maybe post a picture of you drinking, so people stop thinking you are pregnant." Oops. Well, I don't drink, so that was no help. Sorry friends and family (mostly family). I'm not pregnant. Anyway, my point is that when working on a cookbook, it's really hard to make daily meals, so I get really excited when I'm actually inspired to make a non-book-recipe meal! We really love chicken thighs. They are probably our favorite cut of chicken, but they have to be skin-on. Definitely skin-on. Crispy chicken skin is just the best. We usually bake them in the oven with just salt on the skin, because when you cook all your meals from scratch every single day, you really need simple. Since I was feeling fancy, I decided to test out a new spice blend for the thighs. It smelled amazing, and we were starving, so I was really excited to try it out.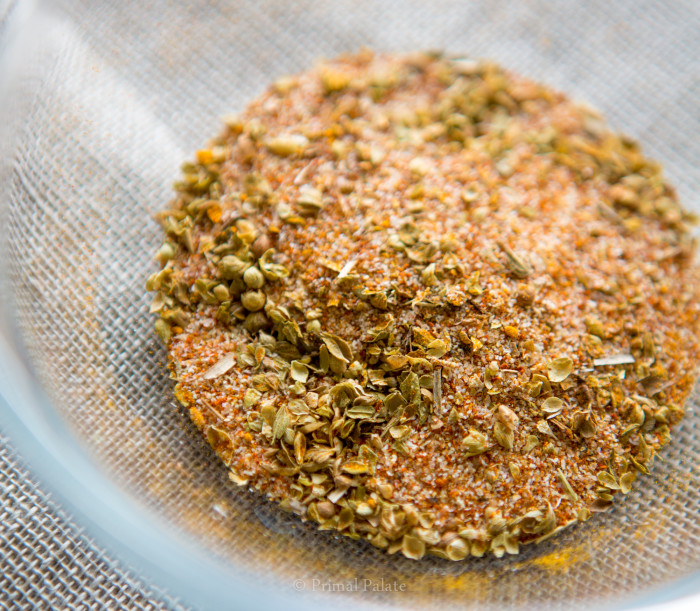 Unfortunately it didn't turn out perfectly, but it was still delicious. See, Bill wanted to grill because we had been doing piles and piles of dishes from working on the book, and he said he didn't want to have more dishes to wash. Then he decided to clean the grill for 30 minutes. Weird? Yep, but I love him. Then after cleaning the grill for 30 minutes, we realized we were out of propane, so he left to go get some. At this point I was so hungry I forgot to tell him it might be best to NOT flip the chicken on the skin because of all the spices. Well since I forgot, he flipped them on the skin, and came back and said… "So, the chicken looks and smells good, but it's blackened now." and I said "How did it get blackened if it was on indirect heat?" and he said "It just did." So I went outside and looked and said "Did you flip it on the skin?" and he said "Yes. I wanted to crisp it up" to which I  said…"I wouldn't have done that, because I figured it would all burn and turn black. Which it did." Bill looked really sad and upset, and I was too hangry to care if he felt bad. I was just HANGRY and wanting to cry, because the chicken I so badly wanted to post on the blog was now UGLY.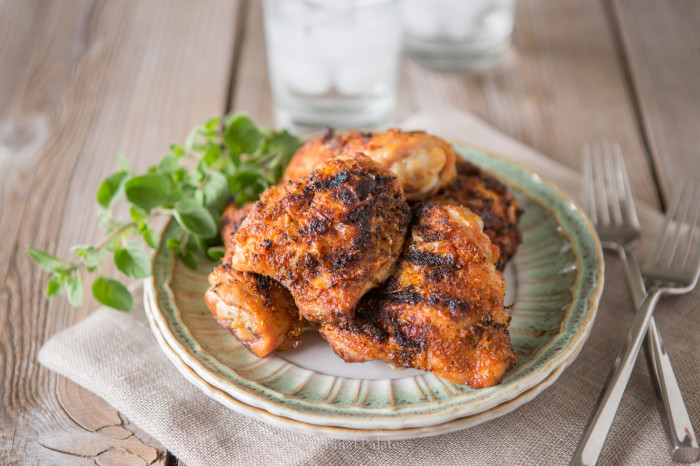 Then Bill felt really bad, and brushed enough of the black stuff off to make the chicken look good (good thing I put a lot of spice on), and then told me I could make a joke about him burning them for the blog post. Poor Bill. Anyway, the chicken was delicious, and turned out just fine! This is definitely our new favorite spice rub, and an easy way to make grilled chicken a little more fancy for a summer BBQ! Enjoy!
Difficulty




This is definitely our new favorite spice rub, and an easy way to make grilled chicken a little more fancy for a weeknight meal (or summer barbecue!)
Process
Note, these instructions are written assuming the standard serving size, since you have modified the number of servings, these steps may need to be modified for best results
Mix all of the spices together in a small mixing bowl.
Rinse the chicken thighs and pat dry so that the skin is still just slightly moist (it will help the spices adhere).
Liberally dust the chicken thighs with the spice blend, just on the skin side.
Prepare your grill to moderate heat with a cool spot (indirect heat). If you have propane, keep a burner on low flame or off completely.
Cook the chicken bone side down for 25-30 minutes, until it is cooked completely. Do not flip to the skin side for more than a moment or two (and closely monitor if you do), because the spices will burn. The chicken should be 165 degrees F (74 C) in the thickest part.
Our recipes are created using Paleo, Primal and Gluten-free guidelines.
Learn more
about our diet and lifestyle
at www.primalpalate.com
.
Still Hungry? Good! 
DEAL of the Week: 10% off Cappello's Products!
We've teamed up with Stacey and Ben at Cappello's to offer an exclusive 10% off discount on all their products. Enter "Primal Papas" on checkout. The more you order, the better the deal! BE SURE to add some of our famous grain-free chocolate chip cookie dough into the mix, so you can make ice cream sandwiches. 😉
Shop Cooking Tools 
If you feel inspired by this post and want to set yourself up with the grill (or smoker) we recommend, visit the Primal Palate online store! You'll find all the cooking gadgets we love, handpicked, just for you.
Cookout Menu
We have several cookout-themed menus on our site. Browse our entire collection of menus to see them all!
Featured User Recipe
Contributor "Worth Every Chew" just uploaded these GORGEOUS Blueberry Scones, the perfect treat for this time of year, since blueberries are in full swing!
Plan Your Meals
Want to plan your next BBQ? We don't blame you! Use our free meal planner, called myKitchen (also available as an app!)
Want to start doing this whole Paleo thing?
Get our extensive (and popular) 30 Day Guide to Paleo program! It includes everything you need to get started today! (click the link below)

Get ALL of our recipes – purchase our three fabulous cookbooks! 
Our cookbooks contain a whopping 400+ recipes (combined). Get our books and see all the cookbooks we recommend in our store.