Spring has sprung here in Pittsburgh, and we couldn't be any more excited for the change in seasons! For some reason, it felt like this winter was the coldest winter we've had in 35 years. Oh wait, that's because IT WAS. With an average temperature of 18 degrees Fahrenheit in February, all we wanted to do was hibernate and crank the thermostat to 70 degrees. Pretty much, it was not good news when you plan to release a cookbook that took you over a year to make. The confluence of events (thats a word we Pittsburghers tend to use a little more than the average person) led to us basically just curling up in a ball and waiting for the sun to come out. And last week it finally did!
April 1st rolled around, and like clockwork it was 70 degrees and sunny, and basically has been ever since! The grass is super green, the birds are chirping, the sun is setting later and later. We've been taking little Charlie for long walks in the neighborhood, admiring the forsythia, and listening for the neighborhood rooster crow. Sometime around the middle of the summer, a huge Buff Orpington rooster who we call "Roy" wandered into our sleepy little suburban neighborhood, and has been hanging around ever since. It's no wonder, because someone started feeding Roy. (Here's Roy in action, doing his thing at dawn…. walking through our yard, and telling us to GET UP.)
So Roy likes it here, and mostly sits at one of our neighbors front windows all day, hoping to be let in. Surprisingly, Roy has not come by to meet our girls yet (more on our backyard chicken project later this week!) Our chickens are just loving the outdoor life!
But all that to say that things are finally going in the right direction here. Hayley is starting to show signs of recovery, which is great, and has also really improved the morale around here.
We are still SO, SO excited about our new cookbook, so we thought we'd share a few of our favorite recipes from the book. You could call it a bribe if you want, but we'd love for you to grab a copy. If you live in the states, your BEST DEAL on Make It Paleo 2 is getting it at Costco. Or if you want to support your local bookstore (like Barnes & Noble), you can also get a copy there (call ahead to make sure they have it). And if you are like us, and enjoy having things delivered to your doorstep, there's always Amazon (and it's usually about $10 off the cover price, so also a great deal!) And of course, we can't bribe you in any way to do this (other than with our undying love), but we would really appreciate it if you took a moment to leave a review for Make It Paleo 2 on Amazon if you have a chance.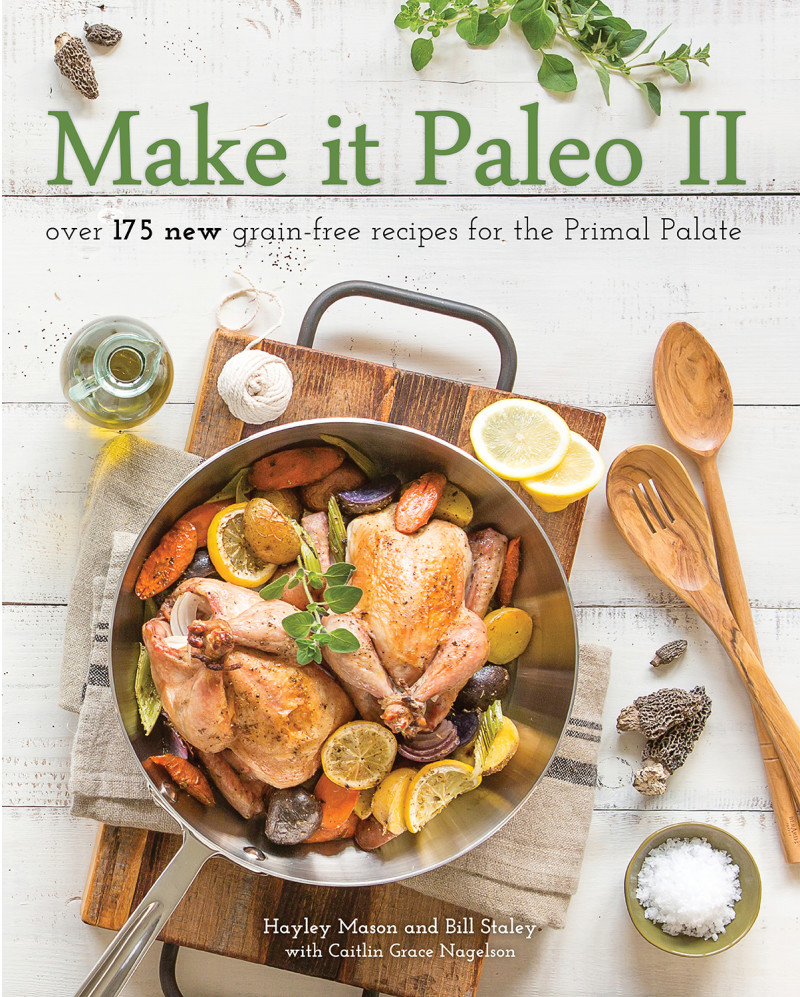 Okay, so on to the recipe! This Nut-free, Nightshade-free Pizza is the bomb. We both love it just as much as regular pizza made with tomato sauce and all. The crust, which is nut-free by way of using tapioca starch and coconut flour, is also a very good replacement for a nut-flour crust.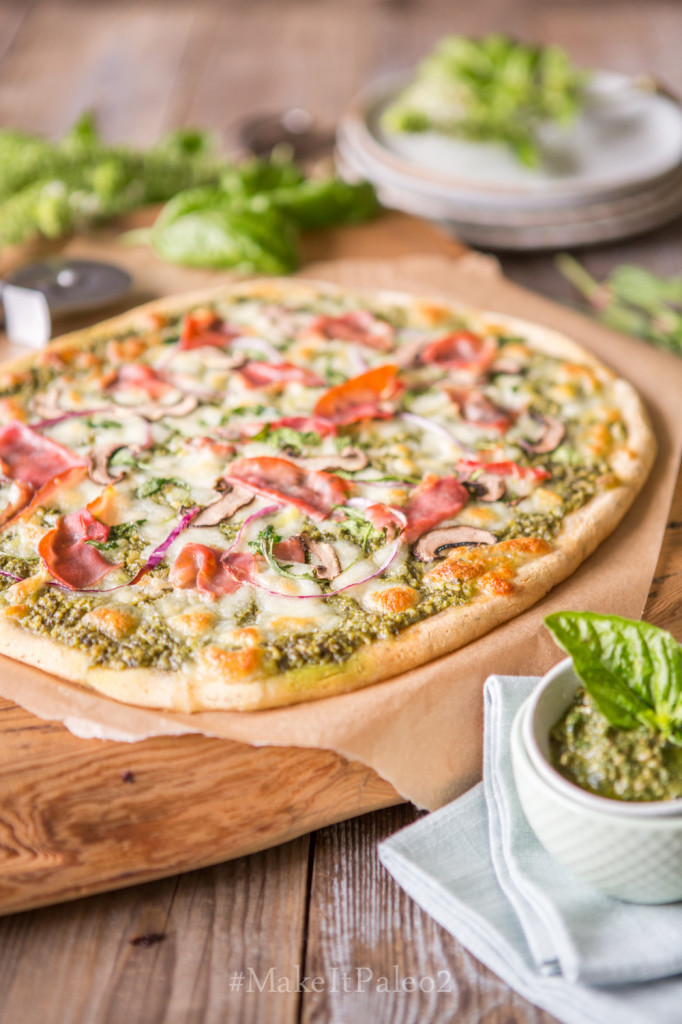 We also have a recipe on our site for an eggplant crust pizza, and even an Almond Flour crust pizza from Gather. (Gah, I love that pizza recipe too!)
If you follow a nut-free, nightshade-free version of Paleo, then this recipe is totally for you. It's nightshade free and nut-free, and totally delicious, because we make it with a nut-free Pesto recipe (also from our new book!)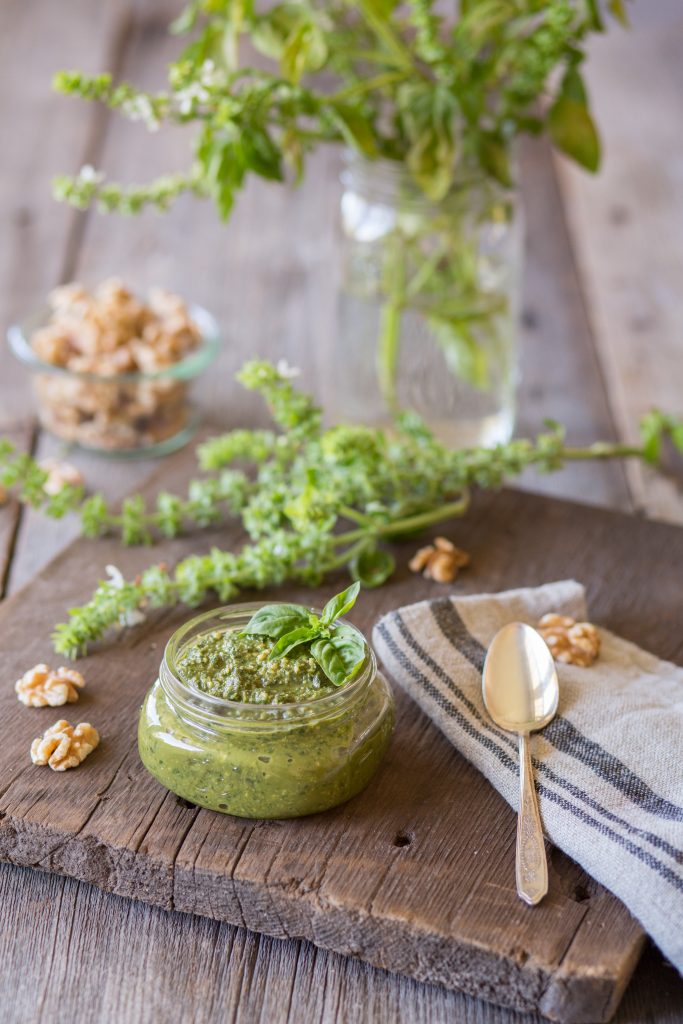 You can even make it dairy-free by omitting the mozzarella cheese. Or keep it on and suffer the certain consequences, if you're like me and cannot tolerate dairy, but give a firm and resolute middle-finger to your food intolerances. Then also be like me, and writhe in pain and curse all things lactose the next day.
We hope you love this recipe! Please share it, tell your friends, tell your neighbors, tell your aunt Ruth to grab this book and make some delicious food.
Cheers,
B&H
Difficulty

This fabulous nightshade-free pizza from Make It Paleo 2 is super tasty, and perfect for a relaxed and indulgent evening at home. The crust is also nut-free, and can be made dairy-free by omitting any cheese topping... so it's flexible enough for people with certain dietary restrictions too. Everyone should be lucky enough to enjoy pizza, right? Find this recipe, and many others like it in our new cookbook, Make It Paleo 2, available in stores and online!
Process
Note, these instructions are written assuming the standard serving size, since you have modified the number of servings, these steps may need to be modified for best results
Prepare the pesto and set aside. Preheat the oven to 350°F and line a large baking sheet with parchment paper.
In a medium-sized mixing bowl, place 2 cups of the tapioca starch, coconut flour, baking powder, salt, oregano, garlic powder, onion powder, and pepper. Stir the dry ingredients with a spoon until they are evenly combined.
Create a small hole in the center of the flour mixture and pour the eggs into the hole. Pour in the water and slowly blend the eggs and water into the flour mixture. Add the melted coconut oil and blend again until the mixture starts to come together and resemble a dough.
Add the remaining 1/2 cup of tapioca starch and, using your hands, knead the starch into the dough. This will create the real dough texture you are looking for. Form the dough into a ball and place it on the parchment-lined baking sheet. Carefully form the dough into a pizza crust by pressing outward in a circle with your hands. Massaging a bit of coconut oil into your hands will help you keep a nice, smooth surface on the dough. Keep working with it until you have the shape you want; it should be about 3/8 inch thick, with slightly thicker edges.
Bake the crust for 20 minutes, until it is cooked through. Remove from the oven and increase the oven temperature to 450°F.
Cover the crust with a thin layer of the pesto and top with the mushrooms, baby arugula, prosciutto, onion, and buffalo mozzarella, if desired. Bake the pizza for 10 minutes, or 15 minutes if you added mozzarella.
Our recipes are created using Paleo, Primal and Gluten-free guidelines.
Learn more
about our diet and lifestyle
at www.primalpalate.com
.