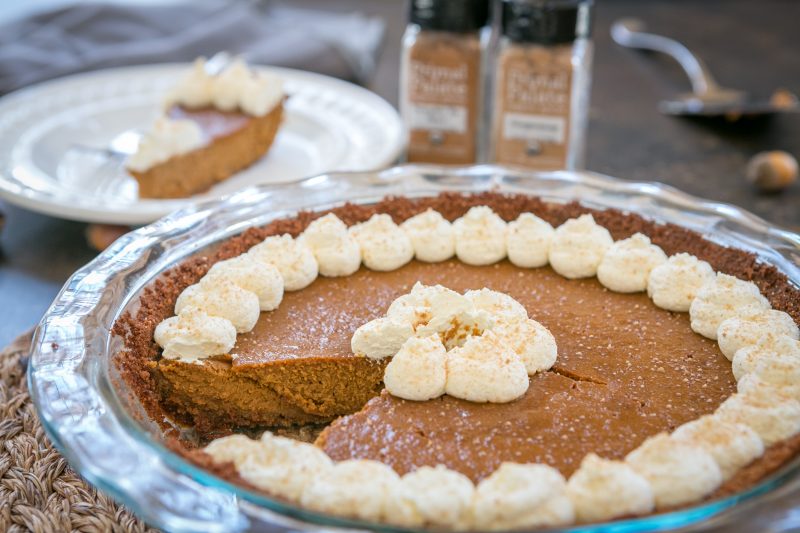 Thanksgiving is next week! Are you as excited as we are?! This is one holiday where we can use almost every single one of our spice blends. I'm kidding, kind of. But not really 😉
Pumpkin Pie is a must this time of year, and everyone is going crazy for pumpkin spice. We wanted to make a new pumpkin pie recipe this year, since the only one we've really ever posted was our Paleo-ish version of a Staley family classic, Pumpkin Chiffon Pie. If you have been following us for a while, you know that recipe is one Bill's dad has made FOREVER. It is near and dear to all of our hearts, and there is no topping it. No other Pumpkin Pie will be served at a Staley Thanksgiving dinner, but since we love sharing recipe ideas, we figured we would make another for you guys.
(Click to see our Chiffon Pumpkin Pie Recipe)
This year, Bill also really wanted to make a gingersnap crust for our pie.Our Gingersnap Cookies are a fan favorite, and turning them into a pie crust is a delicious way to use them! Plus, our seasonal Sweet Pack of spices includes a new flavor this year, called Gingersnap.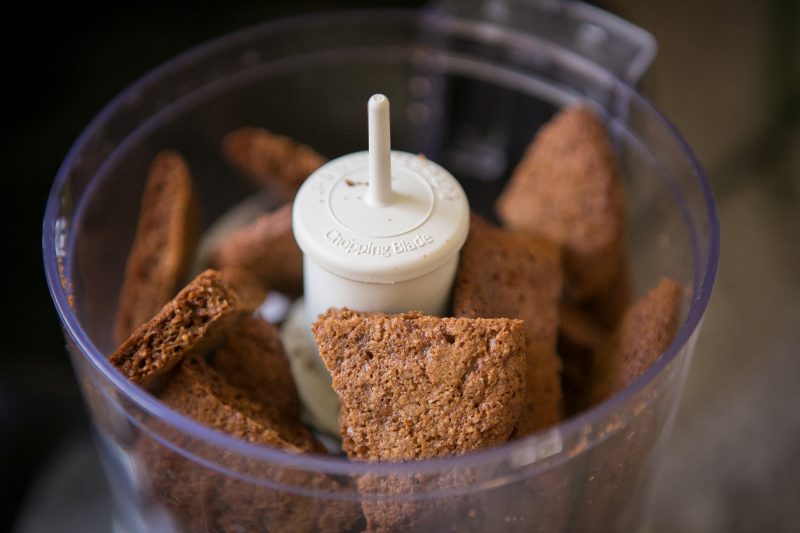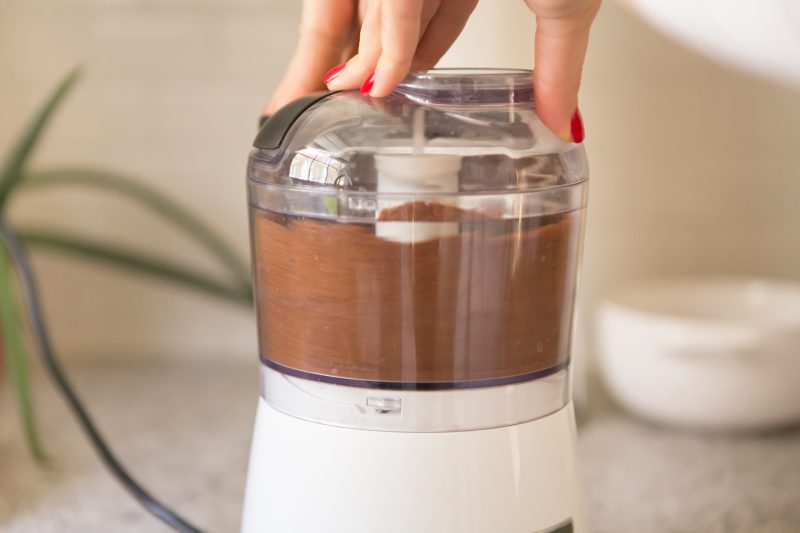 For this recipe, we turned to Alton Brown for inspiration, and modified his Pumpkin Pie with Gingersnap Crust. We made this dairy free as well, and it turned out delicious. We enjoyed this pie for dessert with Bill's sister and brother-in-law last night, and everyone gave it two thumbs up! It really is tasty!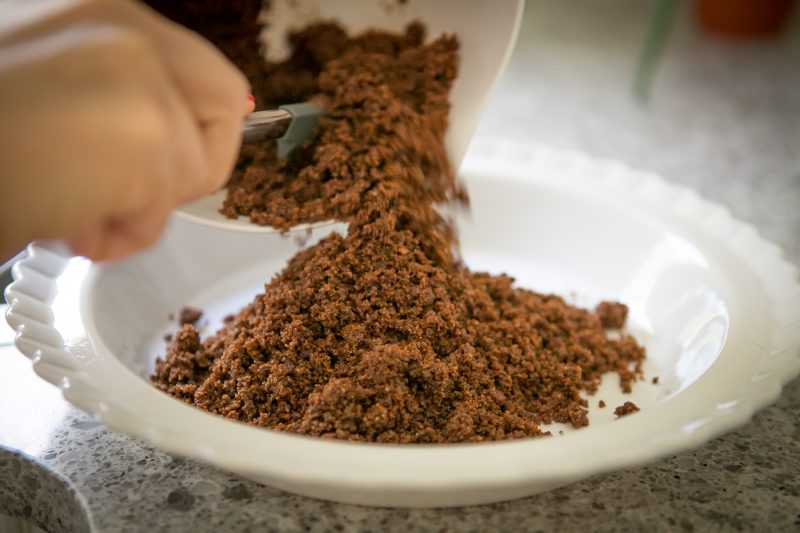 Truthfully, we actually had to make two pies, because we ended up burning the crust of the first one. So be sure to cover the edges of your crust with aluminum foil before the final baking of the pie. This prevents the crust from over-baking during the 45-60 minutes the pie bakes. You can also make this gingersnap crust for our chiffon pie as well!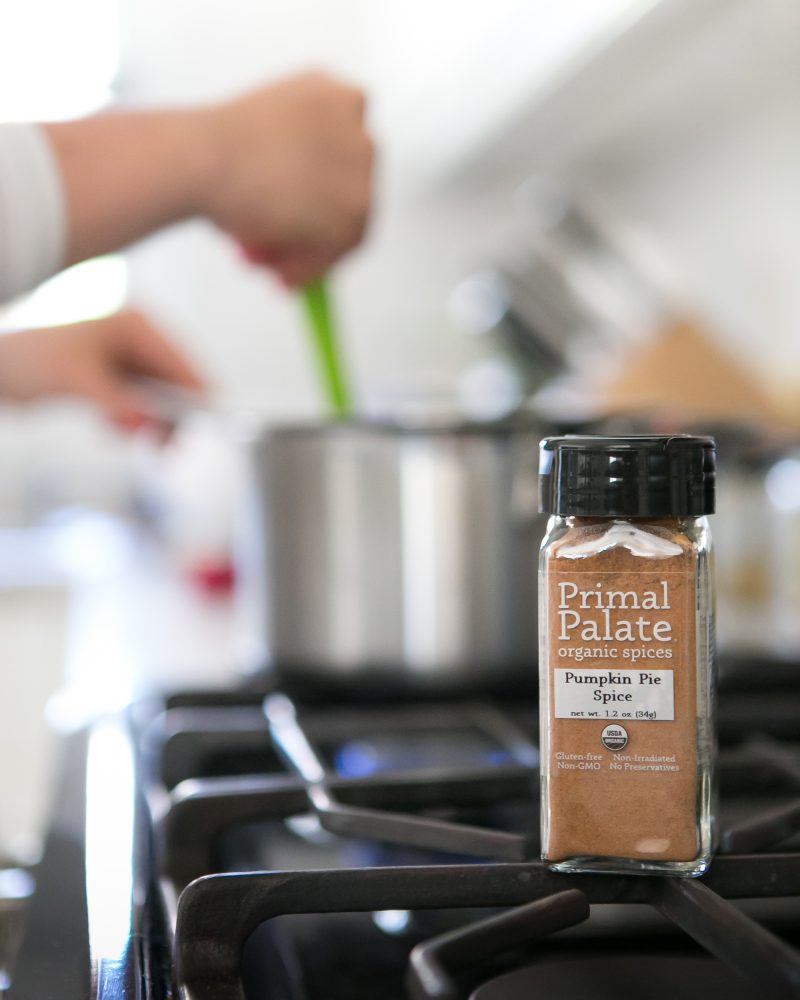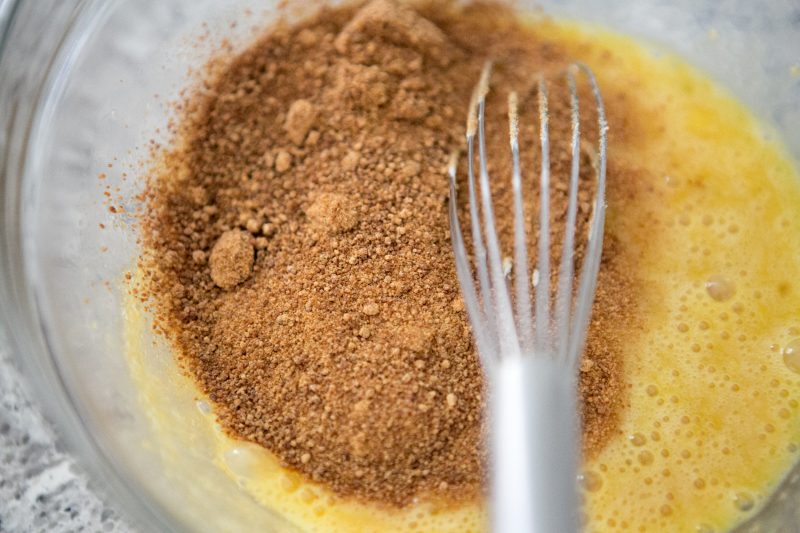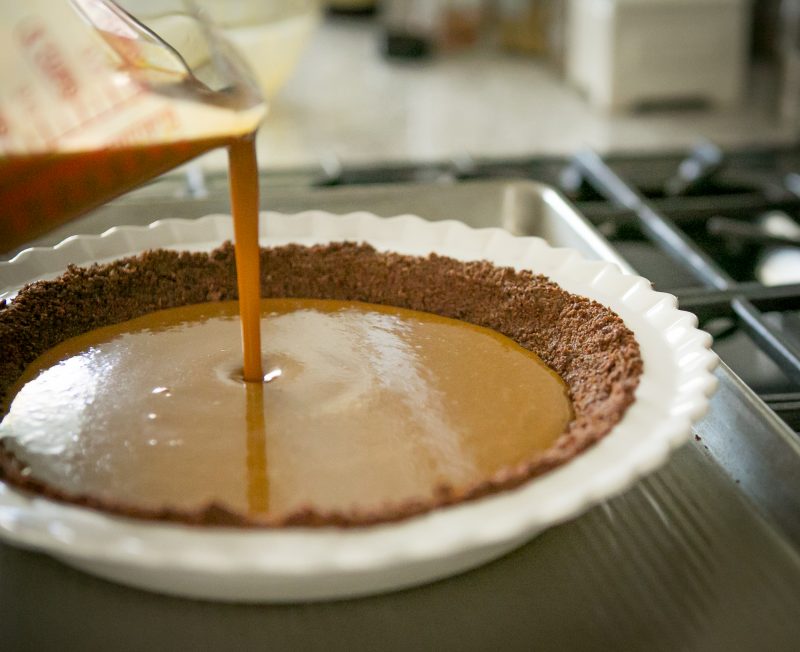 (here's the first pie: we burned the edges of the crust in baking it, but it still tasted pretty great!)
We did top the pie with real whipped cream, but you could use whipped coconut cream as well.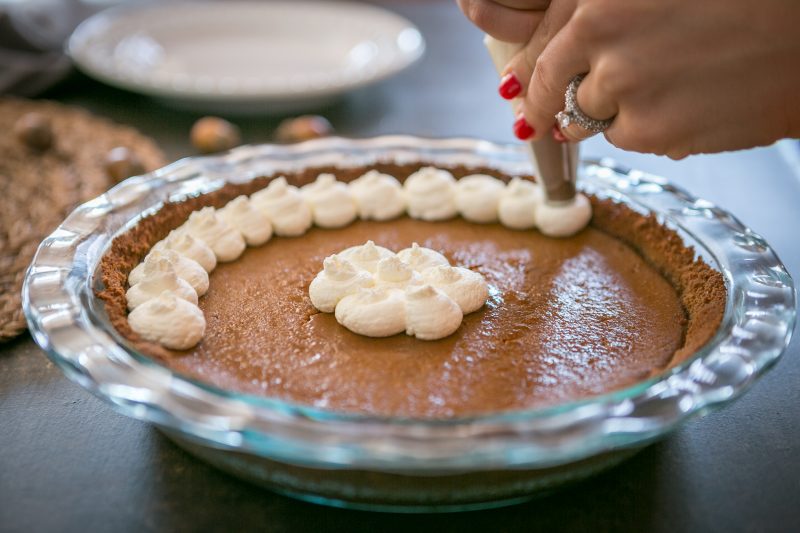 We dusted the top of the pie with our Cinnamon Sugar Cookie blend, so this pie uses THREE of our sweet blends!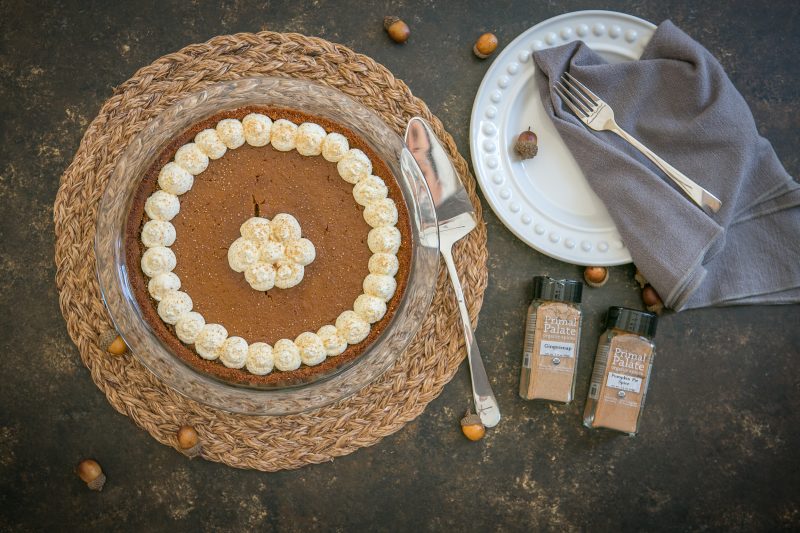 The topping is optional, of course, so don't worry if you do not have the Cinnamon Sugar Cookie blend on hand.
(Spice SALE)
You can get two of the three blends needed in our Sweet Pack, which is ON SALE on our site this weekend for all you Black Friday / Holiday Shopping "early birds" out there. Use code "Early Bird" For 10% off your order.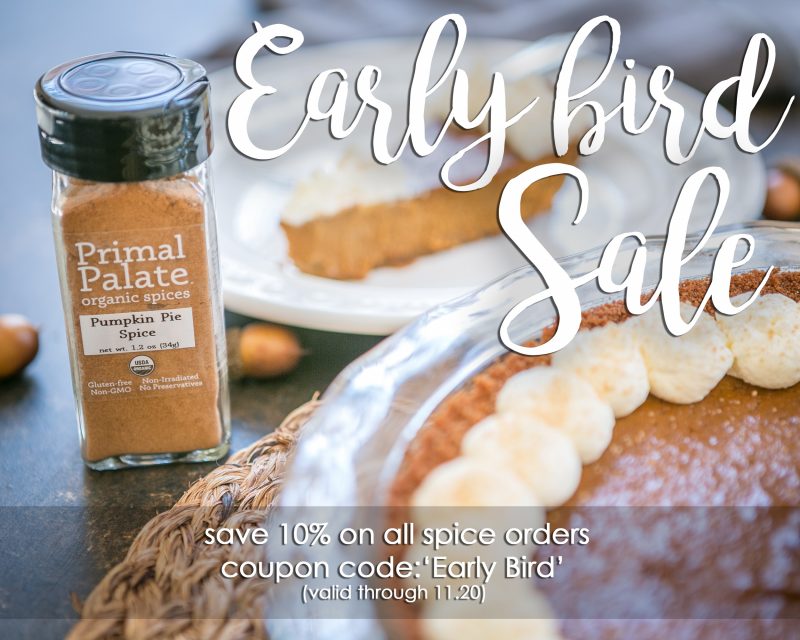 I hope you all enjoy this pie, and have a wonderful Thanksgiving! (The pie recipe is at the bottom of this post, so keep scrolling!)
-Hayley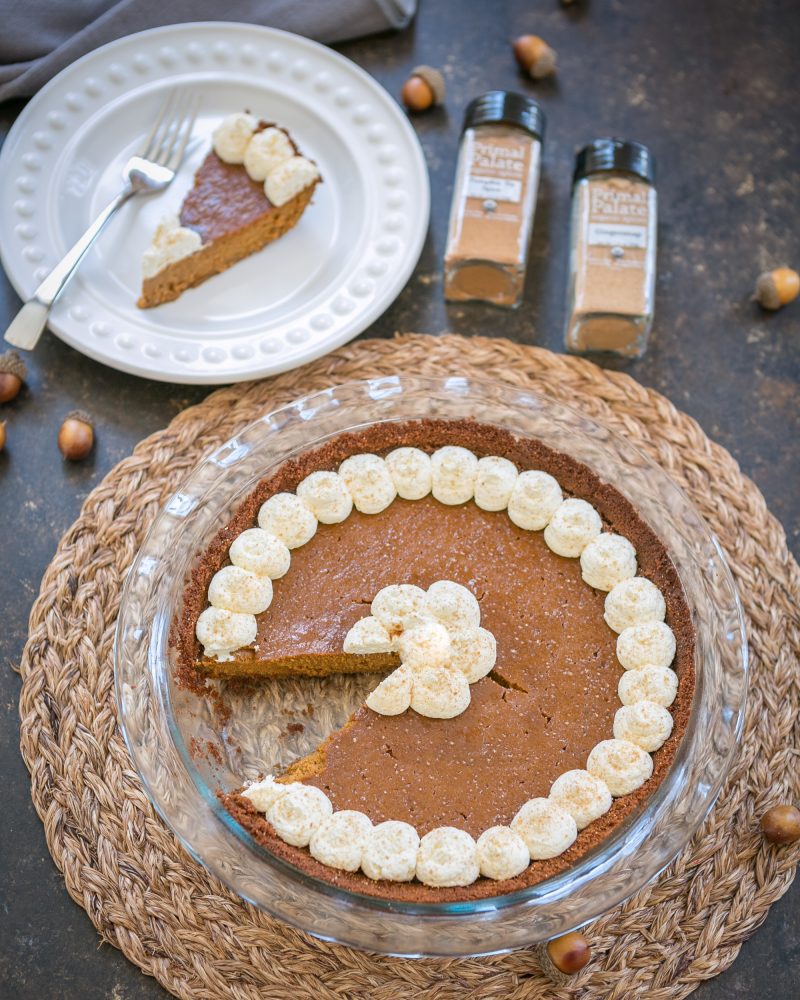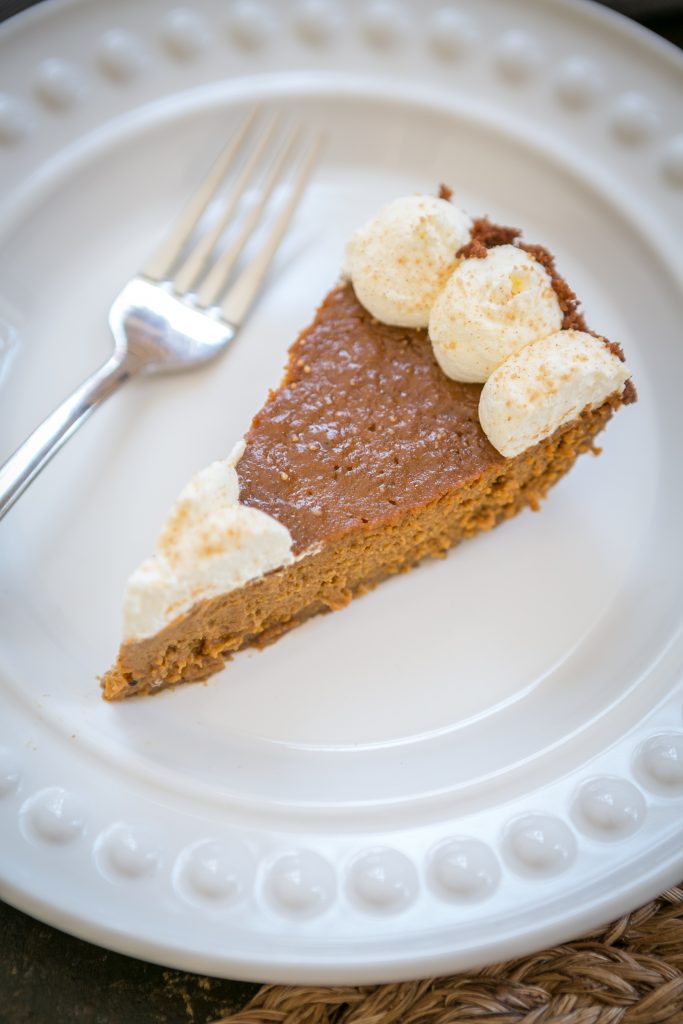 This recipe is adapted from Alton Brown's ubiquitous Pumpkin Pie. We've made some ingredient substitutions to better fit a Paleo template (like using our homemade Gingersnap Cookies for the crust base). This classic take on Pumpkin Pie is perfect for Thanksgiving, and a great treat for your guests. It's every bit as good as our Chiffon Pumpkin Pie, though fairly different. Give this one a try!
Process
Note, these instructions are written assuming the standard serving size, since you have modified the number of servings, these steps may need to be modified for best results
Preheat your oven to 350F.
Begin by making one batch of our Gingersnap cookies. You will not need all of the cookies for the pie crust, so reserve approximately half for enjoying on their own. You can also skip this step and use store-bought gluten free gingersnap cookies if you wish.
In a food processor, grind the cookies (approximately 10-12 cookies) into a fine crumb texture. Drizzle in the melted palm shortening and bring together while processing.
Pour the mixture into a 9" pie pan, and press into a crust, evenly dispersing throughout. You do not need to grease the pie pan. A glass pie pan will work well.
Blind bake the crust (only baking the crust) at 350 degrees for 10 minutes. Remove from the oven after baking and set aside.
While the crust is baking, begin working on the filling. Heat the pumpkin puree in a saucepan over medium heat. Warm for a few minutes, stirring occasionally. Add the cup of coconut milk cream, and stir into the pumpkin mixture. Add the tablespoon of Pumpkin Pie Spice, stir to combine, and remove from heat.
In a medium mixing bowl, add two eggs and one additional egg yolk. Whip with a whisk. Add the 3/4 cup of coconut sugar (you can also use maple sugar, or some other type of sugar, but the coconut sugar gives a really nice, complex, not overly sweet flavor). Whisk together the eggs and sugar until smooth. You can use a hand mixer for this step, too.
Once the pumpkin mixture has cooled a bit, you can begin adding it to the egg/sugar mix. If the pumpkin is too hot, you will end up with scrambled eggs, so allow the pumpkin to cool. Alton Brown says no more than 140F in his recipe.
Whisk together the pumpkin mixture and eggs until smooth. Pour into the gingersnap crust, leaving a little room at the top. You may have more filling than you need, do not overfill the pie.
Bake the pie for 45-60 minutes. Ours are usually closer to 50 minutes. It will be done when the pie jiggles slightly in the center.
Transfer the pie to a cooling rack, and allow to cool for an hour (or so) before refrigerating. Keep refrigerated until serving. This is a great recipe to make a day or two ahead of Thanksgiving.
Whip heavy cream with a hand mixer until thick, to top the pie. You can also finish off the top with a dusting of our Cinnamon Sugar Cookie blend... a nice touch!
Our recipes are created using Paleo, Primal and Gluten-free guidelines.
Learn more
about our diet and lifestyle
at www.primalpalate.com
.